Ron Howard is still skipping after all of these years
June 1st, 2022 under Brangelina, Ron Howard. [ Comments: none ]
Back in the '60s, Ron Howard was skipping on The Andy Griffith Show. Now that he is in his 60s, he is still skipping, but for a different reason. His granddaughter wants to do it, so he is going to do it because he says, "Experience tells me to enjoy it while it lasts!"
Howard is so right. He might be an Oscar-winning director, but he is a grandfather first. You have to cherish those special moments with the grandkids because they don't last forever. But the memories do.

---
A Happy Days get together
November 14th, 2019 under Ron Howard. [ Comments: none ]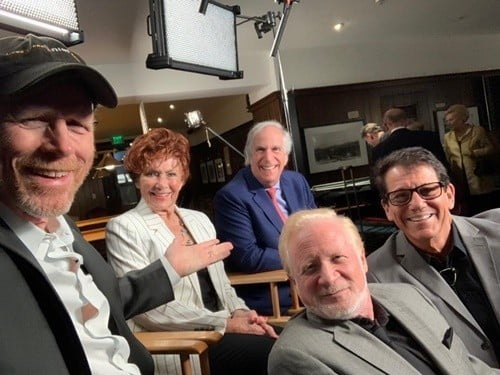 Ron Howard, Marion Ross, Henry Winkler, Anson Williams and Donny Most got together yesterday to honor their Happy Days' TV boss the late Garry Marshall at The Garry Marshall Theatre in Burbank.
Seeing them together again, makes me wonder why they don't get another reunion special or a revival. Let's see what they would be like at the turn of the century. Even though Tom Bosely and Erin Moran are no longer with us, they can still make it work. Who didn't find heir thrills with their sitcom?

---
We know the only person renting Solo: A Star Wars Story at the last Blockbuster
October 14th, 2019 under Ron Howard. [ Comments: none ]

Back in 2004, there were almost 9,100 Blockbusters all over the World. Today, there is just one left in Bend, Oregon.
When in Bend, you have to go. Especially, if you are Oscar-winning director Ron Howard. He went through all of their movies and he picked out three movies to watch. Opie Cunnigham decided to rent 1962's The Music Man where he has his own musical number along with two movies he directed, Cinderella Man and Solo: A Star Wars Story.
I hope he autographed them because it would be a nice surprise for anyone who goes there. Although, who is renting his latest movie of that bunch? I kid Ronny! I love you and your movies.
When it comes to Blockbusters, I so miss going to video stores and checking out the latest releases.

---
Can Ron Howard still skip stones like he did when he was Opie?
July 25th, 2019 under Ron Howard. [ Comments: none ]

Back in 1960, Ron Howard learned how to skip stones for the opening of his sitcom The Andy Griffith Show. Can he still do it now, nearly 60 years later? Of course, he can. Is there anything Opie Cunningham cannot do? He is not going to let being a senior citizen slow him down. Can you believe he is 65? I can't.

---