BTWF: Kelly Clarkson on Sabrina the Teenage Witch
November 7th, 2019 under Before They Were Famous, Henry Winkler, Kelly Clarkson. [ Comments:

none

]

(Starts and ends at 4:43 in)
Before Kelly Clarkson was the American Idol, she was an extra on Sabrina the Teenage Witch. How awwwdorable was the 19-year-old in that 2002 episode?
Today on The Kelly Clarkson Show, she was reunited with that episode's director, Henry Winkler. The Fonz told her that he saw something special in the singer and that is why she had a little more to do than the other extras. He knew before we all did that this girl was going to be a star! I guess you can the director has an eye for it. Maybe ABC should hire him to direct American Idol?
---
Hollywood nice guys Henry Winkler and Tom Hanks don't get along
October 4th, 2019 under Andy Cohen, Henry Winkler, Tom Hanks. [ Comments:

none

]

When you think of Hollywood's nicest actors, Henry Winkler and Tom Hanks' names immediately come to mind. However, these two men do not get along.
Yesterday, when The Fonz was on Watch What Happens Live, a caller wanted to know if it is true that he and Kip Wilson had a falling out when they worked together on Turner & Hooch in the late '80s. Turns out Winkler was hired to direct the film and on the lucky 13th day, Jeffrey Katzenberg sent him home never to return again.
Andy Cohen asked him that is true, Winkler said, "I got along great…great with that dog." Then he added, "I love that dog."
Of course, he said it in the nicest way possible because when it comes to Hollywood's nicest guy, he is tops on that list. Followed by Jerry O'Connell. Hanks used to be third, but now he is going to be slipping a few notches after this reveal.
We need to get these two men together and have them reconcile. I feel like if they can't make it work, no one else can. How can we expect peace in the Middle East if these two cannot be bosom buddies? I feel like all of my happy days just became sad ones.
On that note, I wonder if Hanks has had an issue with Winkler because he kicked his a$$ during their 1982 fight on Happy Days. Never saw their epic fight, then click here!
---
Why comedy Roasts are not nice
September 17th, 2019 under Henry Winkler, Jimmy Kimmel. [ Comments:

none

]

Over the weekend, Comedy Central roasted Alec Baldwin and there were not a lot of nice things to say about him and the dais. That is just the way the Roasts are.
However, Jimmy Kimmel wondered what would happen if they were nice to everyone even Courtney Love. Therefore, he held one with Henry Winkler, the nicest guy in Hollywood, as the host to see what it would be like.
What did we learn? Nice is boring, we want them to be mean! And also funny. Mostly funny.
When it comes to The Fonz, I would love to see someone Roast him. But how can you be to mean to him? He is just so gosh darn nice.
---
A '70s girl's wet dream: Henry Winkler and John Travolta!
August 26th, 2019 under Henry Winkler, John Travolta, Wet dream. [ Comments:

none

]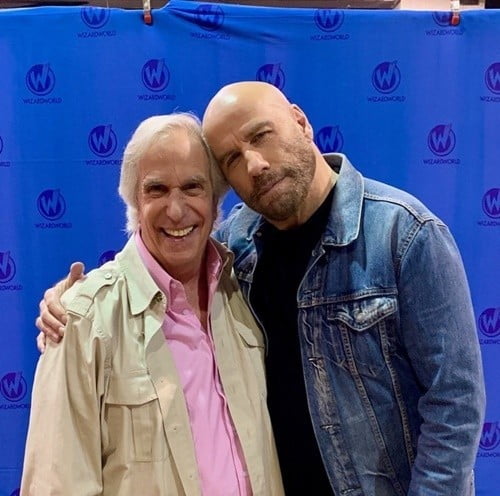 Back in the '70s, women were in love with The Fonz and Vinnie Barbino. Even though both of them shared many magazine covers, we never saw them in the same photo.
That is until now. The two men met over the weekend, and we got this smile-inducing photo as a present. It might be over 40 since we fell in love with Henry Winkler on Happy Days and John Travolta on Welcome Back, Kotter, however, we still adore them as much now as we did then. They both get better with age. And I still would not tell them to "Sit on it" or say to them "Up your nose with a rubber hose." Yet, I would love to scream "Ayyyy" with them. If you know what I mean.
Seriously, doesn't this picture bring you so much joy? It made my day!
They should do a project together. Maybe they both can compete to be Danny Zuko in a sequel to Grease. Since Winkler turned it down and Travolta, as we know, got the role. I wonder if they talked about that when they met up?
I can honestly just see the two of them talking to each other with huge smiles on their faces. They both are some of the nicest guys in Hollywood.
---
Meanie Ellen DeGeneres scared the lovable Henry Winkler!
May 7th, 2019 under Ellen DeGeneres, Henry Winkler. [ Comments:

none

]

If you asked anyone in Hollywood who is the nicest person, then they will tell you it is Henry Winkler. Having said that, Ellen DeGeneres has not had the legend on her daytime talk show since her first season. After 15 years, he was finally invited back and all he wanted was to be scared like all of her favorite guests. He even scared himself to see how it felt. He liked it. In fact, he liked it so much, he got one for real. Did he sit on it? Nope, he jumped up like he was waterskiing over a shark. She should have had someone in a shark costume scare him, so we could all say he jumped the shark.
Anyways, how did he feel about getting what he wanted? He was so excited. What he was not as excited about was going head to head with geography experts, Nate, 7, and Landon, 6. The two tykes kicked the 73-year-old's ass from Minnesota to the boot of Italy. Did they not realize he is The Fonz and no one messes with him?
Seriously though, is it possible to watch him and not smile. He is just pure joy. Even when he is losing to two kids who are a 1/10 of his age.
---