Do Alice Cooper and Ronnie Wood have something to tell us?
August 29th, 2019 under Alice Cooper, Do they have something to tell us?, Rolling Stones. [ Comments: none ]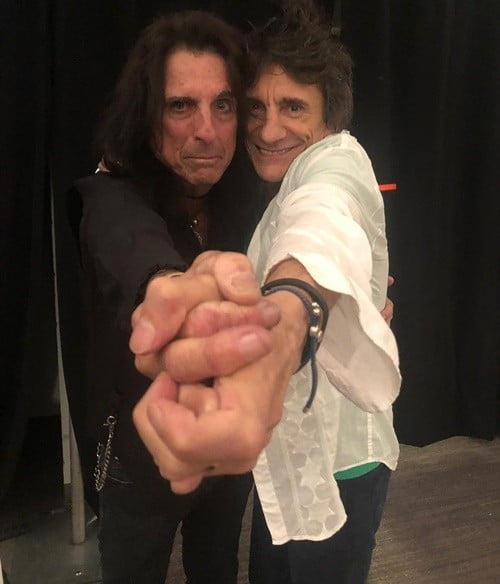 Alice Cooper and Rolling Stones' Ronnie Wood were photographed doing the Tango, so do the two rockers have something to tell us? It is not that School's Out for summer or that You Can't Always Get What You Want. Instead, it is two old friends catching up. Oh, the stories they can tell.

---
Is Peter Wolf The Rolling Stones new centerfold?
July 13th, 2019 under Peter Wolf, Rolling Stones. [ Comments: none ]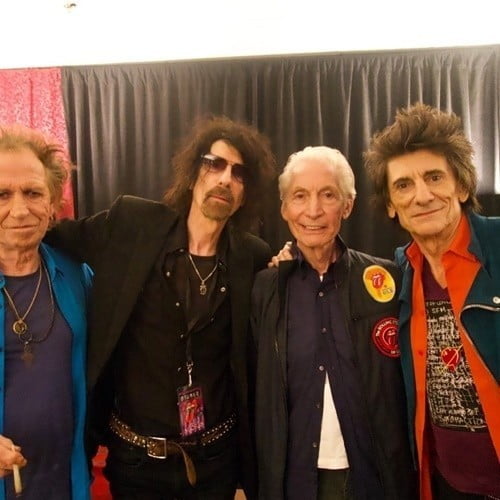 Peter Wolf was seen posing with three (Keith Richards, Charlie Watts and Ronnie Wood) out of the four Rolling Stones and you have to wonder if the singer is trying to take over for Mick Jagger if he finds himself Lights Out again?
You can't always get what you want, so for the voice of The J. Geils Band, this is a close second. I wonder how he would sound as their Jumping Jack Flash? What am I thinking no one can replace the man with the moves…like Jagger. Jagger himself.

---
Who says rock stars are boring?
July 3rd, 2019 under Rolling Stones. [ Comments: none ]

Ronnie Wood has toured the world several times over with The Rolling Stones. He has lived the life of a rock star. Now, that band is touring again, what does he do during his downtime? Sleep with groupies? Snort some of the good stuff? Nope! He does a crossword puzzle that would make even the people, who do the NY Times' one with a pen, cry.
Impressed? Be doubly so because he got it from Keith Richards. Who knew the Stones were so boring? It kind of ruins the facade.
Next, you are going to tell me all of these rockers have a weekly book club where they read and then discuss the novels on The NY Times Bestselling List. Please, don't. I want to believe they are all about sex, drugs and Rock'n'Roll and not crossword puzzles.

---
Ronnie Wood can Floss better than you
June 24th, 2019 under Rolling Stones. [ Comments: none ]

The Rolling Stones are back on the road and wowing audiences all over North America. Before they rock out on stage, Ronnie Wood likes to warm up. He starts off slow swinging his arms back and forth. Then he speeds it up until he does the Floss. He might be 72, but his six kids are keeping young and hip.
On that note, I betcha the Floss is keeping him from getting a hip replacement. As long as he keeps swinging his hips like that, he will keep them until the Stones stop performing. Which probably won't be for centuries to come.

---
The Rolling Stones announce their postponed dates
May 16th, 2019 under Rolling Stones. [ Comments: none ]

Back in March, The Rolling Stones announced they were postponing their North American tour because of Mick Jagger. A week later, the singer had heart surgery. Well, nothing can keep him down and now he is ready to hit the road again next month.
Not only are they playing all of their old dates, but they also added a new one in New Orleans. Not bad for the 75-year-old, less than 3 months going under the knife. I wish I had half his energy and I am half his age.
If you have tickets for the old dates, the band explained how you can keep or get rid of them for the new ones. Tickets sold for the original dates will be honoured – fans do not need to exchange their tickets. Those who cannot attend the re-scheduled date can refund their tickets by accessing their Ticketmaster account. For transferred tickets, the refund will go to the fan who originally bought the tickets, once they have been transferred back.
To see where and when they are playing, then click here!

---