BTWF: Robin Givens for Ban
June 10th, 2019 under Before They Were Famous, Robin Givens. [ Comments: none ]

Before Robin Givens confident taking tests on Head of the Class, she was able to show off that confident test taking with Ban. She looks the same now as she did when she was 20 in that 1985 ad.

---
The shocking answer Robin Givens gave about sex with Howard Stern
June 10th, 2019 under Andy Cohen, Howard Stern, Robin Givens. [ Comments: 1 ]

Robin Givens was on Watch What Happens Live yesterday and Andy Cohen wanted to know if it is true that Howard Stern has a small penis. The Shock Jock has been very vocal about that, but is he lying to his listeners?
Since Givens dated him 20 years ago, she would know. What was her answer when she was asked about that? She said fondly, "Howard Stern was a magnificent lover!" Then she added that it was, "Unbelievable."
Who would have thought? You would think, because of his on-air persona, he would be a selfish lover. Turns out he is far from it. I guess you cannot believe everything you hear on the radio.
Cohen kept pressing her about Stern's microphone and all she would say, "It was all really good." Proving it really is all about the motion of the ocean. At least for the DJ!

---
Is Robin Givens really 54?
May 8th, 2019 under Are they really their age?, Robin Givens. [ Comments: none ]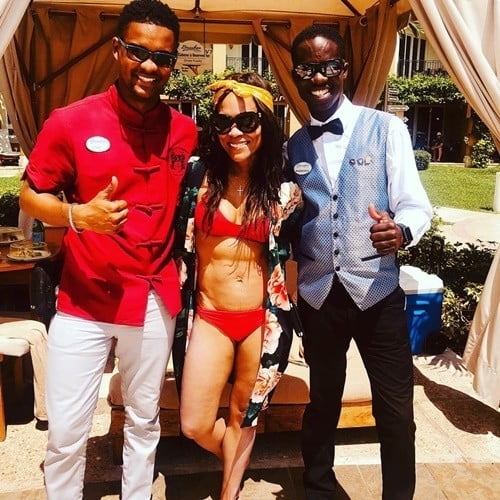 Robin Givens in on vacation in Turks & Caicos and she wore a little red bikini to get some sun. Which makes you wonder how can the Riverdale star be 54 years old because she looks just like the high school students on the show. In fact, you can say she is the head of the class on The CW drama. Don't you agree?

---
Brad Pitt turned Mike Tyson's hard stallion into a wet noodle
April 3rd, 2012 under Conan O'Brien, Mike Tyson, Robin Givens. [ Comments: none ]

Mike Tyson is on Conan tonight and told the TBS Late night host about a time he saw Brad Pitt with is ex-wife. Shortly after the two split, the fighter would still hook up with Robin Givens. One morning he went over to see her all excited to see her, but no one was home. So he waited in his car for her to come. Well she finally arrived and she was with Brad Pitt. It was then that he realized he wasn't getting any because she was with the Head of the Class of actors.
Then Conan O'Brien asked him if Pitt was scared to see the former-boxer, who was in his prime at the time, in the car? And the ear biter said when he saw them together, he "went from a hard stallion to a wet noodle" and didn't have any fight left in him.
I love that the former-joke has turned into very funny man. Watch him tell the story and see how perfect his comedic timing is.

---