Robert Downey Jr taken down by 7-year-olds!
November 5th, 2021 under Robert Downey Jr.. [ Comments: none ]
In the Avengers movie, Robert Downey, Jr took down Thanos while wearing his Iron Man suit. In real life, the actor was knocked down by 7-year-olds when he was dressed as a pinata at his daughter Avri's birthday party.
Is he OK with it? He wrote, "I gave the kids what they want. Which is clearly mob violence." They learned well from his movies! What? They are full of mob violence. Right?
Seriously, how sweet are these videos! He is such an awesome dad! I am sure he makes Avri smile as much as she does the same for him.

---
Leslie Jordan and Robert Downey, Jr. shared a bed in prison
May 20th, 2020 under Andy Cohen, Leslie Jordan, Robert Downey Jr.. [ Comments: none ]

Back in 1997, Leslie Jordan was sentenced to 120 days in prison for things he did not want to get into on Watch What Happens Live with Andy Cohen yesterday.
When he got there, his lawyer told him to ask for the gay section. They told the actor that it is too tough for him, so they put him in the softy section. On the 10th day, the guards told him that they were letting him out the next day because they were giving Robert Downey, Jr. his bed.
The two men did not swap the bed in the cell, instead, they were in a holding area together. Sadly, they never talked. I wonder what they would say to each other now. Jordan owes him a huge thanks for getting him out of prison early.
The '90s was a much different time for both actors.
Talking about much different, the Bravo host confused Jordan for another Leslie. That person was Leslie Jones because they look so much alike. Jordan is a short white man, and she is a tall black woman. I can see how he can confuse them.

---
Robert Downey Jr. is not too famous to open his wife's car door
April 23rd, 2019 under Robert Downey Jr.. [ Comments: none ]

Some celebrities get so big for their britches that they expect people to open their car doors for them. Robert Downey Jr. is not one of them. Not only did he open his own door at the premiere of Avengers: Endgame yesterday, he also his opened wife's one too.
Susan Downey is lucky to have a man who treats her like the Queen that she is. Hollywood is just as lucky to have someone with his talent and heart be one of its most influential stars.

---
The Avengers didn't start the fire
April 23rd, 2019 under Billy Joel, Chris and Liam Hemsworth, Don Cheadle, Jimmy Fallon, Robert Downey Jr., Scarlett Johannsson. [ Comments: none ]

If you are like me, then you have only seen a handful of the Marvel Comics movies. Therefore, you want to see Avengers: Endgame, but you know you will have no idea what is going on because you missed so much of the story leading up to it.
Well, Jimmy Fallon and The Tonight Show has people like us covered. He got several of the superheroes to sing a cover of Billy Joel's We Didn't Start the Fire to tell the backstory we missed. Now I feel comfortable going to see the film. Once, I can actually find a screening of it that is not sold old.
BTW Watch this video all the way until the end for a very sweet ending that will bring a tear to your eye.

---
Do you like Robert Downey Jr. as Iron Man or Bunny Man?
April 21st, 2019 under Robert Downey Jr.. [ Comments: none ]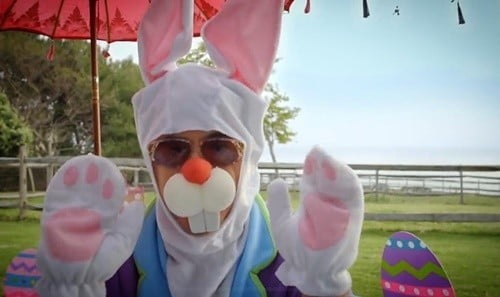 Today is Easter and Robert Downey Jr. changed up his Iron Man suit for a bunny costume. Just when you think he cannot get any cuter, he finds a way to do just that. His kids Avri, Exton and Indio are really lucky to have him as a dad.

---