Family Guy went there with Quentin Tarantino
February 28th, 2022 under Quentin Tarantino, Seth MacFarlane. [ Comments: none ]

Family Guy aired its best episode of the season yesterday. The type of episode that makes you cringe and laugh at the same time.
The episode deals with Lois going to her snooty high school reunion. She is too embarrassed to take Peter, so she asks Quagmire to go with her and pretend to be her husband. He says to her about the offer, "I am not used to wearing rings above the waist." And that was just the beginning of is it OK to laugh at that.
When they get to the hotel, Quagmire changed out their suite to the honeymoon suite. Lois is so mad she says that she is going to angry tweet a celeb that looks like him. So she tweets to Quentin Tarantino, "You big headed creep, where do you get off?!" The director responded to her with "On feet." Then followed it up with, "Toe pics?"
If that is not bad enough, Peter orders pizza, and the delivery man does an Elvis Presley on their toilet. Since they don't want to get in trouble with Lois for ordering the pizza, they do a Weekend at Bernie's with Meg sharing his clothes and controlling him from behind. It gets worse. During a police lineup, Joe asks the pizza guy to recreate the Michael Jackson Thriller Zombie dance.
And still, there is more. And shockingly, it had a heartwarming ending.
This is why I still watch Family Guy. To paraphrase Mae West, when it is bad, it is very good! At least Seth MacFarlane will get that reference.

---
Once Upon a Time in Hollywood's headshots
July 26th, 2019 under Quentin Tarantino. [ Comments: none ]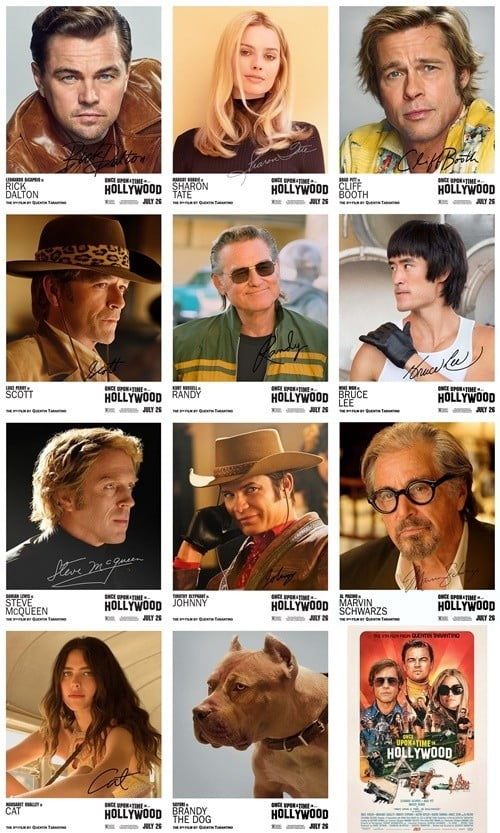 In honor of Once Upon a Time in Hollywood coming out today, Sony Pictures released headshots for the people featured in the 1969 movie.
There is a Leonardo DiCaprio as Rick Dalton, Leonardo DiCaprio as Rick Dalton, Brad Pitt as Cliff Booth, Luke Perry as Scott, Kurt Russell as Randy, Mike Moh as Bruce Lee, Damian Lewis as Steve McQueen, Timothy Olyphant as Johnny, Al Pacino as Marvin Schwarzs, Margaret Qualley as Pussycat and the real star Sayuri as Brandy.
Now that you know who is who, are going to run out to see the Quentin Tarantino movie?

---
Does anyone have any idea what Once Upon a Time is Hollywood is about?
May 21st, 2019 under Brad Pitt, Leonardo DiCaprio, Quentin Tarantino. [ Comments: none ]

Sony released a new trailer for Once Upon a Time in Hollywood and can someone tell me the plot? I see Sharon Tate, Charlie Manson and Bruce mixed in with a has-been TV actor and his stuntman.
It is like Quentin Tarantino was wishing he could have hung out with those people but he was only 6 in 1969 when Sharon Tate was brutally murdered by the Manson family. Therefore, he created his Hollywood dream. However, does anyone want to see it?
I think I am on the only person who does find Leonardo DiCaprio and Brad Pitt as draws to go see a movie. Are you going to be heading to the theaters on July 26th to see it?

---
The trailer fot Once Upon a Time in Hollywood put me to sleep
March 20th, 2019 under Brad Pitt, Leonardo DiCaprio, Quentin Tarantino. [ Comments: none ]

Yesterday, when I was falling asleep, I watched a movie loosely based on the Manson Murders called Wolves at the Door on Tubi TV. It was just OK. Yet it looks like it will do a better take on the infamous murders than Once Upon a Time in Hollywood.
This film looks like just the same old Quentin Tarantino movie, except this one is based in Hollywood back in 1969. Been there, done that 8 times beforehand.
Which makes me thinks the significance of saying this is his 9th film is because he has said his 10th one will be his last.
Anyway, can we also do with that Brad Pitt and Leonardo DiCaprio? One more and out. Remember when they made good movies?
Having said all of this, you know the critics will be salivating over this movie in July when it comes out. While the moviegoer will be like this grim fairy tale is a real snoozefest.

---
Quentin Tarantino actually had a normal wedding
November 29th, 2018 under Quentin Tarantino. [ Comments: none ]

If you pictured Quentin Tarantino's wedding, then you would imagine something very dark and bloody like his movies. Shockingly, it was the complete opposite.

The director married Israeli singer Daniella Pick in an intimate wedding yesterday according to People.

The two met in 2009, started dating in 2016 and got engaged last year. This is the 55-year-old's first marriage.

No word if the bride wore shoes, but I am sure she did not when they were alone…

---