Watch TV anchors try to say Schitt's Creek
September 23rd, 2020 under Jimmy Kimmel, Pop TV. [ Comments:

none

]

Schitt's Creek swept the Emmys on Sunday night, and television anchors all over the country wanted to tell their viewers about it. There is only one problem. The C in Schitt's is silent, and they are not allowed to say the word it sounds like without getting in a lot of trouble.
So how are they going to do it? Jimmy Kimmel Live compiled their best efforts, and it is as funny as the Emmy-winning sitcom. And just like the show, they saved the best for last with a nice little zinger that ties it all up.

---
One Day At a Time gets animated
April 28th, 2020 under Pop TV. [ Comments:

none

]

Scripted shows like NBC's Saturday Night Live, CBS's All Rise, and Nickelodeon's Danger Force are doing special episodes via Zoom. One Day At a Time found a different way to do it while all of their actors are quarantining at home. Pop TV revealed the sitcom, they saved from Netflix, will do an animated episode later this spring.
The press release describes the standalone episode as, "Penelope's conservative family visiting. Penelope dreads that with the election coming up, they won't be able to avoid fighting over politics. The Alvarez family spends the episode discussing strategies of how to get through it, illustrated through fantasy sequences."
My hat is off to showrunner Gloria Calderón Kellett who came up with this brilliant idea. Animated shows are the only ones that are in production now, so she made a wise choice. Maybe more shows will do the same.
Which television show would you want to see become a cartoon?

---
One Day at a Time is making us laugh on Pop TV again tonight
March 24th, 2020 under Pop TV. [ Comments:

none

]

Even though One Day at a Time was a fan favorite on Netflix, the streaming service decided to cancel it. In an unprecedented move, Pop TV picked it up for a fourth season. Tonight at 9:30p, our favorite Cuban family, after the Estefans, are back!
The episode starts off with a Netflix joke, and then there is a knock on the door. It is Ray Romano as a census taker who learns all about their family. More information than he wanted to know and the perfect amount for the newbies.
After he leaves, Penelope (Justina Machado) decides she wants to start dating again after her break up with Max. Will any of the fish in the sea bite?
Next week, the Alvarezes are going to get a new couch with the help of Schneider (Todd Grinnell). While he and Penelope are out shopping, Elana (Isabella Gomez) is driving everyone including her grandmother (Rita Moreno) who has crabs.
In two weeks, Alex (Marcel Ruiz) walks in on his mother having a party of one. This episode is the funniest episode of television I have seen all year and I watch a lot of comedies.
Tune in ODAAT tonight and every Tuesday at 9:30p, so we can show Netflix what a mistake they made.

---
Pop the bubbly because Pop TV saved One Day at a Time
June 27th, 2019 under Pop TV. [ Comments:

none

]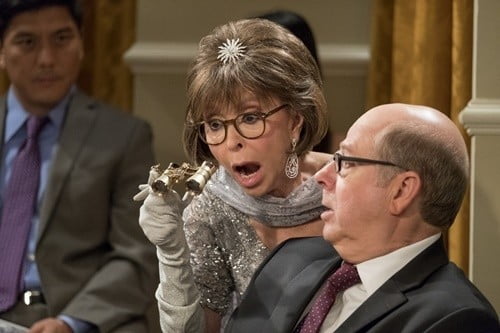 Three months ago, Netflix cancelled One Day at a Time, and fans of the show were heartbroken. They took to Twitter and were begging anyone to save their beloved sitcom. Today, they finally got some really good news. Pop TV picked it up for a 13-episode 4th season to air sometime next year.
This is a television first. How? ODAAT is the first show that was cancelled by a streaming service to be picked up by a cable channel. Normally, it is Netflix who does the saving.
Not only that, CBS, who owns Pop TV and was the network that aired the original One Day at a Time, will air the 4th season after the cable network is done airing all of that season's episodes.
This is not a happy ending, instead, it is a happy beginning. I cannot wait see what is next for our favorite Cuban family who lives in Los Angeles.

---
A Step by Step reunion on tonight's Hollywood Darlings!
May 17th, 2017 under Pop TV. [ Comments:

none

]

One of the things I love about Hollywood Darlings, besides the show's stars Full House's Jodie Sweetin, 7th Heaven's Beverly Mitchell and Step By Step's Christine Lakin and how funny as it is, is that the actresses bring back their friends from the '90s to guest star on the show. For example on tonight's Pop TV episode at 8p, two of Lakin's co-stars will make an appearance. Her TV dad Patrick Duffy and her TV sister Staci Keenan and will be playing themselves on the hilarious mockumentary that isn't afraid to go there. They have gone there on several episodes and I can't wait to see where they go tonight.

I know I should be asking for a Step By Step revival after seeing that photo, but I would love to see Keenan reunite with her Two Dads. I loved that show when I was a kid.

---