Eden Sher shows off her newborn twins!
November 8th, 2021 under The Middle. [ Comments: 1 ]
Back in June, Eden Sher announced that she was expecting twins. Today, the actress debuted them on social media.
However, the new mom did not divulge any other information like when they were born, their names, their sex, or anything else. But I will assume that she had a boy and a girl because of the color of the hearts over their faces.
There are the first children for her and her husband, Nick Cron-DeVico. The couple got married in a small ceremony during the pandemic in July 2020.
Congrats! I hope the Year of Eden never ends for The Middle star. I miss that show.

---
It's the year of Eden Sher, she's expecting twins
June 27th, 2021 under The Middle. [ Comments: none ]
Eden Sher got married to Nick Cron-DeVico during The Middle of the pandemic. That means they had a lot of time to have sex. What happens when you have a lot of sex? You get pregnant. And in Sher's case, it means double the fun.
"Hey y'all got some cool news I'M HELLA PREG!!!" she wrote. "@nickcrondevico and I made some babies so get ready for some fun twins comin' at ya libra season 2021!!!! 📸Photos courtesy of @thatdangfool"
If you are like me and don't know when Libras are born, she is due sometime around October.
Congrats to the couple!

---
It's Eden Sher's year because The Middle star is married
July 13th, 2020 under The Middle. [ Comments: none ]

Due to COVID-19, people all over the world are being forced to cancel their weddings. Well, Eden Sher and Nick Cron-DeVico were not going to let a pandemic, stop them from saying I do.

While their wedding looked different than what they dreamed of, their big day was all about them, and their dog Peanut as they became man, wife, and furents!

The new Mr. & Mrs. held their nuptials in their backyard yesterday, and their friend, Ally Conover, officiated the ceremony.

While it was not the big wedding that The Middle's Sue Heck would have pictured, it was perfect for them.

The couple got engaged in March 2019 after going out for four years.

Congrats to the two, may they have many years of love and happiness.

---
It is the year of Eden Sher!
March 12th, 2019 under The Middle. [ Comments: none ]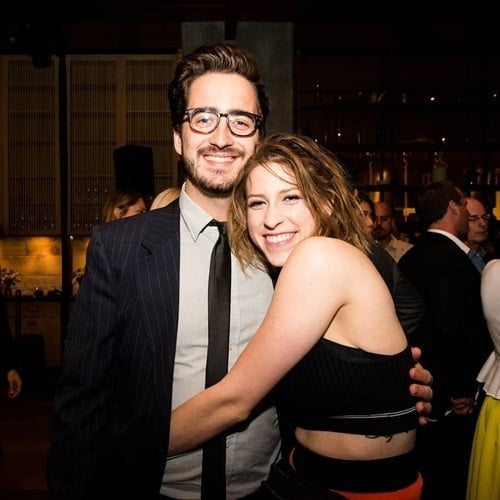 Eden Sher's spinoff of The Middle might not have been picked up, but she got something better. The actress revealed her newest role today.
She wrote, "It's been more than 4 years, we've been to 4 countries, lived in 2 houses, have 2 dogs, been REAL BORED in 12 airports, gotten fancy 100+ times, taken 58 photo booths, have collectively 1 Emmy, and now @nickcrondevico and I get to spend THE REST OF ETERNITY DOING MORE OF ALL OF IT. V EXCITING NEWS GUYS: WE ENGAGED AS FUUUUUUCK!!!!!!! 😍😘🤯🥳🎅🤶🕺💃🙇🙋👫💏 🚀"
Her finace' Nick Cron-DeVico, who writes for Robot Chicken, said, "A few nights ago I got engaged to the coolest person I know. Can't wait to spend the rest of our lives growing up together. It's been an amazing 4 years. Here's to another 4!"
Congrats to the happy couple. I cannot wait to see their wedding photos because it will be as cute as them.

---
The Middle produced a marriage!
July 16th, 2018 under The Middle. [ Comments: none ]

Even though Daniela Bobadilla, 25, married the oldest Heck child on The Middle and Beau Wirick, 32, wedded the middle one, in real life they married each other on Saturday.

The couple met on the heartfelt comedy and found love! A love that will last longer than the show, and hopefully as long as the sitcom lives in syndication as in forever.

Not many details are known but The Middle's show cocreator DeAnn Heline and costar Brock Ciarlelli Tweeted about the beautiful nuptials.

Congrats to the newlyweds.

---