Saw X wants your blood!
September 18th, 2023 under Movies. [ Comments: none ]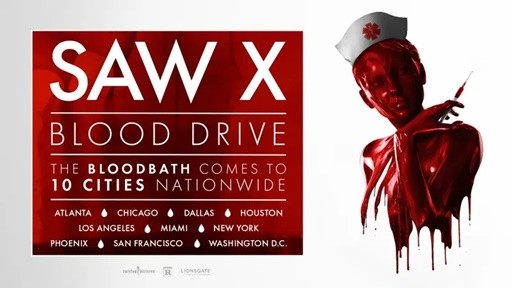 There is a lot of blood going to waste in Saw X, so Lionsgate wants your blood to make up for it.
So they are holding blood drives in Atlanta, Chicago, Dallas, Houston, Los Angeles, Miami, New York, Phoenix, San Francisco, and Washington DC from today until the release of Saw X on September 29th.
To find out when and where you can donate, then check out Audacy.
If you can donate, please consider doing it. There is a national blood shortage, and it has been a slow month at the Red Cross, according to my phlebotomist. Since we live in a country that is always waiting for the next mass shooting or Jigsaw rampage, we cannot have our blood supply reach critical levels. It will take less than half an hour, and you can save a life.
I donate platelets; it takes longer, but you can watch a movie like one of the Saws during the procedure.
So give blood, or you might meet Jigsaw in a dark room with several other strangers fighting for your life. And there might not be any blood left to save you…

---
These nursery rhymes will haunt your dreams
September 5th, 2023 under Movies. [ Comments: none ]
Now that Winnie the Pooh: Blood and Honey was a huge success, we are going to see more kids' stories being turned into Horror movies. The first two to join the club are the nursery rhymes Mary Had a Little Lamb and Three Blind Mice.
Mary Has a Little Lamb follows a radio host and her crew set out to discover the truth behind some disappearances for a true crime show. They will soon learn that there is far more to discover when they meet Mary and her lamb. Who will make it out alive of this house of horrors?
Three Blind Mice (which is already a sick and twisted song) tells the tale of Abi going cold turkey; her family has taken her to a cabin in the woods so she can be away from the city and all her troubles. However, little do they know that the Three Blind Mice is more than just a fairy tale, and they may be next up on the menu.
And after watching those trailers, I am rooting for the Lamb and the Blind Mice! I think it would've been smarter if they made the creatures cuter and less grotesque. Either way, I am still going to see both movies because I am a sucker for seeing my childhood memories get screwed over.
Uncork'd Entertainment is releasing Mary on October 3rd and Three Blind Mice on the 17th.

---
Who hasn't anxiously been awaiting a movie about killer trash cans?
August 14th, 2023 under Movies. [ Comments: none ]
I love so bad their awesome Horror movies, so I have seen it all. I have seen films with a Killer Sofa, a Killer Pinata, Killer Kites, Killer Tomatoes, Killer Rack (breast implants), Killer teddy Bears, Killer Donuts, and many more killer objects.
But I have never seen one with killer trashcans. But that is going to change because Wild Eye Releasing is distributing a feature called Trashcans of Terror.
After a chance encounter with a female bodybuilder – who is also an alien – loner and reluctant hero Percy "Spider" Leibowitz falls madly in love. She soon goes missing, and he turns to his military pal to find her and battle the army of deadly, intergalactic trash cans who he thinks are responsible – trashcans that also happen to be hell bent on taking over earth.
This wildly obscure, never-released 1980s homemade sci-fi opus from Oregon's Chuck Handy is stunningly hypnotizing in its simplicity and weirdness, dropping you into a lo-res otherworld.
It might've taken almost 40 years for this 1985 film to get wide distribution. But good things come to those who wait!
Side note: All of the Killer movies are available to stream on Tubi for free until Trashcans of Terror comes out.

---
Scream 7 gets freaky
August 2nd, 2023 under Movies. [ Comments: none ]
The Scream franchise came back from hiatus in a big way with Scream 5 and Scream 6. So after two successful movies, it should be no surprise that they want to do another one.
Christopher Landon, who made us laugh and scream with the Happy Death Day movies and Freaky, made an announcement today. "Looks like 7 really is a lucky number," he wrote. "More to come…"
This news made me scream. I don't like most of the current Horror movies that make it to the big screen these days. But I really enjoy Landon's films and the Scream ones. So I can't wait to see what this merger gives us.

---
Who doesn't want to see a movie with a killer sloth?
August 2nd, 2023 under Movies. [ Comments: none ]
Remember when Kristen Bell cried on Ellen because she loves sloths? Well, Slotherhouse will really give her something to cry about.
It's senior year of college for sorority sister Emily Young and for the first time ever, Sigma Lambda Theta is having elections for who will be president. Wanting to have a killer year, Emily Young realizes she might just be the best option for her sorority. While beginning her campaign, she finds an adorable sloth that steals her heart and soon realizes she just might steal the hearts, and votes, of her sorority sisters. But when bodies slowly begin to pile up in the Sigma Lambda Theta house, Emily and her sorority sisters realize the deaths are being caused by their new house mascot, the cuddly sloth Alpha. Will Emily and her sisters escape the house with their lives? Or is this death-sloth with 3 razor sharp claws too quick for them?
Even though there appeared to be some fast sequences in the trailer, you know this movie is going to move at a sloth's pace, which means slower than Turtle, who isn't a Teenage Mutant Ninja (side note: go see TMNT: Mutant Mayhem).
Slotherhouse comes out on August 30th. Reserve your tickets now because they are going to go fast.

---