Scream 7 gets freaky
August 2nd, 2023 under Movies. [ Comments: none ]
The Scream franchise came back from hiatus in a big way with Scream 5 and Scream 6. So after two successful movies, it should be no surprise that they want to do another one.
Christopher Landon, who made us laugh and scream with the Happy Death Day movies and Freaky, made an announcement today. "Looks like 7 really is a lucky number," he wrote. "More to come…"
This news made me scream. I don't like most of the current Horror movies that make it to the big screen these days. But I really enjoy Landon's films and the Scream ones. So I can't wait to see what this merger gives us.

---
Who doesn't want to see a movie with a killer sloth?
August 2nd, 2023 under Movies. [ Comments: none ]
Remember when Kristen Bell cried on Ellen because she loves sloths? Well, Slotherhouse will really give her something to cry about.
It's senior year of college for sorority sister Emily Young and for the first time ever, Sigma Lambda Theta is having elections for who will be president. Wanting to have a killer year, Emily Young realizes she might just be the best option for her sorority. While beginning her campaign, she finds an adorable sloth that steals her heart and soon realizes she just might steal the hearts, and votes, of her sorority sisters. But when bodies slowly begin to pile up in the Sigma Lambda Theta house, Emily and her sorority sisters realize the deaths are being caused by their new house mascot, the cuddly sloth Alpha. Will Emily and her sisters escape the house with their lives? Or is this death-sloth with 3 razor sharp claws too quick for them?
Even though there appeared to be some fast sequences in the trailer, you know this movie is going to move at a sloth's pace, which means slower than Turtle, who isn't a Teenage Mutant Ninja (side note: go see TMNT: Mutant Mayhem).
Slotherhouse comes out on August 30th. Reserve your tickets now because they are going to go fast.

---
We are getting a killer sloth movie
August 1st, 2023 under Movies. [ Comments: none ]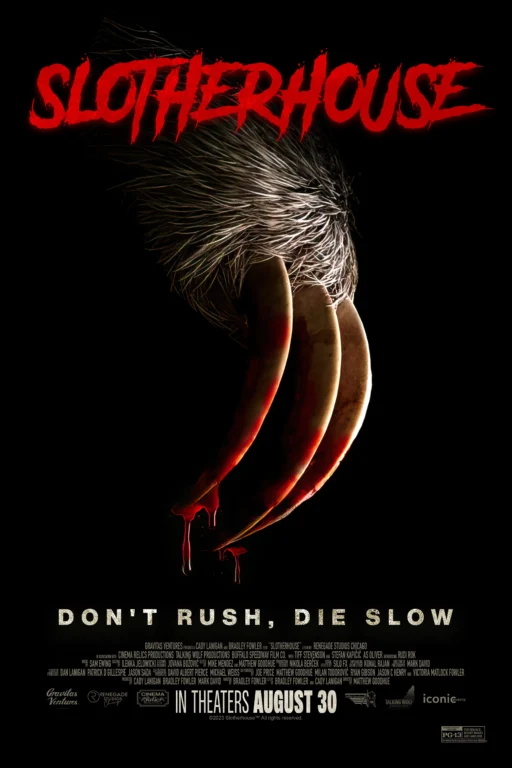 I love Creature Features. I have seen them all, from rats to bees to cats to sharks to worms, but I never thought I would see one about sloths. However, that is coming on August 30th.
According to Variety, Slotherhouse tells the story of college senior Emily Young, who aims to be voted president of her sorority. When she adopts an adorable sloth, she realizes the animal can serve as the house's new mascot and help her win votes, dubbing the animal Alpha. The new pet is a beloved addition to the sorority house until a series of deaths point toward the sloth as the prime murder suspect. The film becomes a survival story of sisters versus sloth as the girls wonder if they can make it out of Sigma Lambda Theta alive (sloths, of course, are not known for being fleet of foot).
This should be the slowest-paced Horror movie since M3GAN. Yeah, I said it. It was more set up than scary.

---
Saw X looks like pure torture porn
July 30th, 2023 under Movies. [ Comments: none ]
There is a new Saw film coming out on September 29th, and it looks like Saw X will be filled with tons of torture.
John Kramer (Tobin Bell) is back. The most chilling installment of the SAW franchise yet explores the untold chapter of Jigsaw's most personal game. Set between the events of SAW I and II, a sick and desperate John travels to Mexico for a risky and experimental medical procedure in hopes of a miracle cure for his cancer – only to discover the entire operation is a scam to defraud the most vulnerable. Armed with a newfound purpose, John returns to his work, turning the tables on the con artists in his signature visceral way through a series of ingenious and terrifying traps.
I grew up on Horror, but I am not into torture porn. I miss the days when the killers weren't just psychopaths who killed in the most twisted and sickest ways possible. That is why I am not a fan of most modern-day Horror. Am I the only one who feels this way?

---
Halloween comes early with The Exorcist: Believer
July 25th, 2023 under Movies. [ Comments: none ]
The Exorcist is considered one of the scariest movies ever made. However, I am sure that most of the Gen Zers have not seen it. So Blumhouse is giving the 1973 feature a sequel, The Exorcist: Believer. A film that will scare the shit out of new and old fans alike.
Since the death of his pregnant wife in a Haitian earthquake 12 years ago, Victor Fielding (Leslie Odom, Jr.) has raised their daughter, Angela (Lidya Jewett) on his own.
But when Angela and her friend Katherine (Olivia Marcum), disappear in the woods, only to return three days later with no memory of what happened to them, it unleashes a chain of events that will force Victor to confront the nadir of evil and, in his terror and desperation, seek out the only person alive who has witnessed anything like it before, Chris MacNeil (Ellen Burstyn reprises her role.)
MacNeil is now an actress who has been forever altered by what happened to her daughter Regan five decades before.
The Exorcist: Believes comes out Friday, the 13th of October. Are you brave enough to see it?

---