Michael Chiklis gets a Christmas miracle
December 26th, 2019 under Michael Chiklis. [ Comments: none ]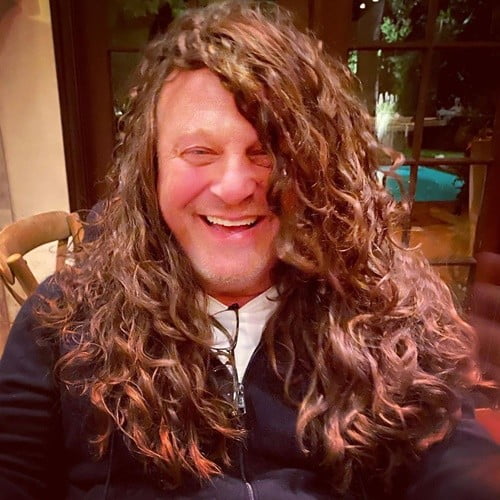 Ever since Michael Chiklis was The Commish, his hair has been slowly falling out. However, for Christmas, he got some. Not just some, a lot of it. Seeing him with long flowy waves, makes me think he should get a collection of wigs. Not that he looks bad bald, variety never hurts!

---
Michael Chiklis recreates a disastrous Mother's Day photo for Father's Day
June 17th, 2019 under Michael Chiklis. [ Comments: none ]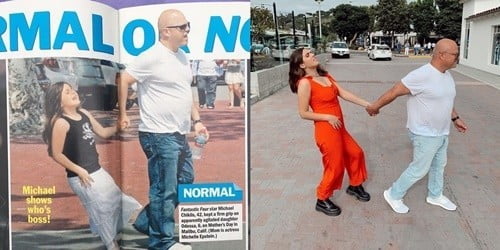 Back in 2005, Michael Chiklis' daughter had a meltdown on Mother's Day. It would not have been a big deal, had the paparazzi not caught that moment between the dad and his then 6-year-old daughter.
I guess things never change, because, now nearly 15 years later, this time on Father's Day, Odessa is still having those hissy fits. As you can tell The Thing star is over them because it is not even phasing him. I guess all of those years on The Shield toughened him up to his kid's tantrums.
Seriously though, how sweet are those moments between them. I am sure the scenario will
be reversed at her wedding.

---
Who is the sexier bald man: Bruce Willis or Michael Chiklis?
September 17th, 2018 under Better than..., Bruce Springsteen, Michael Chiklis. [ Comments: none ]

Bruce Willis and Michael Chiklis are filming 10 Minutes Gone in Ohio and the latter shared a photo of the two chrome tops. Normally, I do not find bald men good looking, but I cannot stop staring at these two very sexy men. So much so, I cannot decide who is hotter. Can you?

---
Michael Chiklis says American Horror Story was one of his darkest years
October 25th, 2016 under American Horror Story, Michael Chiklis, No Ordinary Family. [ Comments: none ]

Michael Chiklis has had an amazing career filled with comedies, family television and dramas, but one show was so hard on him he doesn't know if he could do it again.
When he was asked if he would do another season of American Horror Story on Larry King Now, he told the Ora TV host, "Probably not." Then he explained, "I mean that was one of the darkest years of my career. It is one thing to do a Horror film, in the context of like two months or something like that. But to live in that for 6 months."
This is coming from a man who spent 5 years as The Commish, 6 years in the very gritty The Shield and over a year on Gotham. The Shield was so violent for me, I watched one episode and never ever went back. Yet he feels AHS was, "so dark and so nasty."
The show creeped him out so much that for the first time in his career, he did not watch the final product. After watching a few episodes, he chose not to watch any more.
Which says a lot to me, especially since I though American Horror Story: Freak Show was the tamest one of the series so far. Although, his Strong Man was really messed up and took part in some really awful scenes. I guess now that I think about it, I can see where he is coming from with his thoughts.
I will say this about Chiklis, he truly is one of the greatest and most diverse actors on television. He has played the spectrum and each role is completely different. My favorite one, No Ordinary Family ended way too early because that was a gem of a show that ABC didn't realize they had.

---
Michael Chiklis gets over his fear of snakes with a python!
December 2nd, 2014 under Michael Chiklis, No Ordinary Family. [ Comments: none ]

Michael Chiklis was on The Queen Latifah Show yesterday and he made the mistake of telling her that he is afraid of snakes. So she told him the best way to get over his fears, is to face them head on on a talk show. Then before he could even comprehend what she meant, a man came out holding a Pugsly the Albino Burmese Python.
So did it work or did he go all Shield on her? You just have to watch to find out.

---