The many faces of Michael Chiklis stuck in traffic
June 13th, 2012 under Michael Chiklis, No Ordinary Family, The Many Faces of. [ Comments: none ]

OMG! We've moved 5 car lengths in a half hour! #RoadRage!


This is so close to becoming breaking news! 5, 13 year olds in the back! Must…Hold…On. #RoadRage!


One more boy band song and it's going be all over! #RoadRage!


Oh great! Now I need to pee! #RoadRage #7thCircleofHell!


Okay something terrible must have happened…if not, something's going to. #RoadRage


Too late… #PeedMyPants #RoadRage


It's just not funny anymore. #RoadRage


Michael Chiklis was stuck in some major LA traffic with five teenagers yesterday and let's just say he was very animated about it. To pass the time he documented his suffering on Twitter and we get to laugh as his pain.
What might not be that funny is that because he didn't post any pictures after he said "It's just not funny anymore;" we don't know if he went all The Thing or Vic Mackey on the cars but I am sure The Commish is looking into his No Ordinary World traffic jam.
Seriously are those pictures and the captions not the funniest thing you have seen all day? Especially the photo that he posted after he got some much needed relief. You know if he wanted to give the other drivers as a big of a laugh as we got out of his situation, he could've done his butt dance for them. That would've made the time go faster for everyone.

---
I will never look at Michael Chiklis the same way…
April 6th, 2011 under Michael Chiklis, No Ordinary Family. [ Comments: 1 ]

Michael Chiklis and Patton Oswalt recreated the famous video of twin baby boys talking to each other for Funny or Die and after seeing Det Vik Mackey in diapers like that and saying Daddio over and over I will never be able to look at him the same way. I mean at least there was Shield over his Thing, but still seeing him in diapers like that, just ruined whatever image I had of him. Especially because I know about the fetish Paraphilic infantilism… Not saying he is into it, but yes I did picture him if he was.
Thankfully I saw this video after the season finale of No Ordinary Family. I don't think I could've watched the ABC show so soon after seeing that. Well at least I have the summer to get over it because I have been praying my hardest that ABC renews this family superhero show. Especially after the way the show ended last and set up the second season. How awesome was that ending?
OK, off to look at this cute picture of Michael Chiklis and his pup sleeping together to have that image of him burned into my mind.
Now back to the video, I actually like it and laughed really hard. Watch it all the way through because there is a big payoff at the end!!!

---
Michael Chiklis' No Ordinary bed fellow!
February 25th, 2011 under Michael Chiklis, No Ordinary Family. [ Comments: none ]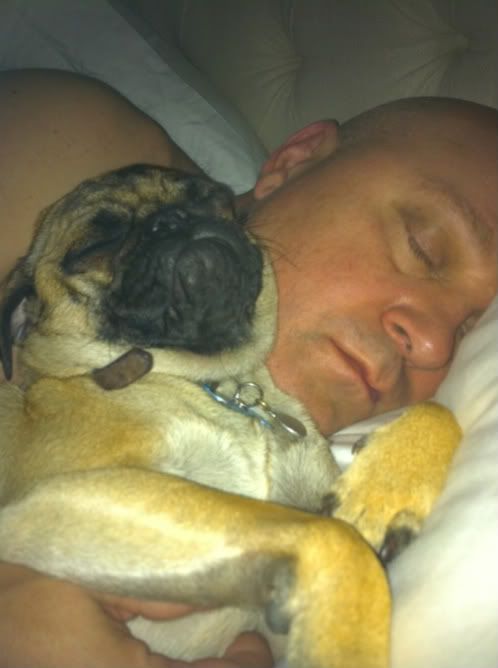 Michael Chiklis' wife Michelle (yes Michael and Michelle) Tweeted the above picture of husband and said "I found my husband in bed with another girl this morning! :)" I am so happy she shared with us this picture because the tough guy looks so awwwdorable with his mistress!
BTW you know how they say dogs look like their owner? Well this man's best friend, looks just like her No Ordinary Family man!!!

---
BTWF roles: Michael Chiklis in Wired
February 8th, 2011 under Before They Were Famous, Michael Chiklis, No Ordinary Family. [ Comments: none ]

Before Michael Chiklis was part of a No Ordinary Family, he was playing John Belushi, a man who had no ordinary life in Wired. Who else was excited to see him with hair when he was 26 in that 1989 movie.

---
They say people look like their dogs, well Michael Chiklis and that pup are arfdorable!!!
February 8th, 2011 under Michael Chiklis, No Ordinary Family. [ Comments: none ]

I have always liked Michael Chiklis, but ever since I saw him do the "Butt Dance" on No Ordinary Family I just think he is the cutest thing and I never thought I would think he was any cuter than that. Well that was until he Tweeted the above picture with the pug puppy and now I think he is so arfdorable Seriously how precious and sweet are the two of them together? Doesn't it just melt your heart?
Still doubting why to love him? Well he released a song on iTunes yesterday with his band called Til I Come Home that was inspired by US Troops. Not only he is a great actor, he is an amazing singer.
Now back to his acting see him play the toughest man in the world on ABC's No Ordinary Family at 8p!!!

---