Matthew Perry is no longer there for his fiancée
June 2nd, 2021 under Matthew Perry. [ Comments: none ]
Last week, Matthew Perry reunited with his Friends. This week, he split from his fiancée Molly Hurwitz, 29.
"Sometimes things just don't work out and this is one of them," Perry said, in a statement to People. "I wish Molly the best."
The two started dating in 2018 and got engaged in November. He did not say why they split. That is what the tabloids are for.

---
Matthew Perry reveals they started production on the Friends reunion
April 10th, 2021 under Friends (cast), HBO Max, Matthew Perry. [ Comments: none ]
We have been hearing about the Friends reunion for over a year now. First, it was delayed due to greed, and then the pandemic.
Good things come to those who wait because Matthew Perry posted a photo of himself in a makeup chair and wrote, "Seconds before eating a makeup brush. Not to mention reuniting with Friends."
There you have it; we are one step closer to seeing the unscripted reunion on HBO Max. Now, we just wait for an airdate.
Are you excited that it is finally happening?

---
Matthew Perry has something to be thankful for, he's engaged
November 27th, 2020 under Matthew Perry. [ Comments: none ]

Matthew Perry has some big news to share with us. "I decided to get engaged," he told People. "Luckily, I happened to be dating the greatest woman on the face of the planet at this time."

Perry and his fiancée, Molly Hurwitz, have been dating for two Valentine's Day. She is a literary agent.

Perry is the last Friend to get married, but will he be the last one to get divorced? Lisa Kudrow is the only of the other five Friends who is still married. The rest of them have all had their marriages end like Ross and Rachel probably did.

---
Matthew Perry is looking hot!
March 13th, 2020 under Matthew Perry. [ Comments: none ]

A few years ago, Matthew Perry was hospitalized and in rehab for several months. Therefore, for a while, he was not looking best. That was then, now look at him! Chandler made me go Bing!

BTW Am I the only one who didn't realize how beautiful his eyes are until now?

---
Matthew Perry teases 'big news'
February 5th, 2020 under Matthew Perry. [ Comments: none ]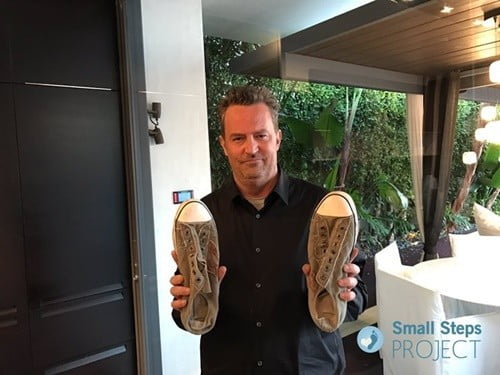 Jennifer Aniston broke the internet when she posted a photo of all six Friends together again. Will her co-Friend Matthew Perry be able to do the same? The actor tweeted, "Big news coming…"
What that means, we have no idea. People are assuming that the unscripted Friends reunion, that has been put on hold because of their greed, is back on. I think it is him saying he is returning to acting after his medical hiatus. Personally, I would be happier with the latter because he is my favorite Friend!
UPDATE: The big news is that Matthew Perry joined Instagram. In one word, yawn.

---