Matthew Perry looking good
November 8th, 2019 under Courteney Cox, Friends (cast), Matthew Perry. [ Comments:

2

]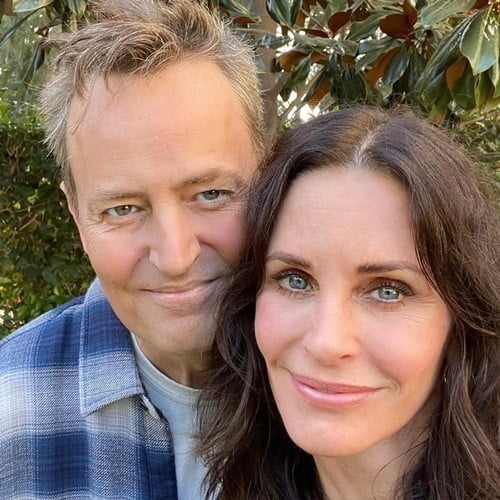 Courteney Cox hung out with her TV husband Matthew Perry and we got this sweet photo proving, to me, that Monica and Chandler would still be together today unlike Rachel and Ross.
Now, let's talk about how good Perry is looking these days after his very scary health scare over 4 years ago. Someone give him a talk show already because he is one of the naturally funniest people in Hollywood.
BTW all these shared photos from the cast of Friends getting together makes me think something is up. What? Only time will tell.
---
Matthew Perry loves himself!
August 9th, 2019 under Matthew Perry. [ Comments:

none

]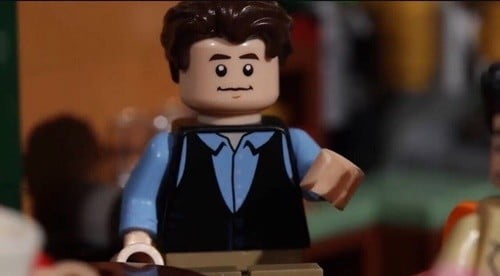 Yesterday, Lego announced that they are releasing a Friends set for the sitcom's 25th anniversary. Which you can own for just $59.99.
As soon as Matthew Perry saw his plastic self, he declared, "Of the Friends @LEGO_Group I think you can clearly see that Chandler is the most attractive" I cannot argue with him. He is the cutest one of them all.
I am so happy that he is finally expressing his sense of humor again. Something we have not seen a lot of since he got sick over a year ago. To me, he is one of the funniest celebrities, naturally, in Hollywood. Whenever he would talk on the panel or appear on a talk show, he would make me laugh out loud several times. Hopefully, we see him on our TV screens again soon. I cannot be the only one missing him.
---
BTWF: Matthew Perry for Pacific Bell
January 29th, 2019 under Before They Were Famous, Matthew Perry. [ Comments:

none

]

Before Matthew Perry was on the phone talking to only one of his Friends, the other four could not get through to him because he did not have call waiting from Pacific Bell. He looks the same now as he did when he was 27 in that 1987 commercial.
---
Matthew Perry reveals he spent three months in a hospital bed
September 15th, 2018 under Matthew Perry. [ Comments:

none

]

Last month, there were reports that Matthew Perry had surgery to repair a gastrointestinal perforation. Yesterday, he tweeted an update, "Three months in a hospital bed. Check." Other than that, we do not know anymore. Hopefully, he is on the road recovery.

Perry is my favorite Friend, I was even a fan of his before he was Chandler Bing. Then he rewon me over during press events because of his quick wit and humor. Something it seems like he still has even after all he has been through.

I hope he feels the love of his fans and that will also help him get through this.
---
Matt LeBlanc gets mistaken for Joey's dad!
August 8th, 2017 under Friends (cast), Jimmy Kimmel, Matthew Perry. [ Comments:

none

]

Matt LeBlanc was on Jimmy Kimmel Live yesterday and he revealed some things about himself. Do you know what show he is watching multiple Episodes (see what I did there) of now? My Little Pony. Why? Because his 13-year-old daughter would rather watch that than her dad on television in a little show called Friends.
While his teen is not into his biggest show, many other teenagers are. They are discovering the show in syndication and some of them even recognize him now. Sort of. You see as he told the ABC late night host, "But now enough time has gone by, kids come up to me and say,'Hey, wow, did you, whoa, are you Joey's dad?" I say this with endearment, but he did the age the most out the cast, so you can understand why they would ask him that. Right?
And then there's the Friends When LeBlanc Dislocated His Shoulder. That's right, remember those episodes when he walking around with a sling? Turns out he injured himself while filming a scene racing Matthew Perry to the chair. LeBlanc feel on the floor and did not realize how bad it was until he saw the condition of his arm. To make it worse, he saw Anthony Edwards, who was dressed in his ER character at the time, walking by and thought he head too. Alas, he did not.
---