I do not hate the Charlie's Angels trailer
June 27th, 2019 under Kristen Stewart. [ Comments:

1

]

When they announced that they were doing a Charlie's Angels reboot with Kristen Stewart and Elizabeth Banks, I thought the Razzies has a lot of their nominees handed to them with this film. In fact, before I hit play, I was thinking of writing, it was nice of Sony Pictures not to destroy Farrah Fawcett's memory by not posting this on the day of the death of her anniversary. Then I hit play…
I was surprised it was not bad, it made me smile. It understands that it needs to be as cheesy as possible. It is supposed to fun, and it looks that is what we can expect from the film that comes out on in November.
This is not enough for me to go see it, but is it enough for you?
---
This is the new Charlie's Angelzzzzz
April 15th, 2019 under Kristen Stewart, Uncategorized. [ Comments:

none

]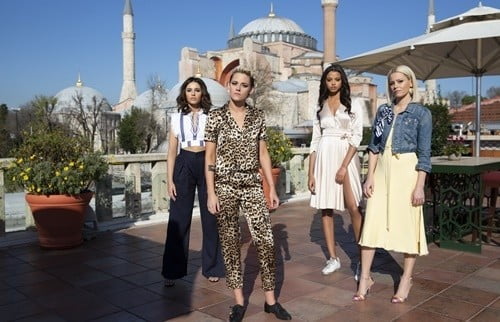 Charlie's Angels in hitting theaters again on November 15th, and today we got the first look at the new Angeles. Ella Balinska, Kristen Stewart and Naomi Scott posed with director Elizabeth Banks, who is also playing Bosley, and who knew I would be missing Drew Barrymore, Cameron Diaz and Lucy Liu in the roles. But I am.
This film looks so bad, this was the best picture for me to post. That is how boring it is going to be. Want to see the second and third best photos, then click here!
---
Kristen Stewart explains why she shaved her head
March 9th, 2017 under Kristen Stewart, TV News, Twilight. [ Comments:

none

]
On Tuesday, Kristen Stewart shocked us all when she walked the red carpet for her new movie Personal Shopper with a shaved head and people wanted to know why she did it. Today she was on Today, and that was the first thing Willie Geist asked her.
She told the news anchor, "I am doing a movie in a couple of weeks called Underwater and I play an electrical engineer who's working an oil rig on the bottom of the ocean floor." Then she added, "For me it is practical, I mean, I am not going to have touch ups with the helmet on."
Savannah Guthrie then followed up by asking her if she did it voluntary or they asked her to do it. The actress told her, "I have been wanting to do this for a long time, just for novel sake," adding, "The director suggested it and I was like, 'Who told you?' That is a great idea." And with that off when the hair.
How does she like her buzzed off look? She said, "I just want to head bang all day." Power to her because there is no way I would do it. I am too much of a wimp and she is much more of a daredevil.
When it comes to her new look, I think she carries it off well. I just think she would look even better if she went back to brunette roots. It would bring out her features even more instead of just washing them out. What do you think?
---
Kristen Stewart claims she smiles a lot
August 12th, 2015 under Jimmy Fallon, Kristen Stewart, Twilight. [ Comments:

none

]

Kristen Stewart was on The Tonight Show yesterday and Jimmy Fallon asked her if she really goes out of her way not to smile. She told the NBC host that she smiles all the time, but magazines tell her not to. In fact, she realizes that putting on a smile is like a good mask for her and the paparazzi ignore her when she has one on.
Even though she was all smiley during this interview, I still don't believe the Twilight star smiles all the time. Do you?
---
Kristen Stewart disses Justin Bieber!
April 8th, 2015 under Conan O'Brien, Justin Bieber, Kristen Stewart, Twilight. [ Comments:

none

]

Kristen Stewart was on Conan tonight and the TBS late night host wanted to know if she was channeling Justin Bieber in Jenny Lewis' music video Just One of the Guys. She told Conan O'Brien, "In his dreams!" Then she quickly tried to backtrack, but the damage was already done. Somewhere the Beebs is crying like a baby baby over her diss.
---