Can Kenan Thompson handle Universal's VelociCoaster?
June 10th, 2021 under Kenan Thompson. [ Comments: none ]
Kenan Thompson has been put through some tough challenges on All That and Saturday Night Live. Therefore, you can think he can do anything.
NBC wanted to see if that is true, so they asked him to go on Universal's newest ride VelociCoaster with Today's Kerry Sanders, who rode out Hurricane Andrew in a news van.
How did he do? Thompson handled it like the boss that he is, screaming for dear life with a smile on his face in his flowered romper that his friend made him.
Someone needs to give Thompson a show where he goes to amusement parks all over the world, rides different roller coasters, and we watch his reaction. How much fun would that be?

---
Young Rock and Kenan score a second season
April 30th, 2021 under Kenan Thompson, The Rock. [ Comments: none ]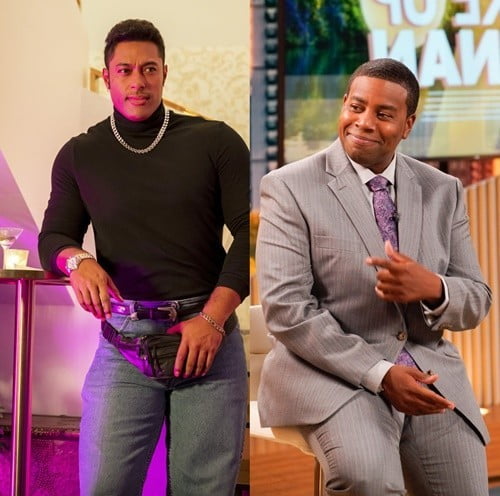 NBC announced today that it renewed both Young Rock and Kenan for a second season.
"It has been a true joy to watch Dwayne Johnson & Kenan Thompson on NBC every week and see families connect with their relatable, entertaining and heartwarming stories," said Lisa Katz, President, Scripted Programming, NBCUniversal Television and Streaming. "We're thrilled to renew both of these shows for another season and can't wait to see more from Dwayne, Kenan and the incredibly talented casts and producing teams behind each of them."
It will be interesting to see what stages of DJ's life they will take on next season. Although, I am biased for them keeping up with his life in college.
When it comes to Kenan, I can't wait to see how they move forward after the season finale's cliffhanger. I am assuming there will be a time jump that will take place. However, I could be wrong.
Either way, I am happy both sitcoms will be back.

---
Kenan and Kel went to the mall and no one knew who they were
March 16th, 2021 under Kenan Thompson. [ Comments: none ]

Kenan Thompson is a recognizable star, now. But that was not always the case for him. Back when he was starting out on Nickelodeon's All That and Ken & Kel, he rarely got recognized even though he had a show named after him.
I mean, he told Conan O'Brien yesterday that he got recognized when he at Chuck-E-Cheese, but that is about it. One day, he and Kel Mitchell went to the mall, hung out in the middle of it, hoping someone would know who they were, and no one did. No one even asked him for directions.
In the mall-goers defense, it was the time of Tiffany. So if you weren't singing at one, no one would know you are.
However, if he went to that mall today, I am sure someone would recognize him and ask for directions. Although, he does wear a lot of costumes on Saturday Night Live, so maybe not.
Unless they are watching him on his hilarious family sitcom Kenan, then they are sure to know who he is.

---
Are Kenan Thompson and Chris Redd leaving SNL?
February 23rd, 2021 under Kenan Thompson, NBC, Saturday Night Live. [ Comments: 2 ]

Last week, Kenan Thompson's NBC show debuted to really good numbers? So does that mean that he and his Saturday Night Live and Kenan co-star Chris Redd are ready to leave New York for Hollywood full time?
"I think we are living in a different time. There used to be a time when people would leave the show and go into their careers," Kenan said at the NBC TCA Winter Press Day. "But I'm of the same kind of thinking, basically, where I think you can, kind of, do both as long as you can, and then the departure comes in a natural sort of way. Then so be it or whatever."
Redd agreed, "Well, not much goes into it because I haven't decided to leave either. So, I'm just having fun being able to create with one of my best friends and also be able to still go and do sketch, and I love sketch. So, I don't really see it as an exit strategy. I just, kind of, see it as another way to create. So that's the best answer I think I can give you."
I say this is great news. SNL can lose a lot of their Not-Ready-For-Primetime-Players, but they cannot afford to lose the two that are working in primetime.
Now, let's talk about their primetime show that airs Tuesdays at 8:30p. If you are not watching Kenan, then you are missing out on the funniest new comedy of the year. Kenan deserves all the success he gets, and this is a sitcom that is worthy of him.

---
Kenan Thompson becomes a leading man tonight
February 16th, 2021 under Kenan Thompson, NBC. [ Comments: none ]

Kenan Thompson has been acting for over 25 years now. He has been part of ensembles like All That, Kenan & Kel, and Saturday Night Live. Tonight at 8:30p, he is getting a sitcom that is titled after him. Not only does this hard-working, talented actor deserve this, but he gets a show that is worthy of him.
Kenan is about a widowed father of two who is trying to adjust to life after losing his wife. He spends his mornings hosting a daytime talk show and his nights with his daughters and father-in-law. That is a lot for one man to handle, but he will try to do his best.
Something that would be easier if his co-host wasn't so aggravating. You know the type. Thankfully, he has Mika (Kimrie Lewis), his EP, and his brother, Gary (Chris Redd), the manager on the show, to back him up.
When he is home, he has his father-in-law, Rick (Don Johnson), to help out with his daughters, Audrey (Dani Lane) and Birdie (Dannah Lane). They are a mix of both of their parents. Since Kenan's wife is not around, he wants to make sure his girls know that he loves them very much.
It has been rough on Kenan since he lost his wife. He is just starting to be more like his old self, but the reminders are there, and he has to learn to live with those feelings. Thankfully he has enough loved ones to support him through this difficult time.
Kenan is not a sad show. In fact, it made me laugh several times. All I will say is "fat Beyonce" should become a thing after this episode airs.
We all need something sweet in our lives, and Kenan does just that. We need Kenan, so y'all need to watch this show tonight and every Tuesday on NBC.

---