Bill & Ted's most excellent speech to the graduating seniors of San Dimas High
June 3rd, 2020 under Keanu Reeves. [ Comments: none ]

Graduations all over the world have been canceled because of the coronavirus pandemic, including the one at San Dimas High School. Just like many schools, they found a viral way around it.
SDHS put their graduation on YouTube, and it includes a speech from their most famous alumni. Of course, I am talking about Bill S. Preston, Esq. and Ted Theodore Logan, who were part of the class of 1989. You might know them better as Wyld Stallyns.
Alex Winter started off with, "We know it's a tough time right now and that you're having to do this virtual graduation. We want to wish you the best of luck moving forward."
Then Keanu Reeves said, "Yeah, congratulations to the graduating class of 2020. Well done!"
Winters acknowledged, "San Dimas High School football does rule." And Reeves chanted back, "Rules!"
Winter added, "But most importantly, we wanted to tell you to be excellent to each other."
While Reeves concluded with their mantra, "And party on!"
And party on they will do when Bill & Ted Face The Music comes out at some point.
I don't know who made this happen, but I have two words for you, and they are, "Thank you!"

---
Bill & Ted's Death without his robe!
September 4th, 2019 under Keanu Reeves. [ Comments: 5 ]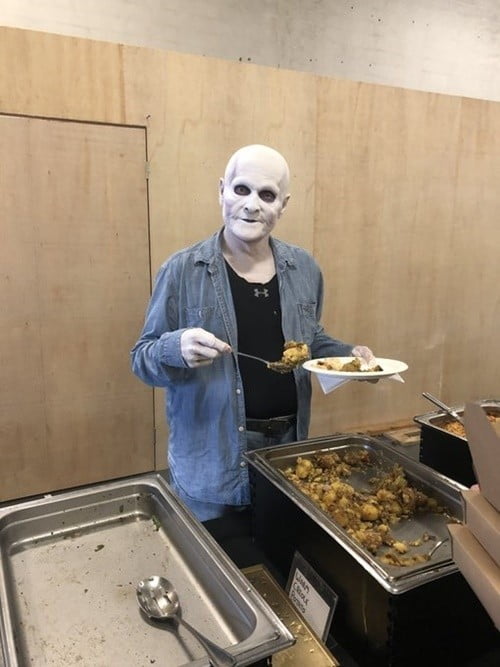 I finally had to admit that Bill & Ted's 3 is actually happening because they actually started filming Face the Music. Not only did they begin, they are already done. That is right, Grim Reaper swung his scythe on filming.
On that note, we have seen paparazzi photos of Alex Winter and Keanu Reeves as Bill and Ted again, but we have not seen what Death looks like. Yesterday, the movie's Gd, Ed Solomon, shared a photo of William Sadler in makeup. Just makeup and not costume because it was behind the scenes when he was getting some food. I guess even Death needs to eat.
Now, that I have seen Sadler back in action, I am even more excited for this much-anticipated sequel. I just wish we did not have until August 20th to see it. That and I wish I could get Poison's Every Rose Has Thorn out of my head. If you do not get that, then you are not a true Bill & Ted's fan.

---
Bill & Ted Face the Music is officially happening
July 1st, 2019 under Keanu Reeves. [ Comments: none ]

For years, we have been hearing that Bill & Ted's 3 is happening, but I did not believe it. Fool me once, shame on you. Fool me twice, shame on me. Fool me more times, than there are fingers on my hand, I am not going to believe you.
Then, Keanu Reeves and Alex Winter announced that the sequel was finally going to be filming this summer, and I still did not believe it. Then, they revealed who will be back and who is joining the movie, and I still didn't believe it.
Today, executive producer Ed Solomon posted a video of the first shot on the highly anticipated movie and I almost believe it. Almost because he says that is not Bill S. Preston, Esquire and Ted "Theodore" Logan in the shot. Is this just Station playing the longest joke on the die-hard fans like me?
This is more torturous than every time Poison's Every Rose Has a Thorn comes on. That song became a thorn to me after Bill & Ted's Excellent Bogus Journey. I still can't listen to it without laughing.
Just like every cowboy sings a sad, sad song. That is how I feel every time they mentioned Bill & Ted's 3 and it did not happen.

---
Diane Franklin shares a photo from Bill & Ted's alternate ending
June 27th, 2019 under Diane Franklin, Keanu Reeves. [ Comments: none ]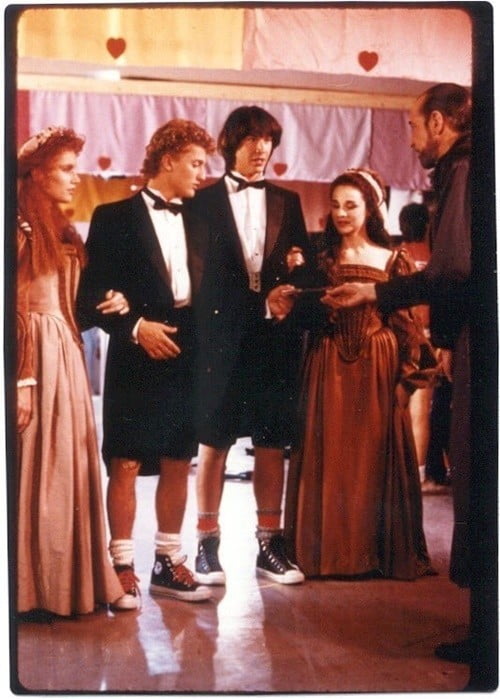 Back in 1989 when Bill & Ted's Excellent Adventure ended, Rufus (the late George Carlin) brought the medieval Princesses forward in time to be with the leads (and do 69, what?). However, that was not the original ending.
Last year, when Keanu Reeves, Alex Winter and writers Chris Matheson and Ed Solomon talked about the legendary film (and my personal favorite) to Entertainment Weekly, they let us know that was not how the film really ended.
Bill S. Preston, Esquire revealed the true ending was, "We just bring the historical figures back to our classroom. And Keanu just sat on the desk, and watched them kind of talk about who they were. Then we'd go to the prom, and that's the end. Even while we were shooting it, we were kind of depressed." Therefore, after much thought, they reshot it and it ended the way we know it as.
I do not remember seeing any video or pictures from that original ending. However, that all changed today because Bodacious Babe Diane Franklin aka Princess Joanna shared a photo of them going to the prom. I love that the Wyld Stallyns wore tuxes with long shorts, tube socks and sneakers. It is very Bill & Ted. Kind of wish we got to see them five of them like that 30 years ago. Anyone else feeling old because this movie is that old?
Still no word if Franklin and Kimberley Kates will reprise their roles Bill & Ted Face the Music. It will be totally bogus if they are not especially because they still look just as beautiful. I mean how can you have their daughters without their moms?
Although, I still don't believe the third movie is happening. Until someone posts a photo from the first day of filming, I will remain cautiously optimistic. Then after they post it, I am so going to stalk production.
UPDATE: Even though the movie is bringing back so many other actors from the original movies, they have decided to recast the Princess. I call BS on that. That was a wrong decision.

---
I still don't believe Bill & Ted's 3 is happening even after this announcement
March 20th, 2019 under Keanu Reeves. [ Comments: none ]

Thirty years ago, the World was made a better place because of Bill & Ted's Excellent Adventure. Even though the far future is a much better place because of them, our current time is totally gnarly. What could make us a most excellent place again?
How about Bill & Ted's 3: Face the Music. After years of like totally teasing us, Wyld Stallyns is back. Some dudes named Alx Winter and Keanu Reeves made the totally awesome announcement today that they will be filming the movie this summer. Then on August 21, 2010, we will finally get to witness the most anticipated sequel. Why isn't being released on June 9th?
Anyways, I cannot and will not get excited about this until it actually goes into production. Fool me once, shame on you. Fool me twice, shame on me. Fool me multiple times, I need proof because there is only so much I can take from my favorite movie.
I just hope between now and production, someone puts some air in those deflated tires. What happened to all of that energy they used to have. Someone get them some much-needed Jolt which is also back from the '80s.

---