Some most excellent news about Bill & Ted Face the Music
July 23rd, 2020 under Keanu Reeves. [ Comments: none ]

After years of waiting for the third Bill & Ted's movie to happen, it finally happened. There is only one bogus problem. Just as the movie got a release date, something most heinous happened in the world, Death gave us COVID-19.
Ever since that virus took over the planet, movie theaters have been shut down. That means not even time travelers from the future could save its many failed release dates. That is until now in the 69th hour. Orion Pictures announced today that Bill & Ted Face the Music will come out on September 1st in theaters (if they are open) and home video. While the latter is not an ideal way to watch the feature. At least we get to see it.
I still don't believe it is going to happen, but this trailer is making me more of a believer that this film real.
So get ready because in 40 days we will get to party on with Wyld Stallyns!

---
Happy Bill & Ted day! Let's celebrate with the trailer for Face the Music!
June 9th, 2020 under Keanu Reeves. [ Comments: none ]

Today is one of my favorite days of the year because it honors my favorite movie Bill & Ted's Excellent Adventure. For 28 years, I have patiently waited for the second sequel in the franchise, and now that day to Face the Music is almost here. It is so close that we actually have a most excellent trailer for it.
Just like they have been teasing us for years, this just a teaser trailer for the film that is slated to come out on August 21st. I say slated because who knows these days with COVID-19.
Maybe Bill & Ted can use the phone booth to go back to 2015 and convince Donald Trump not to run for president. Then they don't have to write the song. But what would third movie be about then? Woah!
Party on by pressing play and watching the trailer that will unite the world!

---
Bill & Ted's most excellent speech to the graduating seniors of San Dimas High
June 3rd, 2020 under Keanu Reeves. [ Comments: none ]

Graduations all over the world have been canceled because of the coronavirus pandemic, including the one at San Dimas High School. Just like many schools, they found a viral way around it.
SDHS put their graduation on YouTube, and it includes a speech from their most famous alumni. Of course, I am talking about Bill S. Preston, Esq. and Ted Theodore Logan, who were part of the class of 1989. You might know them better as Wyld Stallyns.
Alex Winter started off with, "We know it's a tough time right now and that you're having to do this virtual graduation. We want to wish you the best of luck moving forward."
Then Keanu Reeves said, "Yeah, congratulations to the graduating class of 2020. Well done!"
Winters acknowledged, "San Dimas High School football does rule." And Reeves chanted back, "Rules!"
Winter added, "But most importantly, we wanted to tell you to be excellent to each other."
While Reeves concluded with their mantra, "And party on!"
And party on they will do when Bill & Ted Face The Music comes out at some point.
I don't know who made this happen, but I have two words for you, and they are, "Thank you!"

---
Bill & Ted's Death without his robe!
September 4th, 2019 under Keanu Reeves. [ Comments: 5 ]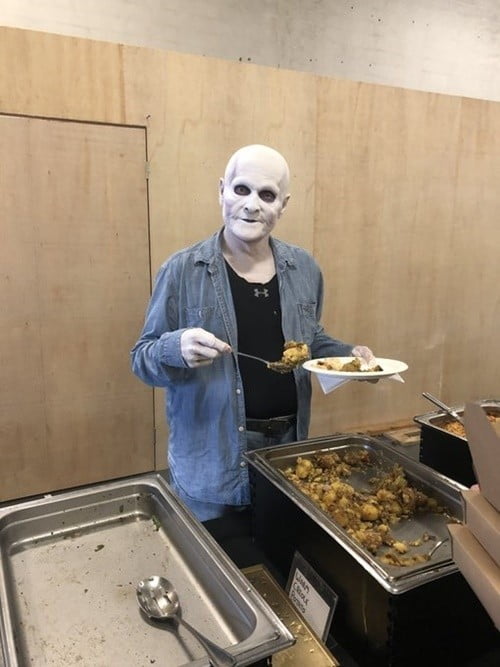 I finally had to admit that Bill & Ted's 3 is actually happening because they actually started filming Face the Music. Not only did they begin, they are already done. That is right, Grim Reaper swung his scythe on filming.
On that note, we have seen paparazzi photos of Alex Winter and Keanu Reeves as Bill and Ted again, but we have not seen what Death looks like. Yesterday, the movie's Gd, Ed Solomon, shared a photo of William Sadler in makeup. Just makeup and not costume because it was behind the scenes when he was getting some food. I guess even Death needs to eat.
Now, that I have seen Sadler back in action, I am even more excited for this much-anticipated sequel. I just wish we did not have until August 20th to see it. That and I wish I could get Poison's Every Rose Has Thorn out of my head. If you do not get that, then you are not a true Bill & Ted's fan.

---
Bill & Ted Face the Music is officially happening
July 1st, 2019 under Keanu Reeves. [ Comments: none ]

For years, we have been hearing that Bill & Ted's 3 is happening, but I did not believe it. Fool me once, shame on you. Fool me twice, shame on me. Fool me more times, than there are fingers on my hand, I am not going to believe you.
Then, Keanu Reeves and Alex Winter announced that the sequel was finally going to be filming this summer, and I still did not believe it. Then, they revealed who will be back and who is joining the movie, and I still didn't believe it.
Today, executive producer Ed Solomon posted a video of the first shot on the highly anticipated movie and I almost believe it. Almost because he says that is not Bill S. Preston, Esquire and Ted "Theodore" Logan in the shot. Is this just Station playing the longest joke on the die-hard fans like me?
This is more torturous than every time Poison's Every Rose Has a Thorn comes on. That song became a thorn to me after Bill & Ted's Excellent Bogus Journey. I still can't listen to it without laughing.
Just like every cowboy sings a sad, sad song. That is how I feel every time they mentioned Bill & Ted's 3 and it did not happen.

---