Peter Andre beats Jordan!!!
August 30th, 2009 under Jordan/Peter Andre/Harvey. [ Comments: none ]

(photo from WireImage)


Peter Andre and his soon-to-be-ex Jordan went head-to-head with their reality shows on ITV this Thursday and he beat her out in the ratings according to WENN. Katie Price's show, What Katie Did Next was seen by 1.28 million viewers while Andre's show Going It Alone was seen by 1.72 million. Who ever thought that almost 500,000 more people would be interested him over her? I guess her star is dimming fast.
Oh to have been there when she found out Peter did better than her. She must be so pissed.

---
Will Jordan and Peter Andre find love again in the jungle?
August 20th, 2009 under Jordan/Peter Andre/Harvey. [ Comments: none ]

Peter Andre recently announced that he wants to go back to the show that introduced to him soon-to-be-ex-wife Jordan, and now IOL is reporting that she too wants to be dropped in on I'm A Celebrity…Get Me Out of Here. They added that ITV airs the show feels the same way I do about this, "Getting them back together would be TV dynamite. Everyone would be watching to see if they would fall in love again or tear each other apart." The only reason why I don't want them to do it, is because I can't watch it here in The States. Hopefully both will back on the show and together because these two are meant for each other!!!

---
Peter Andre's career takes a fall
July 20th, 2009 under Jordan/Peter Andre/Harvey. [ Comments: 1 ]

Peter Andre was performing at T4 and as he was walking down the steps, he tripped over his own feet and fell off the stage. Lucky for Peter and unlucky for us, he was able to recover as though nothing happened. If you are going fall off the platform, that is the way to do it. Although it would've been funnier if he landed on his bum instead of his feet.

---
Tender moments between Peter Andre and Harvey!
June 18th, 2009 under Jordan/Peter Andre/Harvey. [ Comments: 3 ]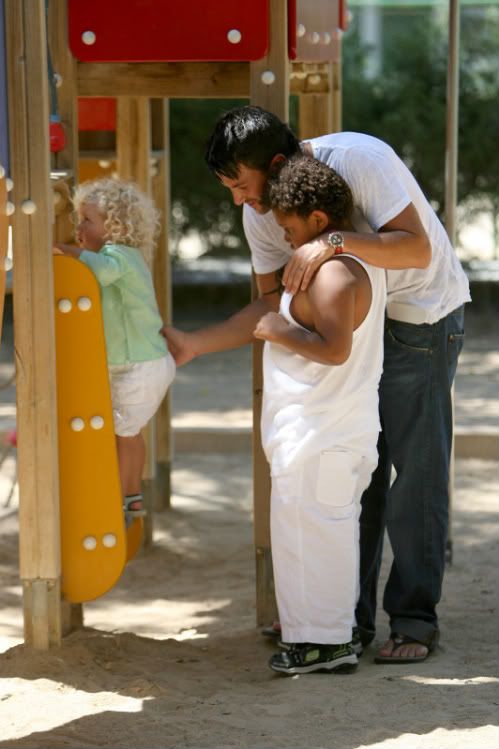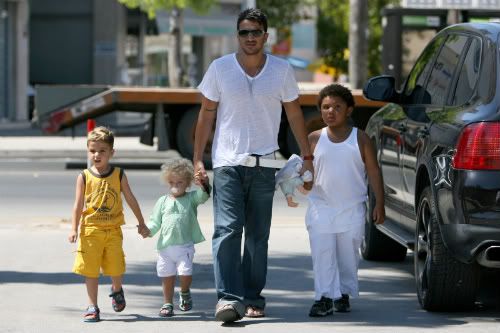 Splash News Online
Peter Andre took his 3 kids to the park yesterday and that trip in Cyprus lead to some tender moments between four! Seriously how awwwdorable is that picture of Harvey hugging his dad and lovingly looking at each other? There were rumors when he split from Jordan, that she wasn't going to let him see Harvey. Thankfully that is not the case because you can tell how much they really love each other!!!

---
Peter Andre and Jordan dueling reality shows
June 15th, 2009 under Jordan/Peter Andre/Harvey. [ Comments: 1 ]

Now that Peter Andre and Jordan aka Katie Price have split, how will ITV survive without their reality show, Katie & Peter? Well they gave them each their own reality show that will air on rival ITV stations at the same time according to Daily Mail.
Katie's spokesperson confirmed to MailOnline: 'Katie has signed a separate deal and will be filming her own show.'
Peter Andre's spokeswoman Claire Powell confirmed: 'We're already filming the show, I've just followed Peter to Macau in China which was absolutely amazing.
'It did him the world of good, and it was so nice to see him smile again.'
I think Jordan will be the ratings winner of the two because as much as I like Peter, he is not as interesting without Katie Price. Who do you think will win?
BTW am I the only hoping that they will still get back together?

---