Caption Peter Andre!
April 4th, 2010 under Caption the Celeb, Jordan/Peter Andre/Harvey. [ Comments: none ]

WireImage
This picture of Peter Andre has Caption Me written all over it, so go ahead and do it!

Winner of the last Caption The Celeb:

fcooper wrote for Caption Jennifer Aniston and Gerard Butler!…"gerry needed to wipe his boogers somewhere…her crack was the appropriate and most discrete place to do so!"

---
Jordan and Alex Reid enter the marriage ring
February 3rd, 2010 under Jordan/Peter Andre/Harvey. [ Comments: 1 ]

(photo from WireImage)


Jordan and Alex Reid had a quickie marriage in Las Vegas yesterday. Katie Price who dumped Alex when she quit I'm A Celebrity, was quick to walk down the aisle with him when he won Celebrity Big Brother last week. Unlike her wedding to Peter Andre that was huge event this one had no fan fare nor was it paparazzi filled, but it was filmed. But according to the Daily Mail we might not see the two say, "I do".
A statement released by their agent confirmed: 'Katie and Alex are delighted to announce that they got married in a private, simple ceremony at 4pm (PST) on February 2nd in Las Vegas.'
The newlyweds said in the statement: 'We are very much in love and look forward to the future together. We can't wait to get back and celebrate our marriage with our friends and family who we know fully support our wishes.'
The spokesman added: 'Their decision to marry has not been made with any pre-conceived commercial plan or media deal in place, and their reason for getting married is purely down to their love for each other.'
But an insider told MailOnline: 'Her ITV2 camera crew were with her and could well have filmed the wedding.
'But Katie is not sure yet whether she will allow the footage to be aired.
'She has not signed any magazine deal for the wedding photographs but they are likely to do an interview about it when they get back.'
Please we are talking about Jordan here she will sell the footage to the highest bidder, but since Peter and her have split that bid won't be as high as it was a year ago.On that note no word from Peter how he feels about his ex being a Mrs again, but you he will probably be civil about it.
Finally how long do you think it will take Jordan and Alex to turn their quickie marriage into a quickie divorce?
UPDATE: According to OK! Peter Ander spoke to Radio 1 about his ex's nuptials after the DJ wouldn't stop asking him about it.
He said: "I didn't know anything about it. I haven't spoke to her. I do speak to her, you have to speak to each other because you have kids and you have to keep things up for them."
Peter was being interviewed on the Radio 1 breakfast show this morning and although he was reluctant to discuss Katie's marriage outspoken host Chris Moyles quizzed him about it.
At one point, Chris said to Peter: "I think the marriage is madness. In the circus that is Katie Price's life as long as the kids are alright that's all you should care about."
Peter replied: "That's exactly what I think. Bottom line is I love those kids, they're my entire life, maybe I'm over-protective of them. But as long as they're looked after that's all I care about."
At least he is putting the kids' interests before his own.

---
Jordan needs to lay off the self tanner
December 20th, 2009 under Jordan/Peter Andre/Harvey. [ Comments: 2 ]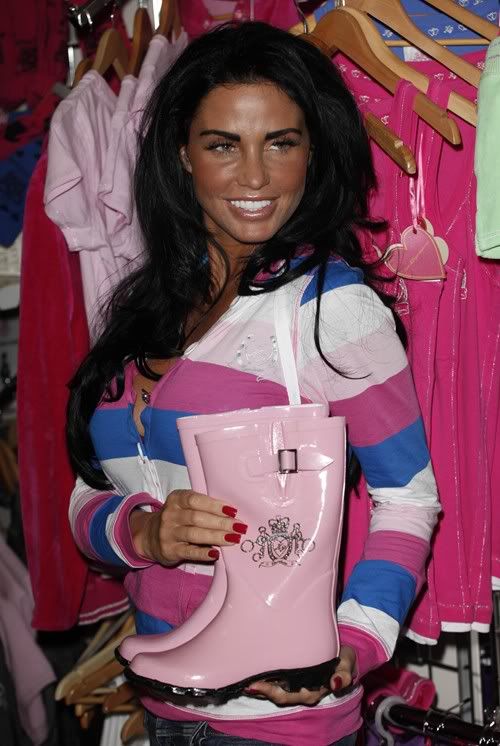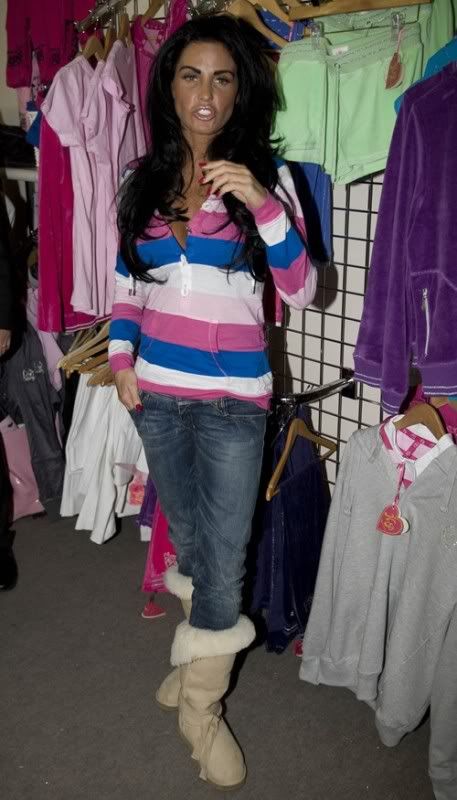 Fame Pictures
Jordan debuted her new clothing line Olympia today and she also debuted her over self tanned skin. Seriously she needs to lay off the self tanning because that color is so not working for. It looks like she went into a to get a spray tan and they forgot about her and left her in too long.

---
Simon Cowell has the worst and Peter Andre has the best
December 10th, 2009 under American Idol 1-5, Bad Hair, Jordan/Peter Andre/Harvey, Simon Cowell. [ Comments: none ]

(photo from WireImage)


Brylcreem has announced their Best and Worst Celebrity Hairstyle Awards for the year and according to New Magazine Peter Andre has the best hair while Simon Cowell has the worst.
Best Celebrity Hair 2009
1. Peter Andre
2. Robert Pattinson
3. Jenson Button
4. Jamie Archer
5. Declan Donnelly
6. Mark Owen
7. Stuart Manning
8. Aston Merrygold
9. Jedward
10. Robbie Williams

Worst Celebrity Hair 2009
1. Simon Cowell
2. Russell Brand
3. Gordon Brown
4. Jimmy White
5. Louis Walsh
6. Andy Murray
7. Piers Morgan
8. David Cameron
9. Alex Reid
10. Ant McPartlin
I wonder if Simon will finally do something different with his hair do that he has had forever, now that he has earned the title worst hairstyle? How did Simon Cowell lose out to Russell Brand because at least the American Idol judge uses brush unlike Katy Perry's boyfriend. And when it comes to Peter who knew leaving Jordan would do wonders for his hair and for Alex Reid dating her would do the opposite. BTW how didn't David Beckham not make both lists because he has both good and bad hairstyles.

---
Katie Price says I'm a Celebrity…Get Me Out of Here
November 22nd, 2009 under Jordan/Peter Andre/Harvey. [ Comments: none ]

Katie Price had reportedly quit I'm a Celebrity…Get Me Out of Here rather than do a 7th consecutive bushtucker trial according to Daily Mail. I can't say I blame her because even doing one of those challenges would make quit, but being the only picked on her team to do them you can't say you blame her. As annoying as she might be she didn't deserve to be the only one voted to suffer. Seriously I like to watch people suffer, but even I think I'm A Celebrity goes too far. I could never eat a kangaroo's testicle or be doused in cockroaches or eat different type of bugs. Nothing is worth it for me to do that. So how much was Jordan getting to endure that? She was being paid £350,000 to appear on the show, and Daily Mail says she might lose that for quitting. I think I would forego the money rather than do another trial, but I would have to thinking about long and hard.

---