Ione Skye ruins that iconic moment from Say Anything
April 1st, 2019 under John Cusack. [ Comments: none ]

Whether you have seen Say Anything or not, then you know that scene where John Cusack holds up a boom box playing Peter Gabriel's In Your Eyes over his head to win back Ione Skye. It was the romantic gesture that men and Hollywood have been retreating ever since.
On April 14th, the coming of age movie turns 30 and People spoke with Skye about that unforgettable moment. She said that the scene was very important to Cusack and the writer/director Cameron Crowe, but she was focused on something else. She wanted to make sure her nightgown was falling the right way and her body looked good as she tossed and turned around in her bed.
Even though Cusack was outside and she was in bed, you would think they both shared that time together; but he was not serenading her. They actually filmed their parts on different days which totally kills the romance.
Her confessions get even worse. Crowe wanted an Elvis Costello song to be playing, but the singer saw the clip and said no. Eventually, they went Gabriel's tune which was a good thing because Costello's music sucks. Makes me like him even less after hearing this.
Talking about hearing, she did not hear that song when she was shooting. She does not remember what it was, but she says it was beautiful.
Did she think that would be the thing that stood out from the film? She did not. I guess from her perspective all she was doing was looking at the ceiling making sure her boobs looked good as we were looking at that big boob in a raincoat trying to win her back.
I know after I saw that movie, I wanted and still want a man do that for me. Instead of handing me a mixtape, I want him to play it for me on a boombox. OK, in 2019, I want him to play me my playlist on his phone. Screw my neighbors, they are just jealous. Seriously, who hasn't wanted that?

---
John Cusack's hand can say anything
July 23rd, 2012 under John Cusack. [ Comments: none ]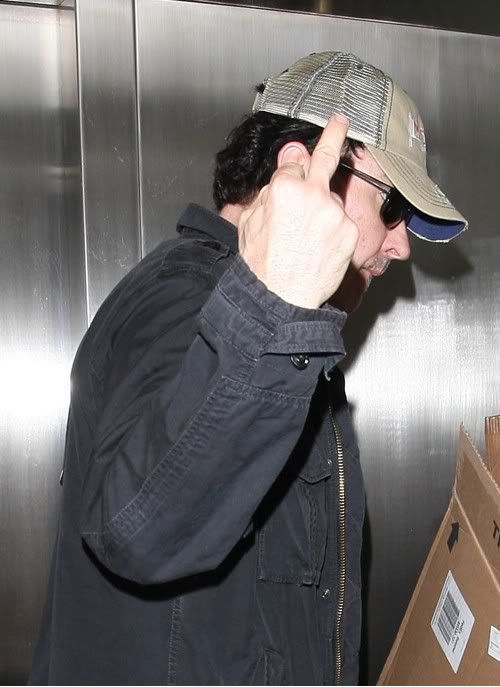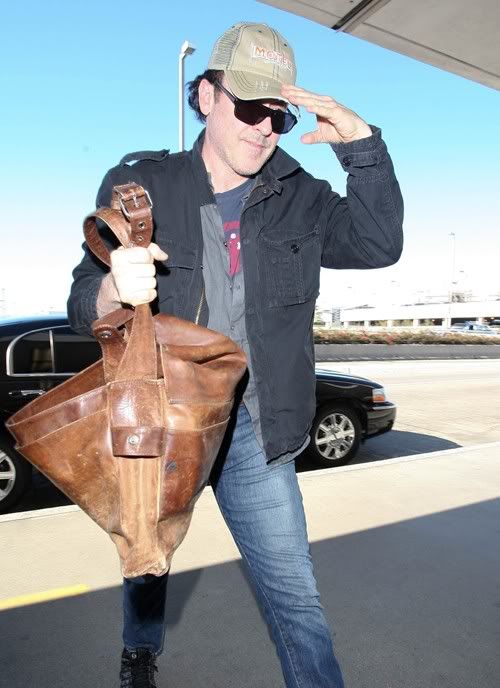 Fame Flynet
John Cusack was caught by the paps at LAX and it looks like he wasn't happy about it. I don't know why he went all 2012 on them because I'd love to have a One Crazy Summer with him in a Hot Tub Time Machine. Seriously don't you still wish he would hold a boom box outside your window. I know I wouldn't tell him to turn off the music, well that is until he came inside.

---
John Cusack and Jimmy Kimmel down shots of hand sanitizer
April 25th, 2012 under Jimmy Kimmel, John Cusack. [ Comments: none ]




John Cusack was on Jimmy KImmel Live yesterday and to celebrate getting a star on The Hollywood Walk of Fame the Say Anything star was willing to do anything. That includes taking part in the latest trend of downing shots of hand sanitizer. So Jimmy Kimmel and him did it and they were wishing they were Better Off Dead as they pumped Purell into their mouths. I think their faces say it all, just how stupid of an idea it is to drink hand sanitizer to get drunk. Their expressions are saying it is Grosse Pointe Blank.
And in case you were wondering if they learned their lesson, the answer is no because after the commercial break they did a second squirt, to which they agreed was worst than the first. But hey if they keep doing it they will have One Crazy Summer in a Hot Tub Time Machine, and I want to hear all about it.
Maybe next time they think about doing it, the two of them will follow the fake PSA that ran earlier in the show? Although even after watching the PSA and seeing the two men down some Purell, is it wrong I want to see what it is like to drink it? Aren't you curious too?

---
John Cusack is Ravenshing
April 24th, 2012 under John Cusack, Uncategorized. [ Comments: none ]

WENN.com
Last night there was a special screening of The Raven and John Cusack met up with a bird that the movie was named after. For some reason seeing him holding the death bird like that makes the former-RomCom hottie look even more Ravenshing. Seriously isn't he just Ravenous? So much so I can't wait to see The Raven when it comes out on Friday.

---
Poor John Cusack
December 29th, 2011 under John Cusack, Zac Efron. [ Comments: none ]

The one sheet is out for the movie The Paperboy that stars Matthew McConaughey, Zac Efron, John Cusack and Nicole Kidman and that is how the billing reads on the poster. Poor John Cusack is billed after someone who is half his age who hasn't even done a 1/4th of the movies that he has done. That has to hurt.
On a less painful note, the High School Musical star is very easy on the eyes in the poster. Seriously when did he become a man?

---