Caption Joe Manganiello!
August 24th, 2020 under Joe Manganiello. [ Comments: none ]

This photo of Joe Manganiello with his best friend Bubbles has caption me written all over it, so go ahead and do it.

---
BTWF: Joe Manganiello in Spider-Man
May 4th, 2020 under Before They Were Famous, Joe Manganiello. [ Comments: none ]

Before Joe Manganiello was eating people on True Blood, he was eating normal food in Spider-Man. He looked like such a douche when he was 24 in that 2002 movie
Here is what Manganiello said about that experience, "May, 3rd 2002… on this day 18 years ago film audiences around the world were treated to me being pummeled repeatedly by tray after tray of cold food thrown by none other than Sam Raimi himself.
"Spider-Man went on to break the all time three day movie opening record, finishing its run as the #4 highest grossing film of all time.
#iwouldntwanttofightmeneither #flashthompson"

---
Look it is The Fly, Birdman and Big Dick Richie
February 10th, 2020 under Jeff Goldblum, Joe Manganiello, Michael Keaton, Strange Encounters. [ Comments: none ]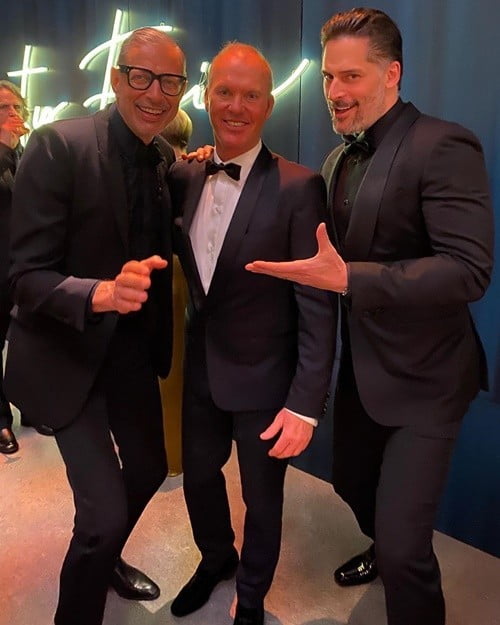 One of the cool things about the Vanity Fair Oscar party is that it brings celebrities together who normally would not hang out. Yesterday's shindig was able to let three Pittsburgh boys shoot the breeze about the Pirates and the Steelers. That is what they talked about, right?
Now that we have seen Jeff Goldblum, Michael Keaton, and Joe Manganiello as a trio, who wouldn't love to see them do a film? They could do a remake of La Cage aux Folles or a modern-day take of The Three Musketeers.

---
Are Sofia Vergara and Jesse Tyler Ferguson Swinging?
October 12th, 2017 under Do they have something to tell us?, Joe Manganiello, Modern Family, Sofia Vergara. [ Comments: none ]

Sofia Vergara and Jesse Tyler Ferguson posed affectionately with each other's spouses, so are the Modern Family costars Swingers? Nope, they were just having some fun at Ferguson's event for his excellent charity Tie the Knot.

But if they were Swingers, who wouldn't want to Swing with Joe Manganiello?

---
Sofia Vergara and Joe Manganiello
May 3rd, 2017 under Joe Manganiello. [ Comments: none ]

Star Magazine declared on their cover today that "It's over" for Sofia Vergara and Joe Manganiello's marriage, and the couple, who has been married for 17 months, took to Instagram to say that it is not.

The Modern Family actress said, "The editor of this magazine is an idiot😂if he is going to have my ring removed to created a 'fake' 'news' he should have made sure that he removed from social media all the other pictures of that award night in Rome where Im wearing it. By the way…thats my friend the producer of the movie Bent that I was shooting in Rome and who came to spend Easter at my home the week later.#Starmagazinebullies #goinventsh*itaboutyourmother" While her husband said, "Big surprise everyone but Star created a fake story and then photo shopped my wife's engagement ring off of her finger in order to sell magazines. They are run by malicious trash. Do the world a favor and don't buy their garbage."

A celebrity couple that fights the tabloids together, stay together!

---