Jennifer Love Hewitt shows off her face at 40
July 30th, 2019 under Jennifer Love Hewitt. [ Comments: none ]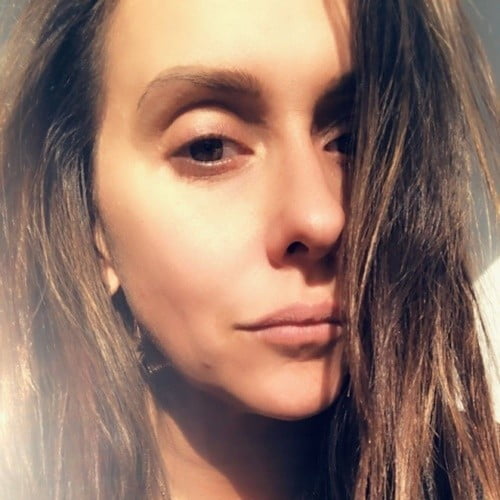 Back in February, Jennifer Love Hewitt turned 40 and she is not letting the number get her down. The mom of 2 wrote, "This is 40. Tired. Grateful. Not always secure. Open. Vulnerable. In love with life. Mom. Wife. Sister. Friend. Entertainer. Student of the universe. Hard on myself. Liking more who I become. Blessed. Happy. But not every moment. Sending love and light. #gratitudeistheattitude #findthesunlight" Amen!
Not only is she embracing her fourth decade on Earth, but she is also loving her face as it is. She shared a photo of herself without any makeup on and she looks just like did when she was on Party of Five. No need for her to call 9-1-1 for a beauty emergency.

---
Jennifer Love Hewitt shakes it off to Taylor Swift
January 18th, 2019 under Jennifer Love Hewitt. [ Comments: none ]

When the kids are away, Jennifer Love Hewitt will play. Or should I say sing and dance to Taylor Swift's Shake It Off in her bathroom?
We know she can act. We know she can sing. Now we know she is a triple threat because she can also dance. Therefore, why isn't she doing it more often? I am sure they can work it into 9-1-1. Maybe not, but hopefully her next job can find a way.
When it comes to why is her arm in a sling? She did not say. At least it didn't stop her from getting down to T-Swift. When is T-Swift going to make Love a member of her squad?

---
Jennifer Love Hewitt sleeps like this
October 15th, 2018 under Jennifer Love Hewitt. [ Comments: none ]

For decades men have wondered what Jennifer Love Hewitt looks like when she goes to sleep at night. Now we know. The 9-1-1 actress posted a photo of herself in bed.

She wrote, "This is a pic of a grateful woman. Who loves her family. Is starting to love herself. Loves life and all its complicated and beautiful moments. I am grateful. And feel so lucky to be a mom, wife and woman. Sending out blessings and love tonight. ps my bed is so cozy it's awesome. And yes I know it's not even 8pm. #luckylady #momlifeisthebestlife #gratitudeistheattitude"

Now that she is part of a party of 4, gone is the sexy nightgowns and hello is the comfy pajamas. Does any woman blame her? Flannel is always better than silk.

Now let's talk about how flawless her skin is. She is just as gorgeous with makeup as without it.

---
Jennifer Love Hewitt got drunk on Vodka with Betty White
September 12th, 2018 under Betty White, James Corden, Jennifer Love Hewitt. [ Comments: none ]

Back in 2010, Betty White and Jennifer Love Hewitt did a movie on Hallmark Channel together, and they found a lasting friendship while filming The Lost Valentine.
Yesterday, when Love was on The Late Late Show, James Corden asked her about it. The actress told him that one night they went out on a date for Vodka and pizza, and JLH felt the effects of the alcohol. She was not the only one, so did Miss White. So much so, the legend almost lost her balance and fell into the bushes. Luckily, she was able to stop that before it happened. She needs to protect our "national treasure."
Then the ladies walked back to the hotel and the Golden Girl invited the Ghost Whisperer up to her room for a nightcap. What did they drink? They actually ate Gummy Bears.
Just when you think that Betty White cannot be any cooler and more perfect, you hear a story like this. I want to get wasted and eat Gummy Bears with Betty White. Who doesn't? And Love can come too!!!

---
BTWF: Jennifer Love Hewitt for LA Gear
September 5th, 2018 under Before They Were Famous, Jennifer Love Hewitt, Jimmy Kimmel, Michael Jackson. [ Comments: none ]

Before Jennifer Love Hewitt joined in on Party of Five, she partied with Michael Jackson for LA Gear. How awwwdorable was the 11-year-old in that 1990 print ad?

Yesterday, when Hewitt was on Jimmy Kimmel Live, she talked about making that ad and what advice the King of Pop gave her.

She needed to leave the shoot for a charity event and he told her to always give back. He meant it because he donated a nice chunk of change to that charity in her name to bring that point home to her. Not only that, he invited her to home for Thanksgiving. You know the Neverland Ranch and she went with her mother.

Who wouldn't want that experience from shooting a print ad?

---