Jennifer Love Hewitt is now a Party of Five
September 9th, 2021 under Jennifer Love Hewitt. [ Comments: none ]
Jennifer Love Hewitt went from starring in Party of Five to living it. That is because she and her husband, Brian Hallisay, welcomed their third child together.
"Well this is how my kids sent me to the hospital. My belly was a big hit," the actress wrote. "'It is said that women leave their bodies in labor… they travel to the stars to collect the souls of their babies, and return to this world together.' It was my greatest honor to go and collect you Aidan James. Now back to snuggles and resting.👶🏻🧡"
Hewitt and Hallisay, who have been married for seven years, also have a daughter Autumn James, 7, and a son, Atticus James, 6. So, you can say her three kids are AAA.
Congrats to the Party of Five.

---
Jennifer Love Hewitt's family is becoming a party of five
May 18th, 2021 under Jennifer Love Hewitt. [ Comments: none ]
We got to know Jennifer Love Hewitt on Party of Five, and in a few months, she will be living it. That is because the actress and her husband, Brian Hallisay, are expecting their third child together. They are already the parents to Autumn,7, and Atticus, 5.
"We had always been open to a third, but definitely didn't think in the crazy year that the entire world was having that it would necessarily be this moment," Hewitt, 42, told People. "I feel like we've been able to so far raise two really special kids who will be great role models. This has been such a pleasant, beautiful, surprising gift in this time to be able to get to do all that again with another little human."
It was one of those little humans who knew his mom was pregnant before she did. Hewitt says they were all watching TV together in the bedroom when a commercial for Clear Blue Easy came on. As soon as he saw it, he told his mom to get one just in case she had his brother or sister inside of her. She got the test, and he is getting a sibling.
Will her character on 9-1-1 be giving her newborn baby a sibling too? She didn't say. However, she did say it was weird to give birth on the drama while she is pregnant. That has to be confusing, but it is Hollywood and nothing makes sense.
Congrats to Hewitt on her party of five.

---
Jennifer Love Hewitt is pretty in pink hair
April 2nd, 2020 under Jennifer Love Hewitt. [ Comments: none ]

Jennifer Love Hewitt is on hiatus from 9-1-1, so she deciced to change up her look. Her brown locks are not cotton candy pink.

Most people cannot make that look work, but she can. Don't you agree!

---
Jennifer Love Hewitt shows off her face at 40
July 30th, 2019 under Jennifer Love Hewitt. [ Comments: none ]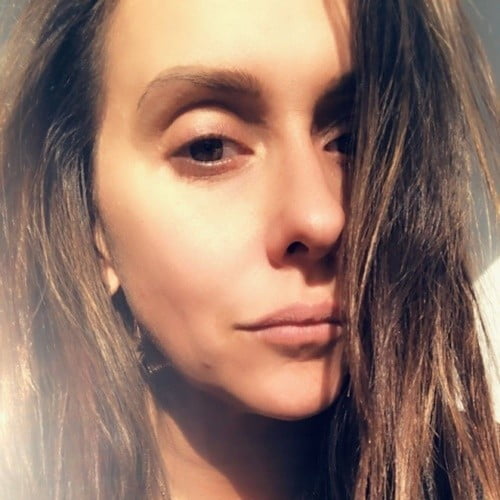 Back in February, Jennifer Love Hewitt turned 40 and she is not letting the number get her down. The mom of 2 wrote, "This is 40. Tired. Grateful. Not always secure. Open. Vulnerable. In love with life. Mom. Wife. Sister. Friend. Entertainer. Student of the universe. Hard on myself. Liking more who I become. Blessed. Happy. But not every moment. Sending love and light. #gratitudeistheattitude #findthesunlight" Amen!
Not only is she embracing her fourth decade on Earth, but she is also loving her face as it is. She shared a photo of herself without any makeup on and she looks just like did when she was on Party of Five. No need for her to call 9-1-1 for a beauty emergency.

---
Jennifer Love Hewitt shakes it off to Taylor Swift
January 18th, 2019 under Jennifer Love Hewitt. [ Comments: none ]

When the kids are away, Jennifer Love Hewitt will play. Or should I say sing and dance to Taylor Swift's Shake It Off in her bathroom?
We know she can act. We know she can sing. Now we know she is a triple threat because she can also dance. Therefore, why isn't she doing it more often? I am sure they can work it into 9-1-1. Maybe not, but hopefully her next job can find a way.
When it comes to why is her arm in a sling? She did not say. At least it didn't stop her from getting down to T-Swift. When is T-Swift going to make Love a member of her squad?

---