BTWF: Jenna Elfman on The George Carlin Show
August 31st, 2021 under Before They Were Famous, Jenna Elfman. [ Comments: none ]
Before Jenna Elfman was a hippie chick on Dharma & Greg, she was a psychedelic girl on The George Carlin. How sexy was the 23-year-old in that 1994 episode?
To see what she looked like without the wig, then click here!

---
Is Jenna Elfman really 49?
June 22nd, 2021 under Are they really their age?, Jenna Elfman. [ Comments: 1 ]
Jenna Elfman posted a photo of herself wearing a low-cut lace top with a silk robe, and I can't believe she will turn 50 in less than 3 months.
She looks better now than she did when she was Dharma. And she looked fantastic then. I wonder what her secret is because she should share it with us.

---
Is Jenna Elfman really 48?
March 30th, 2020 under Are they really their age?, Jenna Elfman. [ Comments: none ]

Jennifer Elfman modeled her daily attire and it is a bikini. Can you believe she is 48 and the mother to two preteen boys? I don't. That is not the body of a mom nearing her AARP membership.

---
Jenna Elfman and her TV son Josh Gad
November 4th, 2019 under Jenna Elfman, Josh Gad. [ Comments: none ]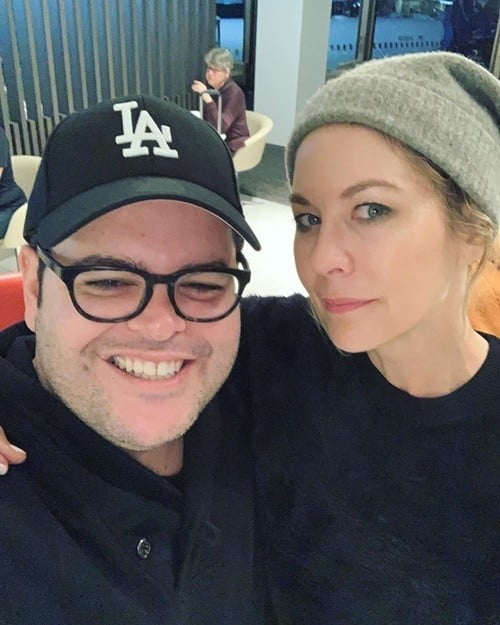 Before Josh Gad was a snowman, he was the President's son on 1600 Penn and Jenna Elfman was his TV mom. Six years after the show ended, the two actors were reunited at the airport at 2:45a. For once a red eye was not a bad thing for them
Besides catching up, maybe they were talking about bringing their show back. It could be about President Dale Gilchrist getting impeached because of the crazy and impeachable things his family has been doing. Unlike real life, the impeachable offenses are funny. Just like the show was!
BTW Can we talk about how great Elfman looks in the middle of the night? When I take a red eye, I look I went through the baggage carousel.

---
A Dharma & Greg reunion!
January 31st, 2019 under Jenna Elfman. [ Comments: none ]

Back in 1997, Dharma & Greg met and got married all in the same day and a sitcom was born. Now, 21 years later, the cast is still getting together to celebrate their time together. Joel Murray had lunch with his 6 co-stars, Jenna Elfman, Thomas Gibson, Mimi Kennedy, Alan Rachins, Susan Sullivan and Shae D'Lyn, and all we got was this photo. And what a picture it is.

It makes you wonder why they did not invite Chuck Lorre to talk about doing a revival of the series. Who doesn't want to see what happened to the most mismatched couple who somehow made it work?

---