Jenna Elfman told her husband to go have an affair
February 11th, 2013 under Jay Leno, Jenna Elfman. [ Comments:

none

]

Jenna Elfman was on The Tonight Show on Friday and she shared Jay Leno that when her husband Bodhi was going through his mid-life crisis that she told him to go for it. The star of 1600 Penn said that things had gotten so bad with him that she wanted to be the good wife and to shut up her bad husband. Knowing that he had the go ahead, he didn't take her up on the offer. And that is why they're celebrating their 18th year of wedded bliss this month.
BTW I would never ever offer that option to my husband, unless I really wanted a divorce because then I would know that I would get half if he said yes!
---
Jenna Elfman has a tramp stamp in an interesting place
June 18th, 2012 under Craig Ferguson, Jenna Elfman. [ Comments:

none

]

Jenna Elfman was on The Late Late Show and Craig Ferguson asked her if she would ever get a tattoo. Dharma then told him that she already has one, well actually two in the same area…her ankle. So are you then wondering why would I call it a tramp stamp if it isn't on the small of her back? That's because she told the CBS late night host that the Alchemy symbol is upside down, but it is right side up when her legs are up in the air. That sounds pretty trampy to me, and a much better place to get inked.
---
Jenna Elfman kissed a monkey and she liked it!
May 15th, 2012 under Jenna Elfman, NBC. [ Comments:

none

]

Jennifer Elfman Tweeted the above picture and said, "Yes, I kissed a monkey today. It was a very wet kiss, too. Enjoy!" So why is she monkeying around with a monkey? Well Dharma met the biggest star of NBC's fall lineup Crystal the Monkey from Animal Practice and she did what she could to ger her show 1600 Penn some much needed publicity during NBC's Upfront Day.
When it comes to how Crystal handled the kiss, she said that Elfman is bananas. Either that or she was hungry for some bananas. It was hard to understand what she was grunting when the press asked her about it.
Here is the trailer for Crystal's show and I want to know when she is going to get her own spinoff already:
---
Jenna Elfman is Accidentally on Purpose a mother again!
March 5th, 2010 under CBS, Jenna Elfman. [ Comments:

none

]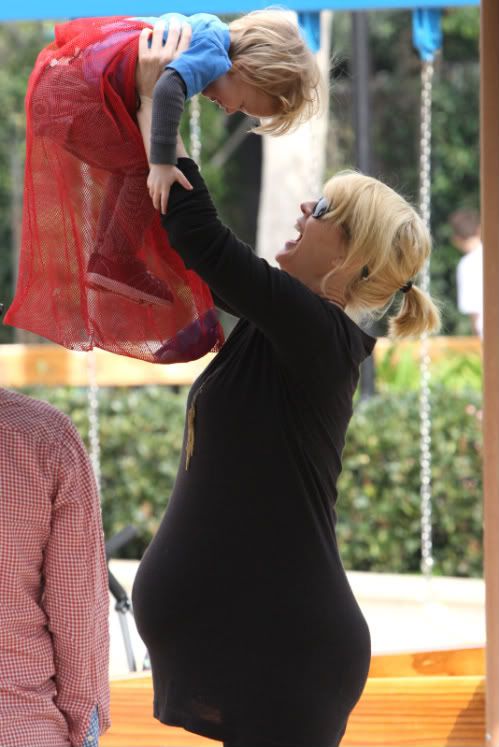 (photo from Fame Pictures)


Jenna Elfman is a mom again. The star of CBS's Accidentally on Purpose just Tweeted "Our new baby boy Easton Quinn Monroe Elfman was born March 2nd at 7:53am. He's an impressive sleeper (thank god!) & I'm his biggest fan." Easton is her second son with Bodhi Elfman, he joins 2 year old Story Elias. Good for Jenna for breaking the news to her fans on Twitter!
Easton is not the only baby born this week, according to Life & Style Joey Lawrence and his wife, Chandi Yawn-Nelson welcome their second daughter, Liberty Grace yesterday. Although there were some complications during the pregnancy, thankfully little Grace is healthy!
And there is one more baby that joined Grace and Easton, Eric Dane and Rebecca Gayheart became the proud parents of a McDaughter on Wednesday according to TV Guide.
That's it for now…I think!
---
CBS want 5 more episode of Accidentally on Purpose!!!
November 3rd, 2009 under CBS, Jenna Elfman. [ Comments:

none

]




CBS finally announced today that they are ordering 5 more episodes of their hit comedy Accidentally on Purpose!!! The show had its highest ratings yesterday since the premiere and that is an amazing accomplishment because they were up against a kick a$$ World Series game with the Yankees.
While 5 episodes is not a full season pick up it is better than nothing. I am wondering if they only ordered 5 episodes to accommodate Jenna Elfman's real life pregnancy? Or it could be for some reason CBS thinks we still want to see Rules of Engagament and this is the only hole they have because all of their sitcoms are doing well on Monday and Wednesday. Either way I am thrilled they are sticking with Accidentally on Purpose because the show keeps getting better and better each week. So make sure to check it out this Monday and every Monday at 8:30p on CBS! But before then watch the above interview I did with Jon Foster (Zach) and check out Nicolas Wright's (Davis) behind-the-scene videos. Nic Video Blogs every week and they are a lot of fun to watch like the show itself!
---