James Van Der Beek is pretty in pink a towel
May 1st, 2019 under James Van Der Beek. [ Comments: none ]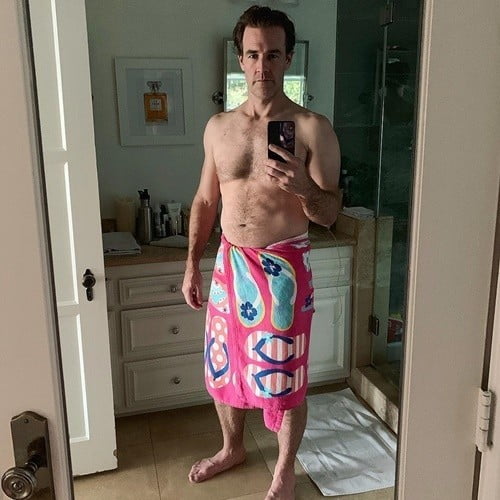 James Van Der Beek is married and has four daughters, so that means his house is full of pink. The other day when he was getting out of the shower, he needed a towel. He grabbed the nearest one. That towel is not particularly his style. How does he feel about that? He wrote, "Just giving up? Or just not giving a f*ck? #Dadwear #IHaveDaughters"
Life as a single man and that of a father of five is much different. Looks like after his fifth child and fourth daughter, he is finally ready to accept that. You know what, it looks good on him.

---
James Van Der Beek throughout the years
February 28th, 2019 under James Van Der Beek. [ Comments: 1 ]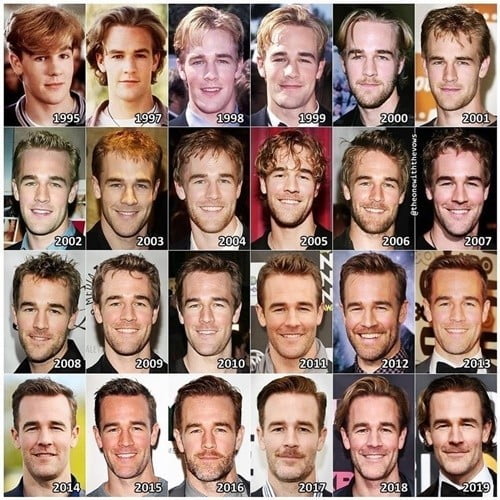 We have been watching James Van Der Beek grow up in front of our eyes since 1998 when he starred in Dawson's Creek. While he has become more manly throughout the years, I did not realize how much he has aged in 25 years.
That was until yesterday when he posted 24 side-by-side photos of himself since 1995. Yes, he has gotten older, so have we all. The 41-year-old has just aged better than us. Especially when you consider he is the father of 5 young children. If we had that many rugrats in our lives we would look like we were ready to move into Shady Pines. Not him, so what is his secret?

---
How to insult James Van Der Beek without knowing it
November 23rd, 2018 under James Van Der Beek. [ Comments: none ]

James Van Der Beek is trying out a mustache, but you might want to second guess yourself before you ask him about it. Dawson shared a story about someone who did.

He wrote, "Quick #Thanksgiving PSA: If you have an actor in the family, and they show up to your gathering with a new look, and you say: 'So, is this for a role?' You may not mean it as shade… but it's never a compliment. #TheMoreYouKnow"

On this one, I hate to say it, but I have to admit it, the shade is deserved. No one looks good with a mustache. Plus, if it is not a pornstache, why grow it? So Beek, is it for a role?

---
James Der Van Deek spends Father's Day as a father of five!
June 17th, 2018 under James Van Der Beek. [ Comments: none ]

James Van Der Beek's Father's Day Present came two days early when his wife Kimberly gave birth to their fifth child. Gwendolyn joins Olivia, 7, Joshua, 6, Annabel, 4, and Emilia, 2. Hopefully, for Joshua, baby #6 will be a boy. You know they are going to have a sixth one. Thankfully, he has been working nonstop because that is the only way he can afford to feed all of those mouths!

---
Is James Van Der Beek trying to say raising kids is like pulling teeth?
March 8th, 2018 under James Van Der Beek. [ Comments: none ]

James Van Der Beek went to the dentist yesterday and he took his son with him. Like most 5-year-olds, Joshua was curious to see what was going on. The dentist gave him a chair and let him observe his father's suffering. Something it looks like he enjoyed!

Maybe someday he will become a dentist, and help support his parents. After all, he has at least 4 siblings that will be spending all of his parents' money and they will need it.

---