Honey Boo Boo is going to college!
July 13th, 2023 under Honey Boo Boo. [ Comments: none ]
We have watched Honey Boo Boo grow up from being a pageant girl drinking Go-Go Juice to becoming a high school graduate.
She, her mom, and two of her sisters recently sat down with Entertainment Tonight, and Alana Thompson revealed what is next for her. She told Rachel McRady, "Next, I am going to be a neonatal nurse at Regis University in Denver, Colorado."
According to her sister, Pumpkin, it is one of the top three nursing schools in the world.
And Honey Boo Boo did so well in school that she got a $21,000 scholarship to attend.
She has come a long way since her Toddlers & Tiaras days. And I can't wait to watch her continue to grow.
Will we see that progression on television? She doesn't know. But she would let the cameras into her dorm room if there is interest. And even if there isn't, the reality star knows she will forever be known as Honey Boo Boo. She isn't wrong. But at least she is making her life be more than just that.

---
Mama June does her best Elvis snarl in her mugshot
March 19th, 2019 under Elvis Presley, Honey Boo Boo. [ Comments: none ]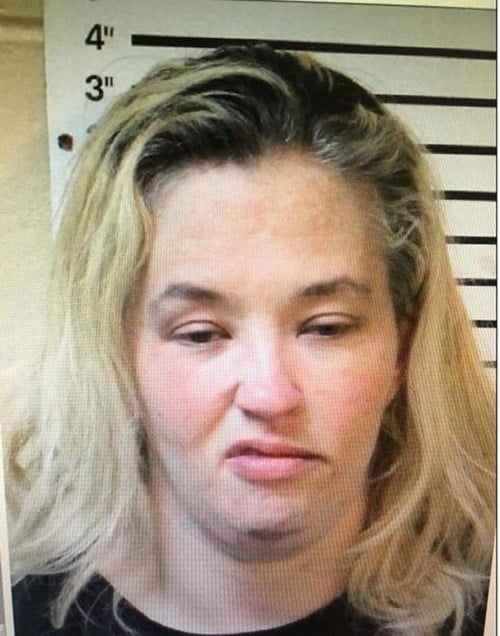 Last week, Mama June was arrested for allegedly being in possession of crack-cocaine along with her boyfriend, Geno Doak. Today, the Macon County Sheriff's department in Alabama released her mugshot. In the photo, she is giving a snarl that Elvis Presley and Billy Idol would be envious of.
We also learned more details about the arrest. Montgomery Real-Time News says that the couple was fighting in the car and Doak was threatening to kill her when cops arrived. When the officers were looking inside the car, that is when they reportedly found the drugs and the paraphernalia.
The couple was very civil with the police officers and told them they were out all night at the greyhound track, casino, and hotel in Shorter, Al. In fact, as the cops were taking them away, they said that they were lovey with each other.
Then at the station, they were very well behaved and she made the staff laugh. Sheriff Andre Brunson said he did not know who the couple was at the time of their arrest, so he was surprised by all the phone calls he got about them. Don't expect to learn too much about their arrest, the sheriff believes in giving them the same privacy he gives everyone else who comes his way.
I have a feeling Mama June will not serve any jail time because this is her first arrest.

---
Mama June and her boyfriend were arrested
March 15th, 2019 under Arrested, Honey Boo Boo. [ Comments: none ]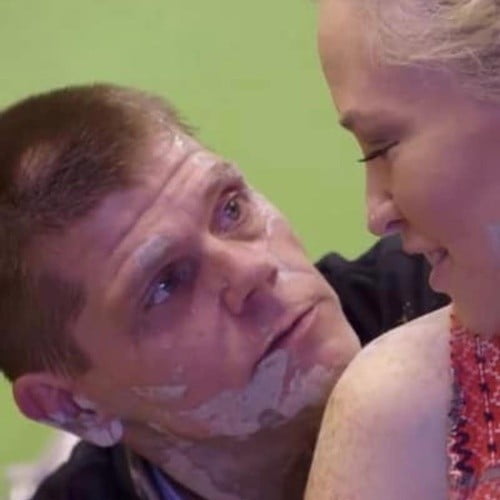 Mama June knew she was going to be in the news today, she just did not know it was going to be because she was arrested. Honey Boo Boo's mom's thought it would be all about doing press for her reality show From Not to Hot which is back on WeTV tonight. That is not what everyone is talking about now.
They are talking about how the grandmother and her boyfriend, Geno Doak, were arrested on Wednesday. According to TMZ, the couple was fighting at a gas station in Alabama and someone called the popo. When the police got there, they felt they had enough to arrest Doak on suspicion of domestic violence/harassment. Then it is reported that they also found enough to take both of them in for felony possession of a controlled substance and drug paraphernalia. Which gives a whole new meaning to GoGo Juice.
While we know what is in GoGo Juice (Mountain Dew and Red Bull), we do know what the controlled substance is that cops allegedly found on Honey Boo Boo's mom. We also do not know if WeTV will continue to air her series which will show the couple fighting this season. I have a feeling they will let this season run its course and then cancel it. That decision is still weeks away. And Mama June is no Lori Loughlin.

---
Do the Honey Boo Boo Bop!
October 1st, 2015 under DIscovery Networks/Discovery+, Honey Boo Boo. [ Comments: none ]

Silento's Watch Me is on its last Whip/Nae Nae and now it is time to do the Honey Boo Boo Bop. Yes, that Honey Boo Boo is back and now she is singing and dancing her heart out with her first single Movin' Up. I don't know if I downed one too many Go-Go Juices, but I can't stop singing this song.
Maybe Lifetime will give Mama June and her clan a reality show, so that Alana and the girls from Dance Moms can go on tour together. What is up with all these Reality pre-teens trying to pop stars?

---
There goes Honey Boo Boo
October 24th, 2014 under DIscovery Networks/Discovery+, Honey Boo Boo. [ Comments: none ]
TLC announced today that they have cancelled Here Comes Honey Boo Boo effective immediately, just days after it was rumored that Mama June is dating a man who went to jail for molesting one of her family members. Something Mama June denied on her Facebook. She also confirmed that she's not dating him in the above video message where she also thanked her family's fans.
Her sincere words breaks my heart that the show was cancelled because you can tell that they loved doing it as much as we enjoyed watching it. But I know they will be fine because she was responsible with the money they earned from the show.
UPDATE: The man, who Mama June is reportedly dating, went to jail for forcing her oldest daughter to give him oral sex when she was just 8 years old according to TMZ. I have lost all respect for her for even talking to him. He ruined your child, you'd think she want him dead not as a friend or something more.

---