TLC walks down the aisle with the Toilet Paper Wedding Dress Challenge
September 15th, 2019 under DIscovery/TLC. [ Comments:

none

]

Did you know there is annual contest to see who can make a wedding dress out of toliet paper. Yes, the stuff we use to wipe our, well you know. There is and starting on September 30th, TLC will take us behind the scenes with there docuseries Toilet Paper Wedding Dress Challenge.
The contest was started in 2002 by sisters, Susan Bain and Laura Gawne, owners of Charm Weddings. Since then thousands of people from all over the World submit their wedding gowns. Of those who entered, only 12 move on to the finals.
Each dress is made only of tape, glue, thread and toilet paper. Don't tell Sheryl Crow but over 116,000 sheets of Quilted Northern® toilet paper were used to make a woman's dream come true. On that note, it needs to worn by someone.
Before that happens we will watch the process it takes to make the one of a kind fashion piece. Then the judges will pick one person from the three categories, cultural, modern and traditional to move on to the finals. Finally, only one person goes from the runway to the aisle.
The best thing about this gown is that the bride does not have to worry about going to the bathroom once she is in it. That is because her dress will soak everything up! Time does not have to turn the white gown yellow. If you know what I mean…
To read about the contestants, then click here!
---
Shark Week is getting its own movie
July 10th, 2019 under DIscovery/TLC. [ Comments:

none

]

Discovery released their schedule for Shark Week and they are doing something they have never done before. Throughout the years, they have done documentaries and talk show, and this year they are doing their first original movie called Capsized: Blood in the Water with Josh Duhamel and Tyler Blackburn on July 31st.
The telemovie is, "Based on the harrowing true story of an October 1982 shark encounter. After a yacht bound for Florida capsizes during an unexpected storm, its crew is left to drift for days in the chilling waters of the Atlantic where they become prey to a group of tiger sharks. With the hope of rescue dwindling, the crew must do everything in their power to survive as the sharks continue to hunt them."
Not only that, but they are also doing a Baby Shark special. Just joking! Why aren't they doing anything with Baby Shark, it seems like a no brainer. No?
To what they are doing this year, then click here!
---
Worst Cooks in America: Celebrity Edition S5 is hotter than an oven on Thanksgiving
April 3rd, 2019 under DIscovery/TLC. [ Comments:

none

]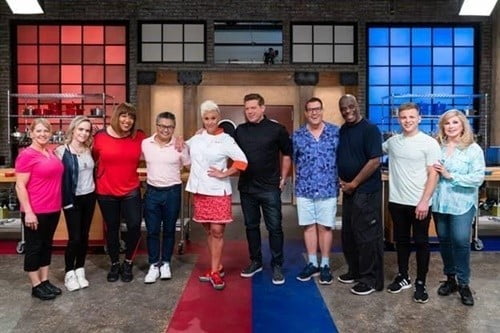 Food Network announced today who will be competing on the fifth edition of Worst Cooks in America: Celebrity Edition and April 21st cannot come soon enough for me. The celebrities who cannot cook this time around are Jim J. Bullock, Morgan Fairchild, Tonya Harding, Jonathan Lipnicki, Taryn Manning, Alec Mapa, Kym Whitley and Jimmie Walker. They will once again be mentored by Chefs Anne Burrell and Tyler Florence.
There are so many people for me to root for, I cannot pick one. I have great interactions with Manning, Bullock, Whitley, Mapa and Fairchild, and I have had a crush on Walker since I was a kid. Therefore, I can't decide. The only thing I know is that I will be watching all 7 episodes as they air.
Not only because I am rooting for almost all of them, but also because it is my favorite show on the channel. If you have never seen it, then you should catch up on their app.
---
What is Khloe Kardashians saying about her sisters with her new show?
August 14th, 2018 under DIscovery/TLC, The Kardashians. [ Comments:

none

]

Khloe Kardashian is producing a new show on Investigation Discovery called Twisted Sisters and I wonder what drew her to it?

The six-part series tells the story of sisters committed some of the most shocking crimes. Sometimes they worked together, other times they turned on the other one. The investigative series will interview immediate family members and close friends to learn what triggered the sisters' path towards a life of crime. The show will also talk to investigators to learn more about the crime and how they were able to solve it.

Kardashian was attracted to this show because "These stories of sisterhood gone awry will surprise even the most devout 'ID addict.' When choosing the stories, we couldn't believe how many untold tales there were to tell. As a true-crime fan myself, I am excited to share with viewers a new twist on the term 'sibling rivalry',"

I wonder if she is trying to say there is a sibling rivalry between her and her sisters? When it comes to which sister I think she would commit crimes with, I would say Kylie Jenner. When it comes to which one they would conspire against, that has to be Kim Kardashian. What do you think?

Twisted Sisters debuts September 3rd on ID. To read descriptions of the six episodes, then click here!
---
Jerry O'Connell makes out with a dead fish!
July 27th, 2018 under DIscovery/TLC, Jerry O'Connell/Rebecca Romijn. [ Comments:

none

]
Back in 2010, Jerry O'Connell had his pen!s bitten off by killer fish in Piranha 3D. Eight years later, he is finally getting his revenge on fishes. He showed them what it is like to have your head is someone else's mouth. It does not look like fun, does it. Unlike what they did to him, he left their head on!
The other night when O'Connell was on Shark After Dark during Discovery's Shark Week, he did things to a fish that I am only assuming he has done with his wife. Things that will make a person swear off of eating seafood forever. At least it did me.
I mean Frenching a raw fish's head has to taste grosser than doing that other sexual thing you do with your mouth on a hot sweaty day. And I have not sworn off of doing that thing yet.
Anyways, here is a O'Connell story for you. Eight years ago, I went to a press screening of Piranha 3D, and then went watch a taping of Jimmy Kimmel Live from the green room with a friend. O'Connell was a guest on the show and he shook hands with everyone that was in that room before he did his interview. My friend and I could not stop laughing at him because it is hard to look in the eyes of the person who just his hot dog nibbled off of him. And yet that was not the most awkward meeting I had with a celebrity.
---