Dragnificent looks magnificent
January 15th, 2020 under DIscovery/TLC. [ Comments:

none

]

This April, TLC teamed up with four Drag Queens to make average duchesses become the Queens that they are. I wonder what they can do for Meghan Markle. She definitely needs to have her outside look like her inner Queen B. Too soon?
Back to Dragnificent, this reality show follows women who dream of making a fabulous entrance at an event which is very important to them like a wedding or high school reunion. Their dream will come true after they are made over by the Drag Queens and taught how to have the confidence to be the most important person in the room.
The women will be transformed by four magnificent Drag Queens. Alexis Michelle is a makeup artist, specializing in weddings and special events; BeBe Zahara Benet is an experienced event planner who can transform any room into a fantasy space; Jujubee, a fashion expert known for her dynamic and iconic looks, draws on her deep knowledge in drag couture and women's fashion; and Thorgy Thor is a classically trained musician who knows how to get the party started.
This is the first makeover show that I want to be part of. Who doesn't love watching a Drag Queen strut her stuff and know it is all for you. It is one of my biggest fantasies. While I won't be living out my fantasy, I will be watching other women who are!
---
Man vs. Bear is a surprisingly great competition show
December 4th, 2019 under DIscovery/TLC. [ Comments:

none

]

When I heard about the competition show Man vs. Bear coming to Discovery tonight at 9p, I thought the concept was sick. I was like what person thinks they can beat a bear. That and why would a person risk their lives for a TV show. Then I watched the above clip of the first challenge, and I was like I have to learn more about it. Turns out, I had the screener, so I watched it. MvB is now my newest addiction.
First off, I would like to say no bears were hurt in the making of this show. I cannot say the same about the humans.
Bart, Honey Bump, and Tank are three rescued Grizzlies who live in a sanctuary in Bear Mountain, Utah. They have a happy life and play a lot of games. Those games are turned into challenges that each week three humans will compete against the beast to see who can win.
For the first challenge, they play tug of war. The human is standing on a dock, and they have a rope tied around their torso. On the other side of the water, is a bear with the other end of the rope lying next to him. The bear picks it up, and the human sees how long they can stay on the dock before they find themselves in the water. Spoiler alert, not that long. Good thing they earn points for every two seconds they remain dry.
How will the humans do when they are in a race with the bear to roll a log that is taller than them further than the beast? When the beast reaches the finish line, the person needs to stop where they are. They get points by how many markers they pass.
All of those challenges made the contestants hungry, which is a good thing because now it is time for them to eat. They will be given five different foods that the bear eats, and they have to finish as many of the types of food before the bear finishes their plates. They get points for each food group they finish.
The final round for all three contestants is an obstacle course. They will each compete against the bear to see who can finish it first. They get points for each challenge they finished before the bear finished it all.
The person who scored the least amount of points is sent packing, which might be a good thing. That is because the two, with the highest points, are put in a metal ball, and the bear gets to roll them into a hole. The winner of this round has the chance of going to the finals with the other two highest-scoring competitors.
Each week, the challenges will change. What won't change is how the dumb humans think they can beat a 1,400 lbs bear. What were they thinking? I think they are stupid, but the show is smart. It humbles the beast and I am not talking about the bears. Nice to see man being cut down to size.
If you want to learn more about the bears and where they live, then check out Discovery to learn more about the three bears.
---
TLC walks down the aisle with the Toilet Paper Wedding Dress Challenge
September 15th, 2019 under DIscovery/TLC. [ Comments:

none

]

Did you know there is annual contest to see who can make a wedding dress out of toliet paper. Yes, the stuff we use to wipe our, well you know. There is and starting on September 30th, TLC will take us behind the scenes with there docuseries Toilet Paper Wedding Dress Challenge.
The contest was started in 2002 by sisters, Susan Bain and Laura Gawne, owners of Charm Weddings. Since then thousands of people from all over the World submit their wedding gowns. Of those who entered, only 12 move on to the finals.
Each dress is made only of tape, glue, thread and toilet paper. Don't tell Sheryl Crow but over 116,000 sheets of Quilted Northern® toilet paper were used to make a woman's dream come true. On that note, it needs to worn by someone.
Before that happens we will watch the process it takes to make the one of a kind fashion piece. Then the judges will pick one person from the three categories, cultural, modern and traditional to move on to the finals. Finally, only one person goes from the runway to the aisle.
The best thing about this gown is that the bride does not have to worry about going to the bathroom once she is in it. That is because her dress will soak everything up! Time does not have to turn the white gown yellow. If you know what I mean…
To read about the contestants, then click here!
---
Shark Week is getting its own movie
July 10th, 2019 under DIscovery/TLC. [ Comments:

none

]

Discovery released their schedule for Shark Week and they are doing something they have never done before. Throughout the years, they have done documentaries and talk show, and this year they are doing their first original movie called Capsized: Blood in the Water with Josh Duhamel and Tyler Blackburn on July 31st.
The telemovie is, "Based on the harrowing true story of an October 1982 shark encounter. After a yacht bound for Florida capsizes during an unexpected storm, its crew is left to drift for days in the chilling waters of the Atlantic where they become prey to a group of tiger sharks. With the hope of rescue dwindling, the crew must do everything in their power to survive as the sharks continue to hunt them."
Not only that, but they are also doing a Baby Shark special. Just joking! Why aren't they doing anything with Baby Shark, it seems like a no brainer. No?
To what they are doing this year, then click here!
---
Worst Cooks in America: Celebrity Edition S5 is hotter than an oven on Thanksgiving
April 3rd, 2019 under DIscovery/TLC. [ Comments:

none

]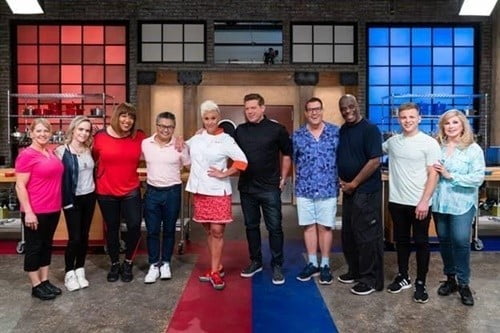 Food Network announced today who will be competing on the fifth edition of Worst Cooks in America: Celebrity Edition and April 21st cannot come soon enough for me. The celebrities who cannot cook this time around are Jim J. Bullock, Morgan Fairchild, Tonya Harding, Jonathan Lipnicki, Taryn Manning, Alec Mapa, Kym Whitley and Jimmie Walker. They will once again be mentored by Chefs Anne Burrell and Tyler Florence.
There are so many people for me to root for, I cannot pick one. I have great interactions with Manning, Bullock, Whitley, Mapa and Fairchild, and I have had a crush on Walker since I was a kid. Therefore, I can't decide. The only thing I know is that I will be watching all 7 episodes as they air.
Not only because I am rooting for almost all of them, but also because it is my favorite show on the channel. If you have never seen it, then you should catch up on their app.
---