Lisa Marie Presley is writing a shocking book about Elvis and Jacko
July 31st, 2019 under Elvis Presley. [ Comments:

6

]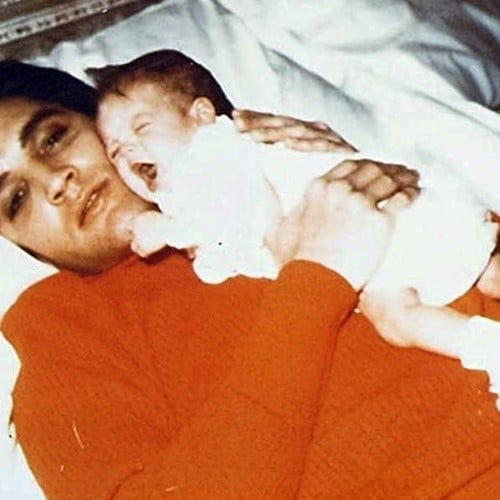 Lisa Marie Presely is the daughter of the King of Rock'n'Roll and the ex-wife of the King of Pop. Which means we already think her life is interesting without us not knowing everthing about her.
Well now, Page Six is reporting that she is writing a book about her life with Elvis Presley and Michael Jackson. A source told the column that we will get shocking details about Jacko and a new understanding of her ex.
How good is the upcoming autobiography? Gallery Books is paying her between $3-$4 million for her words. That is enough to make me want to read it, and I don't read.
---
Austin Butler and Vanessa Hudgens are giving off a Elvis and Priscilla vibe
July 23rd, 2019 under Elvis Presley, Vanessa Hudgens. [ Comments:

none

]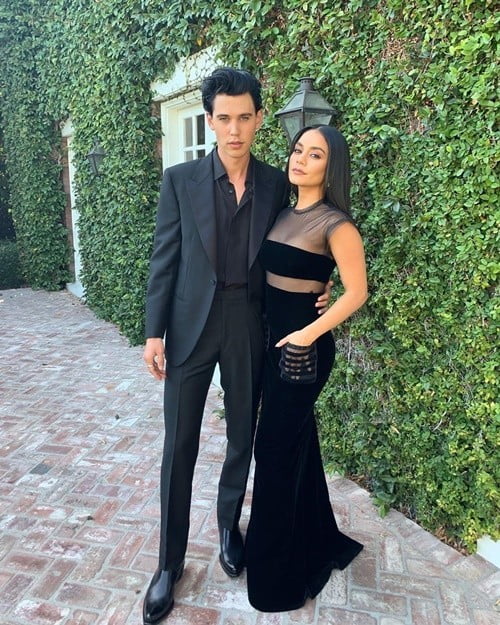 Last week, it was announced that Austin Butler is going to play Elvis Presley in the Baz Luhrmann film about the singer. Yesterday, he and Vanessa Hudgens went to the Once Upon a Time in Hollywood Premiere looking like Elvis and Priscilla Presley from the era the movie was made.
Seriously, doesn't Butler look like the King here? And let's talk about his long legs, I can't wait to see him move his Pelvis like Elvis with those sticks.
---
It's like Vanessa Hudgens knew her boyfriend was going to play Elvis
July 16th, 2019 under Elvis Presley, Vanessa Hudgens. [ Comments:

none

]

Yesterday, it was announced that Austin Butler is going to play Elvis Presley in Baz Luhrman's movie about the singer. Which I think is perfect casting since I have been a fan of his work since I interviewed him for Ruby and the Rockits.
Anyways, three years ago, Butler's girlfriend, Vanessa Hudgens, played Rizzo in Grease: Live and sang about Elvis. I wonder if she knew then that her boyfriend was going to play the role. One thing I think it is safe to say that Hudgens never told Butler, "Keep that pelvis far from me!"
Now, I am going to sound like a mother, but when are those going to get married already? What are they waiting for?
Back to Grease and Elvis. On the day they shot Look At Me I'm Sandra Dee in the original movie, it was the same day the Presley died. Just an interesting fact from Grease.
---
Mama June does her best Elvis snarl in her mugshot
March 19th, 2019 under Elvis Presley, Honey Boo Boo. [ Comments:

none

]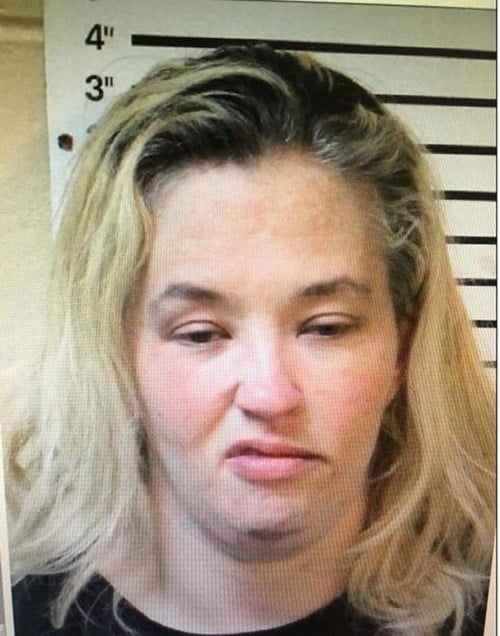 Last week, Mama June was arrested for allegedly being in possession of crack-cocaine along with her boyfriend, Geno Doak. Today, the Macon County Sheriff's department in Alabama released her mugshot. In the photo, she is giving a snarl that Elvis Presley and Billy Idol would be envious of.
We also learned more details about the arrest. Montgomery Real-Time News says that the couple was fighting in the car and Doak was threatening to kill her when cops arrived. When the officers were looking inside the car, that is when they reportedly found the drugs and the paraphernalia.
The couple was very civil with the police officers and told them they were out all night at the greyhound track, casino, and hotel in Shorter, Al. In fact, as the cops were taking them away, they said that they were lovey with each other.
Then at the station, they were very well behaved and she made the staff laugh. Sheriff Andre Brunson said he did not know who the couple was at the time of their arrest, so he was surprised by all the phone calls he got about them. Don't expect to learn too much about their arrest, the sheriff believes in giving them the same privacy he gives everyone else who comes his way.
I have a feeling Mama June will not serve any jail time because this is her first arrest.
---
Which Relative Race team will find out they're related to Elvis Presley?
March 18th, 2018 under BYU TV, Elvis Presley. [ Comments:

none

]

Last week on Relative Race, sisters Jamie Grace and Morgan Harper Nichols found themselves driving through a hurricane. Tonight at 9p on BYU TV, Troy and Nicole Hitt will find themselves in the middle of wildfires on their route to the new family member. Good thing they learned how to fight fires last week. Will they use that skill this week?

The episode starts off with the four teams getting in their cars to meet their newest family members and it is much smoother driving for all except Team Red driving through the wildfires. When they get to their destination, they pose with the city sign. But for one team, it is too much. They develop a cramp in their leg and that slows them down.

After they send their photos into home base, they are told what their challenge for their day is. They have to finish a puzzle of the face of a family member they are about to meet. Once the picture is complete, they are given a clue to where that person will be. Now they are off to be with their newest family member somewhere in the town.

Once they meet their family member, now it is time to get to know then. One team will find out they are related to Elvis Presley, think you know which team it is? Could it be musical Team Green, who already know they have white people in their family? What about Team Blue, the father and son, who came in to the race only knowing themselves as their family? What about Team Black's Rebecca Hoyt, her father kept her family secret, is this why? And then there is Troy Hitt, who was adopted, is this a great family find?

At the end of the day, while it is a cool thing to tell people, it is even cooler for these teams to meet some more new family. Oh and not one, but two teams finish under their allotted times, a Relative Race first!

If you are not familiar with Relative Race, it is a mix of Amazing Race (in America) and Who Do You Think You Are. After 10 days, each team comes out of the game with 10 new family members they never knew they had. That is worth more than all the money in the world. Even though, there is a cash prize for the one winner.
---