Dame Helen Mirren Twerking is everything!
August 5th, 2014 under Helen Mirren, Jimmy Fallon, Kelly Ripa. [ Comments: none ]

Dame Helen Mirren was on Live with Kelly and Michael (minus Kelly) today and Michael Strahan told that since he's a "Twerking expert" he can compliment her on her booty shaking skills. So the Oscar winner and the daytime host had a Twerk-Off and it is the best thing you will see all day.
It's even better than the extraordinary actress reprising Mirren, Mirren on The Tonight Show yesterday. Barely, but it is better!

---
Helen Mirren is tickled pink!
February 11th, 2013 under Helen Mirren. [ Comments: none ]

WENN.com
Helen Mirren is kissing the grey away and now she is tickled pink! The actress debuted her pink tresses at the BAFTAs and she looks as giddy as a toddler girl trying on her first Disney Princess dress for the first time.
Seriously isn't she so pretty in pink? But then again she is pretty in whatever hair color she currently has!

---
Helen Mirren cops a feel of Jessica Biel
November 21st, 2012 under Helen Mirren, Jessica Biel. [ Comments: none ]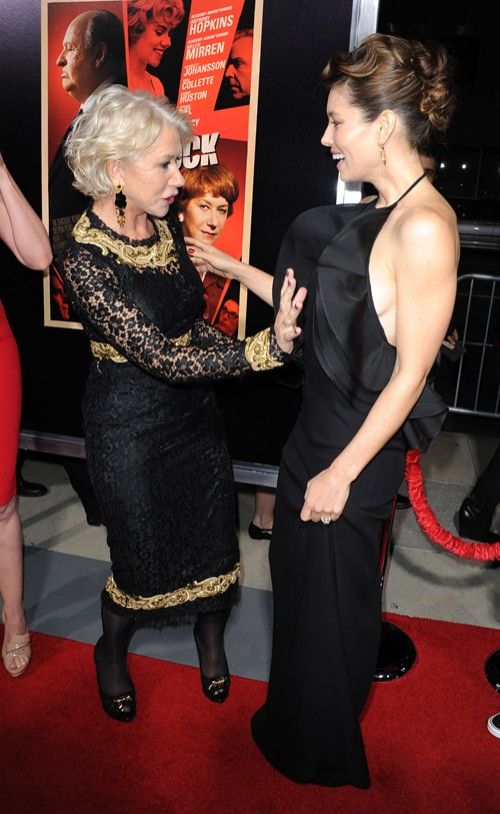 Fame Pictures
Helen Mirren and Jessica Biel came out for the premiere of their movie Hitchcock and the Oscar winner looks like she was in 7th Heaven as she grabbed Mary Camden's boob! Although Mrs Timberlake appears to be in shock over the grab. I don't know about you, but I would let Mirren feel me up any day because she is the Queen, Biel not so much.

---
Mirror, Mirror on the wall, Helen Mirren is the fairest one of them all!
November 19th, 2012 under Helen Mirren, Jimmy Fallon. [ Comments: none ]

Helen Mirren was a guest on Late Night on Friday and Jimmy Fallon had her do Mirren, Mirren (on the wall) with him. Let me tell you she is the fairest one of them all because the way she answered all of his questions with a straight face, is what made the joke so much better! Especially the last one, which might or might not be true…judge for yourself from this picture of him.
Seriously isn't Helen Mirren just the coolest? Not many people could/would pull off what she what she just pulled off.

---
Helen Mirren is going to do what with Russell Brand's underwear…
January 25th, 2011 under Helen Mirren, Russell Brand. [ Comments: none ]

(photo from Russell Brand's Twitter)


Helen Mirren and Russell Brand did movie together called Arthur and he gave her a little bit of himself to her…his underwear and she has some interesting plans for the gift. She told Us Weekly, "I am going to have them framed. And put them over my bed!" I am nor sure the Oscar winner's husband is going to want to look at boy's underwear size small every night before he goes to sleep, but that is just me. On a positive note at least as we can see in that picture they are clean!

---