Zac Hanson injured in a motorcycle accident
October 7th, 2019 under Hanson. [ Comments: none ]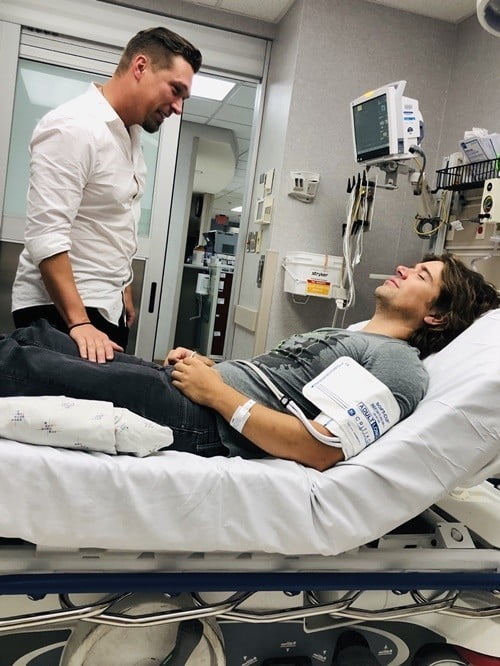 Zac Hanson is singing MMMouch after breaking five bones in a motorcycle accident last week.
The drummer explained what happened, "Wednesday I was involved in a wreck on my motorcycle while preparing for an upcoming cross-country ride. Though I ended up with three broken ribs, a broken collarbone, and a cracked scapula, nothing is injured that won't heal with a little rest and time, and a healthy dose of gaming! Thankfully with good quality protective gear, I was able to walk away, even if very slowly with the help of Isaac, Taylor, and a few of a Tulsa's first responders 🚒."
He is not going to let his injuries stop him. In the words of Queen, "The Show Must Go On," and it will for Hanson. Zac revealed how "We will not be canceling any concerts. Instead, I will be handing over the drum sticks to our good friend Dash Hutton @dashdrumdude for the next few weeks, and I will be giving my full attention to singing while my shoulder is on the mend. Thank you for all the thoughts and prayers, hope to see many of you soon! -Z #youcantstopus"
The brothers hit the road again on October 25th in Atlantic City. Until then, he gets to spend some time at home with his wife and kids.

---
The Star Wars cast gets the MMMBop
December 12th, 2017 under Hanson, Jimmy Fallon, Star Wars. [ Comments: none ]

It has been a long time since Jimmy Fallon has done one of his mashups with taking the words out of someone/people's mouth and putting it into a song. This time he had the cast of Star Wars sing Hanson's MMMBop and proud Yoda be.
Who knew the Star Wars cast said a lot of ineligible things throughout the franchise!

---
Hanson explain their Justin Bieber 'Chlamydia of the ear' joke
June 22nd, 2017 under Hanson, Justin Bieber. [ Comments: none ]

When you think of Hanson, you think of the sweet and innocent boys who sing MMMBop, but they also have a naughty sense of humor. During a recent interview the trio said that Justin Bieber's singing is "Chlamydia of the ear…I prefer not to get any venereal diseases, so whenever Justin Bieber gets sort of near me or near my ears…it's just ear infections. They're terrible,"
Today when they were on KIIS 1065's Kyle and Jackie wanted to know about that joke and the band explained the meaning behind it. Taylor Hanson revealed, "We were making koala jokes, and of course there's a Chlamydia koala joke… and it was just a bad punchline." But that was not the really bad punchline, Zac told the really bad one, "I was disappointed that nobody noticed the pun of venEAReal disease." So cheesy and yet so funny.
Just like Hanson and that is why we still love them and that catchy song that will be stuck in our heads for the rest of the day.

---
Hanson will make you feel old!
May 5th, 2017 under Hanson. [ Comments: none ]

Remember when MMMBop was your jam? Well the song that is sweeter than jam is 20 years old and Hanson performed their first hit on Good Morning America today. Even though the song is 2 decades old, it still makes you just as happy when you hear them sing it. It truly is pure happiness. That is until you realize it is stuck in your head for the next few days and nothing will unstick it.
Maybe their new tune, I Was Born, will help! MMMBop! Guess not!
BTW Taylor Hanson still makes me say, "MMMBop!" He gets better with age, just like their music.

---
Hanson are Thinking About Something like selling beer!
November 30th, 2011 under Hanson. [ Comments: none ]

I love Hanson, but Zac, Isaac and Taylor will always be the brothers who sang Hmmm Bop in 1997. So imagine my surprise when Zac announced at Oxford University Union that they will be selling their own of brand of beer called MMMHop. According to The Star the youngest member of the band said, "We of course make records, they are fundamental to what we do, but we wanted to create a brand so that our fans have a greater experience. What is vital is that Hanson merchandise is quality and not made solely with the purpose of profit. We have a board game and even a record player to play our last record on, but we will never make dolls, lunch boxes or toothbrushes that play our songs for example. It's vital our fans have trust in everything Hanson do. In fact we are soon going to be selling our own beer, I'm not even joking. MMMHop IPA anyone?" If it is as good as their music, I will try it.
But seriously out of all of the bands out there that would brew their own beer, they are on the bottom of my list just above The Osmonds and Hoku.

---