Is Gwyneth Paltrow really 48?
September 27th, 2020 under Are they really their age?, Gwyneth Paltrow. [ Comments: none ]

It is Gwyneth Paltrow's 48th birthday, so she celebrated by wearing just her birthday suit. Which makes you wonder if she is really two years away from turning the big 5-0 because the mom of two doesn't look like anywhere close to that age.

I would ask what's her secret, but I am sure she will say it is something really expensive from GOOP.

---
Do you want to smell Gwyneth Paltrow's orgasm?
June 17th, 2020 under Gwyneth Paltrow, Jimmy Fallon. [ Comments: none ]

Remember when Gwyneth Paltrow sold a candle called This Candle Smells Like My Vagina? Well, yesterday she told Jimmy Fallon on The Tonight Show she has a new one out.
What is it? It is This Candle Smells Like My Orgasm. Maybe when she was having sex with Brad Pitt, we would have wanted to know what it smelled like. However, after years of doing it with the lead singer of Coldplay (is that like boring four play) and Ryan Murphy's #2, I don't want to know what it smells like.
Do you want to know what scent you will be inhaling? According to GOOP, it wreaks of "tart grapefruit, neroli, and ripe cassis berries blended with gunpowder tea and Turkish rose absolutes." The site says it's a "scent that's sexy, surprising, and wildly addictive." It did not give my nose a rise.
On that note, what is the next candle going to be called, This Candle Smells Like My Penis? It will have the aroma of seductive musk with hints of fromunder cheese, Callery Pear, and Vaseline® hand lotion blended in beer and scotch.
In the words of KC and the Sunshine Band, "Baby, give it up. Give it up. Baby, Give it up!"

---
Contagion prepared Gwyneth Paltrow for the Coronavirus
February 26th, 2020 under Coronavirus, Gwyneth Paltrow. [ Comments: none ]
https://www.instagram.com/p/B9BxGPqFfpw/
Back in 2011, Gwyneth Paltrow starred in a movie called Contagion, where she unintentionally spread a deadly plague around the World. That was then, and this is now.
Anyways, working on a movie about an international pandemic has prepared her for one. The actress is traveling to Paris, and she does not want to get the Coronavirus and be a carrier. Therefore, she is wearing a mask on the plane, so no one will blame her for eating a contaminated animal and wiping out most of the population, again.
BTW That mask she is wearing is on sale at goop for $75; they are called Smells Like My Bad Breath.
That is a lie, here is a true story. I once flew back and forth to NYC with bronchitis, which I did not know at the time. Well, I was coughing up a storm, and guess what the movie was playing on the back of our seats? Contagion. I swear. I did not think I was going to make it off of that airplane alive. I knew exactly who was watching the film because they were the ones giving me the looks that could kill.
Oh, and yes, I watched the movie both ways because sometimes I can be a masochist. Even though I watched it, I believe that movies like that should not be shown on planes for the safety of their passengers like me.

---
Jimmy Kimmel sniffs Gwyneth Paltrow's vagina
February 25th, 2020 under Gwyneth Paltrow, Jimmy Kimmel. [ Comments: none ]

Gwyneth Paltrow's This Smells Like My Vagina candle is a better talking point than any movie she has made. Therefore, when she was on Jimmy Kimmel Live yesterday, he had to have a sniff of her vagina. What does he think it smells like? The ABC late night host says, "It smells a little bit masculine, really. Like it has, kind of, woody, like, I don't know." Well, you wanted to know, now you do.
Don't believe she smells more like a he. Then, you can pay $75 to get a whiff. It is finally back in stock at goop after selling out. The rumor is that Elton John bought over 100. Who knew he was so into the smell of vaginas?

---
Gwyneth Paltrow and Demi Moore go makeup free
February 20th, 2020 under Demi Moore, Gwyneth Paltrow, No makeup. [ Comments: none ]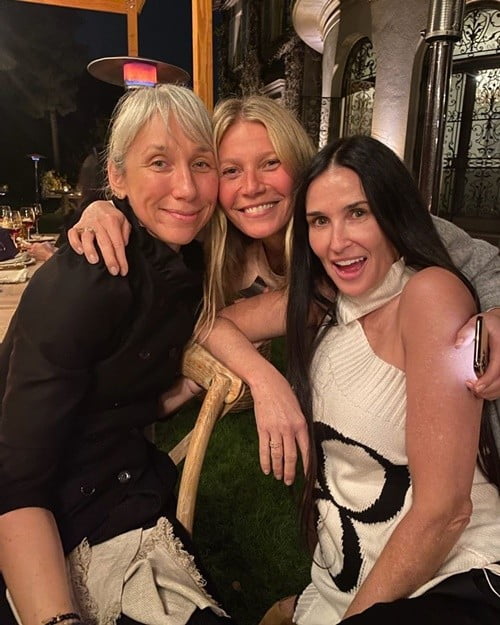 Gwyneth Paltrow threw a party, and there was one requirement from all of the guests. They were not allowed to wear any makeup. Since almost everyone there is a famous woman over 40, that is a big ask. However, they did it.
One of the attendees was Demi Moore, and the 57-year-old looks almost exactly the same. However, Paltrow, who is ten years younger, looks ten years older than her friend. Maybe she needs to use some more of the expensive GOOP stuff she sells.
On that I note, I wonder if the party was lit by using her This Candle Smells Like My Vagina candles. Who pays $75 for a candle?
To see what some of the other guests looked like, then click here!

---