Elton John walks off the stage with walking pneumonia
February 16th, 2020 under Elton John. [ Comments:

none

]

Elton John is on his Farewell Tour, and yesterday in New Zealand, he had to say farewell to the audience way before the curtain went down. The 72-year-old singer explained what happened on social media.
I want to thank everyone who attended tonight's gig in Auckland. I was diagnosed with walking pneumonia earlier today, but I was determined to give you the best show humanly possible. I played and sang my heart out, until my voice could sing no more. I'm disappointed, deeply upset and sorry. I gave it all I had. Thank-you so much for your extraordinary support and all the love you showed me during tonight's performance. I am eternally grateful. Love, Elton xx
Talk about the show must go on. Now, Elton needs to put his health first and get better. He still has a bunch of concerts to play. The Rocketman is not going to be able to do that until he is healthy. He needs to listen to his doctors and do what he says. Things like rest up next to the love of his life, not his husband, but his Oscar! Hey Oscar, is the new man in his life. Would anyone blame him if it is his preference for a little while.
---
Elton John and Taron Egerton sing Your Song to each other!
June 10th, 2019 under Elton John. [ Comments:

none

]

Taron Egerton plays Elton John in Rocketman and yesterday the two Eltons sang Your Song to a packed house in Sussex at the legend's concert. Giving fans of both the singer and the movie a real treat.
Seeing them perform together, reiterates how great the casting department did in finding their lead. When it comes to the film, it is truly enjoyable. I think it will make a much better stage production. To me, I feel that was the original idea for the biopic. What did you think of it?
---
Why is Elton John in wheelchair?
April 11th, 2019 under Elton John. [ Comments:

none

]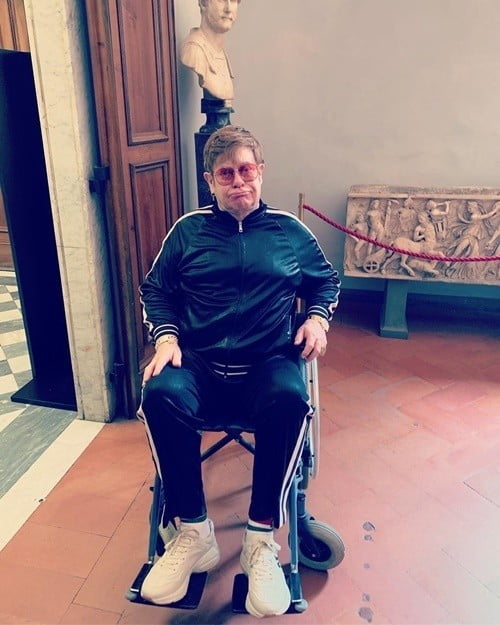 Elton John is on his final World tour, but is it too much for him? The 72-year-old singer was seen touring the Uffizi Gallery in Florence, Italy looking sad in a wheelchair. What happened? He explained, "Not even a sprained ankle could keep me away from seeing one of the most beautiful museums in the world."
Hopefully, he will be better soon because he still has a lot more of his tour to do. If you have never seen him live, now is the last time to see him do it. It is worth the money because I have seen him perform in a huge arena, a converted movie theater and a really small intimate gathering. I will not forget any of those spectacular performances and you will never forget seeing him live too.
---
Elton John's Your Song is a gift that keeps on giving
November 16th, 2018 under Elton John. [ Comments:

none

]

Elton John has many hits throughout his long career, but I think Your Song is his greatest one of all. I am not alone because UK's John Lewis & Partners thinks the same thing.
The department store used him and the tune in a Christmas commercial. They have him playing the piano going backward in time to when he was a kid with a tagline that read, "Sometimes gifts are more than just a gift."
An important message that was beautifully conveyed. If this does not get you in the Christmas spirit, nothing will.
---
Elton John's musical fantasy comes alive in Rocketman
October 1st, 2018 under Elton John. [ Comments:

none

]

No one can deny that Elton John has led quite the life. Therefore, it should no surprise to us that his story is getting the big screen treatment in Rocketman.
I do not know about you, but I cannot wait to see this movie in May. Rockers like him were so much cooler from that generation. Which is why we want to their lives in movies. Who is next?
---