Cedric the Entertainer opens the Emmys with song and dance number
September 19th, 2021 under Emmys. [ Comments: none ]
Cedric the Entertainer is known as a comedian, but tonight he opened the Emmys with a song and dance number. The writers rewrote Biz Markie's Just a Friend for him and friends to sing, and it was different and entertaining.
Unfortunately, the show did not remain that way. I would comment more, but I was dozing on and off for the whole show. At least I had an excuse for doing that during the Oscars. I got the second Pfizer shot.

---
Kaley Cuoco was so cute when she found out she got her first Emmy nomination
July 13th, 2021 under Emmys, Kaley Cuoco. [ Comments: 1 ]
Kaley Cuoco got her first Emmy nomination today. She was nominated for Outstanding Actress in Comedy Series. Not only was she nominated for her acting, but the HBOMax series The Flight Attendant was also nominated for Outstanding Comedy.
Cuoco, who has been acting nonstop on hit shows since she was on 8 Simple Rules, was excited to see if she would get a nomination to go with her Golden Globes and SAG ones. Therefore, she watched them live and someone recorded her doing so.
The actress did not wear a gown. Instead, she wore pajamas to hear as her name was called. Since it was still early in LA, she didn't have the voice to scream. But she sure as heck showed off how excited she was to get her first nomination.
It would be nice to see her win, but it is a tough category, like at the other awards shows. But, I feel like, with this year's Emmys, we don't know what could happen. At least, I hope so.

---
Even Don Cheadle doesn't know why he got an Emmy nom
July 13th, 2021 under Don Cheadle, Emmys. [ Comments: 1 ]
Don Cheadle received an Emmy nomination today for his role in Falcon and the Winter Soldier. However, a lot of people, including himself, are wondering why he was nominated for Outstanding Guest Actor in a Drama. That is because his role wasn't even two minutes long, as you can see in the above clip. Not only was it short, but nothing monumental happened.
You know how people are in 2021; they immediately took to social media and complained about it. As soon as the 11-time Emmy nominee heard about it, he responded to the backlash. "thanks, well wishers. sorry, haters. agreed," he wrote. "Man shruggingers. i don't really get it either. buuuuuuuuuut on we go …"
This answer didn't satisfy them, but then again, nothing will.
Look, there are always going to be people who we think should not be nominated, but they are. That is why viewers don't like awards shows anymore as much. TBH I would have been more upset if he were nominated for Golden Palace because he was GA in that. But seriously, watch the series, and see how much he has grown as an actor.

---
The Emmys actually did good this year
July 13th, 2021 under Emmys. [ Comments: none ]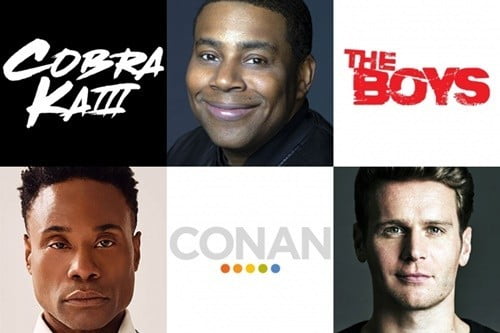 I haven't willingly watched the Emmys in years because there is no one for me to root for. This year, I have a lot to root for.
While they still had a lot of their pompous choices like The Handmaid's Tale and Mom, they also had a lot of surprises like Conan, The Boys, Cobra Kai (in comedy), and Kenan Thompson for Kenan and Saturday Night Live, to name a few.
Between the nominees and Cedric the Entertainer hosting, I think the Emmys' rating slide might end. At least it should because they went a little bit more mainstream thanks to Disney+'s programs The Mandalorian, WandaVision, and Hamilton being nominated.
The Emmys air on Sunday, September 19th. To see who all the nominations, then click here!

---
Cedric the Entertainer is going to host the Emmys
July 12th, 2021 under Emmys. [ Comments: none ]
CBS finally got something right when it comes to their big event programming. Today, they announced that Cedric the Entertainer will be hosting the Emmys on Sunday, September 19th.
"Since I was a little boy huddled up next to my grandmother, television has always been my reliable friend, so it is an enormous honor for me to host this year's Emmy Awards," said Cedric the Entertainer. "Throughout the roller-coaster of a year that we have all lived through, television has helped us stay connected as a society like never before. It not only entertained us, but as it always has, it helped to open our eyes, educate us, and hopefully brought about a better understanding of who we are as a people. I can't wait to take the stage to celebrate all of the great shows and performances that made us laugh, cry, dance and sing over the past year."
Hopefully, his CBS sitcom The Neighborhood will get a nomination, but I doubt it because it is a broadcast network show.
When will we find out what shows will be nominated for television's biggest night? Tomorrow morning at 8:30a PT on Emmys.com.

---