Ed Sheeran announces an 18-month break
August 28th, 2019 under Ed Sheeran. [ Comments:

1

]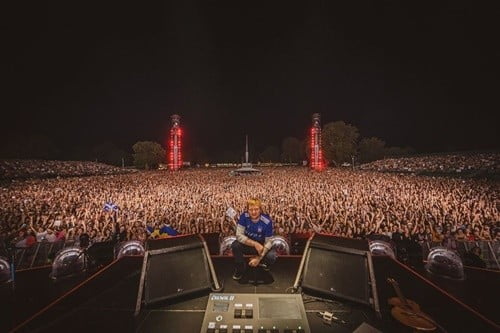 Back on March 16, 2017, Ed Sheeran began his Divide tour. On Monday, after 260 shows, he finally ended it. Before he sang his final note, he had a message for his fans.
He said, "As you may or not know, I've been on the Divide tour for over two years now and this is the last day of the whole thing. There is something very bittersweet about it. I love that you guys are here and we are ending it in Ipswich. This is my last gig for probably 18 months.
"We've played all around the world. Glastonbury, Wembley Stadium. All these amazing venues, America, New Zealand, Australia, Asia, South America — it's been a wild one. I was told before I came on that now at the end of this tour I've played to nine million people around the world. It is the biggest tour ever.
"It's been an emotional day for a lot of people backstage. It kind of feels like, in a weird way, that you're breaking up with a girlfriend that you've been with for years. It sounds odd but it has been a long tour."
The Sun says that he is expected to spend the time off with his new wife and maybe start a family. Normally, I would be upset about this news. However, after his last break, we got Divide. The best album released in the last decade. Thus, I am OK with his hiatus.
To see what Ed Sheeran wrote about concluding the tour, then click here!

---
It is big Ed Sheeran with little Ed Sheeran
July 22nd, 2019 under Ed Sheeran. [ Comments:

none

]

Ed Sheeran played Russia for the first time! In honor of the occasion, someone made a 16′ statue of the singer and placed it at Gorky Park in Moscow.
Word got out to Sheeran and he went to visit his likeness. He took a photograph with it, had some fun and even signed it! In other words, he really enjoyed being with himself.
Do you think it looks like him? I think it is pretty gosh darn close.

---
Is this what Ed Sheeran would like if he was not a singer?
July 10th, 2019 under Ed Sheeran. [ Comments:

none

]


Ed Sheeran posted some photos of himself working in an office. It makes you wonder if that is how his life would have turned out had he not been given the gift of singing.
If that would have been the case, I hope no one ever takes his stapler. Doesn't he look like a young Milton from Office Space?
I wonder what music video these images are from? I guess we will find out on Friday when his album, No. 6 Collaborations, comes out.

---
Ed Sheeran and Bruno Mars look different as women
July 8th, 2019 under Bruno Mars, Ed Sheeran. [ Comments:

none

]

Ed Sheeran teamed up with Bruno Mars and Chris Stapleton for his latest single and you can say the song doesn't blow. However, it is called Blow.
And it blows my mind that a softer rocker, a pop genius and a country star all recorded a hard rock track. Yet, not as much as the fact that they used beautiful women to play them in the music video. It is really weird to hear their voices coming out of models. Really trippy. Everything about it is really trippy.
Sheeran's album No.6 Collaborations Project is out on Friday, but you can pre-order it now.

---
BTWF: Ed Sheeran auditioning for Britannia High
June 20th, 2019 under Before They Were Famous, Ed Sheeran. [ Comments:

5

]

Before any talent competition show would love to have Ed Sheeran as a judge, he was a contestant on Britannia High. How awwwwdorable was the 16-year-old trying to dance back in 2007?
I wonder if every one of those judges kicks themselves in their a$$es for not picking him? I know he couldn't dance, but he is the most talented male singer in his generation. They should have known that when he was halfway through his teens.

---