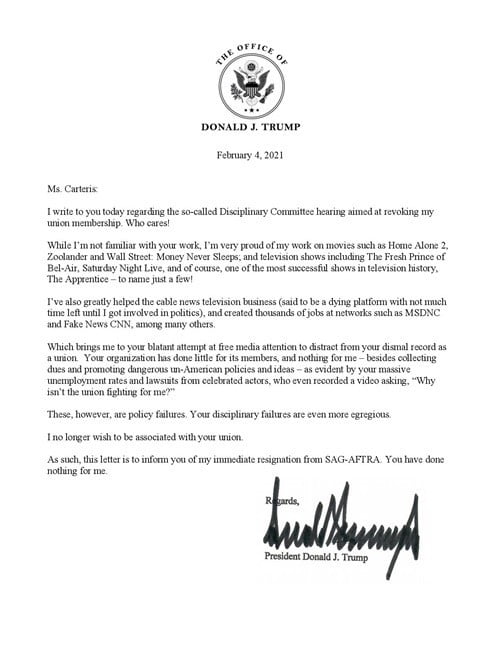 SAG-AFTRA recently announced that they planned on holding an meeting to expel Donald Trump from their union. However, now they don't have to because he already resigned. America's worst president sent them a letter full of what he normally does, lies.
He addressed the letter to the union's president Gabrielle Carteris. "I write to you today regarding the so-called Disciplinary Committee hearing aimed at revoking my union membership. Who cares," he wrote. "While I'm not familiar with your work, I'm very proud of my work on movies such as Home Alone 2, Zoolander and Wall Street: Money Never Sleeps; and television shows including The Fresh Prince of Bel-Air, Saturday Night Live, and of course, one of the most successful shows in television history, The Apprentice – to name just a few!"
First off, he doesn't know her work because he is too old to know Beverly Hills, 90210. Second, The Apprentice is nowhere close to being one of the "most successful shows in television history." Reality television is cheap like him, which is why it lasted so long.
Then he goes on to say, "Which brings me to your blatant attempt at free media attention to distract from your dismal record as a union. Your organization has done little for its members, and nothing for me – besides collecting dues and promoting dangerous un-American policies and ideas – as evident by your massive unemployment rates and lawsuits from celebrated actors, who even recorded a video asking, 'Why isn't the union fighting for me?'"
The video is about older actors complaining about getting screwed on the healthcare plan. He has a point there. However, so many actors are out of work because of how Trump screwed up the coronavirus plan.
Maybe he should stop listening to Chachi, the girl who played Buffy in the movie, and Antonio Sabato, Jr. to know the real deal about the union.
Anyways, SAG-AFTRA's President Gabrielle Carteris and National Executive Director David White responded to him with two words. Not those two words, but "Thank you." That is a perfect example of a mic drop.
BTW Did you know that a former president of SAG went on to become President of the United States? His name is Ronald Reagan.

---