Beyoncé' is bringing her tour to the big screen
October 2nd, 2023 under Beyoncé. [ Comments: none ]
Did you miss Beyoncé's Renaissance tour or do you want to see it again? Then, starting on December 1st, you can watch it in AMC Theaters for $22.
RENAISSANCE: A FILM BY BEYONCÉ accentuates the journey of RENAISSANCE WORLD TOUR, from its inception to the opening show in Stockholm, Sweden, to the grand finale in Kansas City, Missouri. It is about Beyoncé's intention, hard work, involvement in every aspect of the production, her creative mind and purpose to create her legacy, and master her craft. Received with extraordinary acclaim by International and US media alike, Beyoncé's outstanding performance during RENAISSANCE WORLD TOUR created a sanctuary for freedom, acceptance, and shared joy. Its maximalist production welcomed more than 2.7 million fans from around the world, who travelled across oceans to enjoy Club RENAISSANCE. Now, millions of moviegoers will get caught up in the Joy Parade, the monumental dance party that celebrates everyone's right to be themselves, close to home.
Renaissance: A Film by Beyoncé opens in thousands of movie theaters in North America on December 1st and plays for at least four weekends. Tickets are available to purchase now here.
Will Beyoncé beat Taylor Swift? That is up to you.

---
Guess who is wearing a nude bodysuit?
August 13th, 2023 under Beyoncé. [ Comments: none ]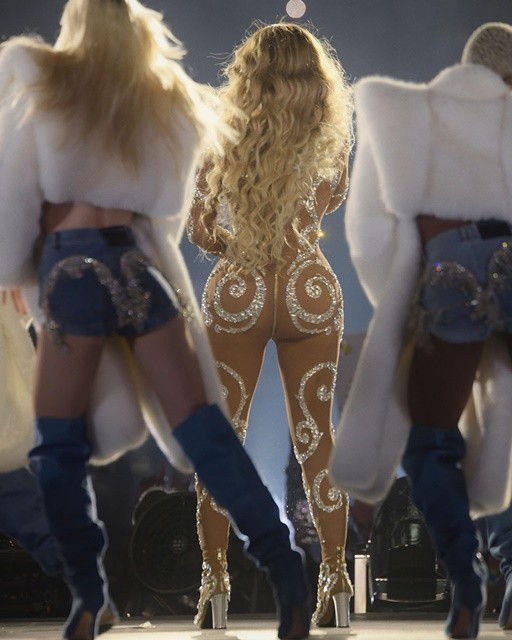 Want to see who that brown skin girl is, then click here!

---
Is Beyoncé going for a slutty Little Red Riding Hood?
June 22nd, 2023 under Beyoncé. [ Comments: none ]
Beyoncé was the Lady in Red tonight in Hamburg, Germany. And the lady in red I am thinking of is Little Red Riding Hood. Am I the only one who sees that? Or do you see it too? All she needs is a basket, and the look is complete.

---
Is Beyoncé bigger than The Beatles?
June 7th, 2023 under Beyoncé, Paul McCartney/Heather Mills. [ Comments: none ]
Beyoncé brought her tour to London, and Sir Paul McCartney came out to hear her sing. So does that mean she is bigger than The Beatles? Because one of them went to her concert.
But then again, none of us have been able to go to a Beatles show since 1980. And if John Lennon were still alive, I am sure she and Jay-Z would be hanging with him in NYC. Imagine that.
Now back to Sir Paul. His youthful excitement to play with the cameras is we still love him and need him at 80 like we did when he was 64!

---
Beyoncé has the title of most Grammys won by a musician
February 6th, 2023 under Beyoncé. [ Comments: none ]
Tonight at the Grammys, Beyoncé won her 31st and 32nd Grammys. Why is that so newsworthy? With her 31st win, she tied Georg Solti for the most Grammys, a title the late Hungarian-British orchestral and operatic conductor held since 1997. So by winning her 32nd Grammy statuette, that title is all hers. And I don't think anyone is going to take that away anytime soon.
However, traffic took away her chance to accept the Grammy Best R&B Song, Cuff It, in person. But she did make it there in time to give the speech for winning her record-breaking Grammy for Best Dance/Electronic Album, Renaissance. Congrats to the Queen.
Here is another fun fact. Beyoncé also holds the title for most Grammy nominations. Well, actually, she is tied for that honor. Do you want to know who she is tied with? Her husband, Jay-Z. I feel bad for him when they fight because she can be like, "I have more Grammy than you do, even though we have the same amount of noms." He has 23, compared to her 32.
Oh, to her accept her record-breaking award, then click here!

---