Eric Andre dressed as Beyoncé to prank her fans
March 6th, 2020 under Beyonce, Jimmy Kimmel. [ Comments:

none

]

You know how television hosts prank fans of celebrities by telling them to record a video for their idol, and then have that star walkout and surprise them? It is so common that their admirers just expect it now.
Well, Jimmy Kimmel and Eric Andre one-upped the prank game. They asked some members of the Beyhive to record a message for their Queen. As they were looking into the camera, Andre, who was dressed as Bey, tapped their shoulders and put his hands over his face. The fans thought it was her until his big reveal. Then their tears of joy turned to those of laughter.
I just want to know, how did none of them realize that Beyoncé had a bulge? I mean when did she grow a d!ck?
When it comes to Andre in drag, he looks like a mix of Teresa Giudice and Lisa Rinna. Andy Cohen should add him to a Real Housewives and see how long it takes them realize she is a he?

---
Beyonce was photoshopped into the Lion King group photo
July 23rd, 2019 under Beyonce, Stephen Colbert. [ Comments:

none

]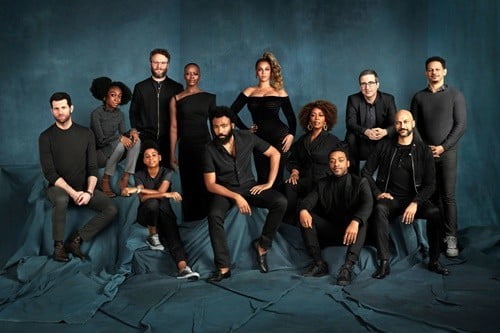 Disney released a group photo of the cast of The Lion King and people wondered if Beyonce was photoshopped into it. Yesterday, when John Oliver was on The Late Show, Stephen Colbert asked him just that.
Oliver admitted, "She wasn't there…I think almost everybody else was there." He then revealed that there was a piece of tape on the floor where she was supposed to be.
Even though she was not there physically, her presence was still felt. In fact, Oliver said he was intimidated by her and you can see it on his face.
I wonder why she was not there? Did she think she was better than everyone else? Things that make you go hmmm…

---
BTWF: Beyonce in Girls Tyme
September 5th, 2018 under Before They Were Famous, Beyonce. [ Comments:

none

]

Before Beyonce was in Destiny's Child, she was in Girls Tyme. Even in 1992 when she was just 10 years old, you can tell she was going to be a star.

---
Is this Ed Sheeran/Beyonce duet Perfect?
December 1st, 2017 under Beyonce, Ed Sheeran. [ Comments:

1

]

Ed Sheeran reworked his love song Perfect by turning it into a duet with Beyonce. You would think that having two of today's hottest singers collaborate it would be pure perfection, but I don't think her voice works with his. He needed someone more like Kelly Clarkson or Adele for the duet. What do you think?
BTW I am not bashing Beyonce, I am just saying her voice does not mesh well with Sheeran's.

---
Beyonce shows her real face!
September 22nd, 2017 under Beyonce, No makeup. [ Comments:

none

]

We are used to seeing Beyonce with makeup, but the new mom decided to share a photo not wearing any. Either way, she is bootylicious. Although, she might look younger with the wider eyes that seem smaller with the black eyeliner. What do you think?

---