Justin Bieber Ghosted Diane Keaton
October 7th, 2021 under Diane Keaton, Justin Bieber. [ Comments: none ]
Diane Keaton makes it no secret that she has a crush on Justin Bieber. So much so, Ellen DeGeneres brought the two of them together in 2015.
Well, I guess the two of them hit it off because he asked her to be in his music video Ghost. I am assuming that she is going to play his dead mother, who is now a Ghost. At least that is how it sounds by the lyrics in this clip that they both shared from the video that comes out tomorrow.
She asks on her post, "Am I dreaming???" And we feel the same way because who doesn't love the legendary actress?
So get some ice, put it in your wine, and let's have a viewing party tomorrow for Ghost.

---
Father of the Bride 3 is coming to Netflix
September 24th, 2020 under Diane Keaton, Netflix, Steve Martin. [ Comments: none ]

Back in 1991, we fell in love with Steve Martin and Diane Keaton as a happily married couple, whose daughter (Kimberly Williams-Paisley) is getting married, in Father of the Bride. Then four years later, the father of the bride was becoming a father again and a grandfather for the first time at the same time. Now, 25 years later the Banks are reuniting for Father of the Bride 3(ish).
We don't know what is bringing them together (I say double wedding for the babies from the first sequel), but Netflix says it is for a special event. That special event might have something to do with the World Central Kitchen. That is because the reunion, that is written and directed by Nancy Meyers, is benefitting the nonprofit.
The sequel that also stars Kieran Culkin, George Newbern, Martin Short, and few special guests will debut tomorrow at 6 pm EST on Netflix and YouTube.

---
Writer/director Nancy Meyers shows us how to use thongs as face masks!
March 27th, 2020 under Coronavirus, Diane Keaton. [ Comments: none ]

Since no one can find face masks, even medical professionals, legendary writer, director, and producer Nancy Meyers came up with an ingenious alternative to protect our faces during the Coronavirus pandemic. She sent that instructional video to her friend Diane Keaton, who starred in her movies Baby Boom (I majored in advertising because of this film) and Something's Gotta Give; and the Oscar-winning actress shared it with us.
All you have to do is find a clean thong (you don't want to go in public with a dirty one), and place it on your face with your ears, helping to secure it over your nose and mouth.
While she looked beautiful in it, the same cannot be said about her friend Rob. However, he did a better job with it than Meyers' mum. Therefore, if you are going to suggest this for the older people in our lives, we are going to have to give them our undies because granny panties don't work!
It is nice to see her creative genius at work! Now, we know why her movies like Private Benjamin, Father of the Bride, The Parent Trap, and It's Complicated made us laugh as hard as they did.

---
Diane Keaton regrets kissing Kris Kristopherson
February 4th, 2020 under Diane Keaton, Ellen DeGeneres. [ Comments: none ]

Diane Keaton is always a hoot when she is on Ellen DeGeneres' talk show and yesterday was no different. The actress answered some Burning Questions, and she scored some huge brownie points with the host.
Before we get to that, let's talk about something she did once that she will never do again. That thing is "kiss Kris Kristopherson." Say that three times fast. Why won't she do that again? Keaton says, "It was a long time ago. I was young. It was a mistake. I think…He was very attractive at the time. And…he didn't want it."
Then right after Ellen and Diane hit their heads on their buzzer because of the latter's answer to what is a sexy food. What was her response? The Oscar-winner admitted that she "never kissed Kris Kristopherson." Say that three times fast. Why did she lie to us? She felt she needed to make something up. Oh, Diane!
Here is where she gets the brownie points. When the Baby Boom star was asked who she would want to be her nude model in an art class, she said Ellen because "She is good looking." Something the talk show host is more than willing to do for her friend.
For the final question, Ellen asked her who she wants to kiss. Guess whose lips she wants on her's? Say it three times fast.
Every time I watch an interview with Diane Keaton, I just think that I wish she were my friend. She is the coolest lady, and I want her in my life — wine with ice cubes and all.

---
Diane Keaton has not been on a date in 35 years
July 11th, 2019 under Diane Keaton. [ Comments: none ]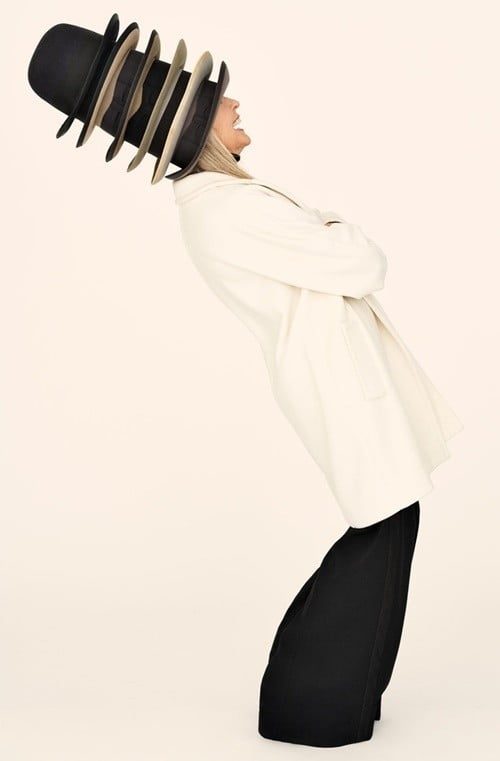 Diane Keaton has dated Warren Beatty, Al Pacino and Steve Jobs, but she told In Style, "I haven't been on a date in, I would say, 35 years. No dates." However, it is not because she does not have enough men in her lie. She says, "I have a lot of male friends. I have a lot of friends, but no dates. No mwah-mwah." If any of them wants to date her, they just have to ask. She is oldfashioned in that was and does not ask someone out.
While she knows her love life is bombing, does she know when her movies are doing the same? She revealed to the magazine, "I know when they're a bomb, and I go, 'OK, so that's not good. And I'm not going to look at it." She knows that after the movie has been made, but does she know that while she filming it? She explained to them, "You don't know. It was a surprise to me that Book Club [2018] was a big hit. I didn't expect it. I just thought, 'Oh, well, I got a job — that's good.' Blah, blah, on and on. So you don't know. You may have an opinion about it while you're making it, but frequently you're wrong. [laughs] That's true with a lot of things."
Fashion is something she does not get wrong. She told the mag who inspired her look and so much more. Like even though she has always loved wearing hats, she wears them now because it protects from her sun. She shared with them, "I've had so many skin cancers. " Check out the article that is on stands now.

---