Diane Keaton has not been on a date in 35 years
July 11th, 2019 under Diane Keaton. [ Comments:

none

]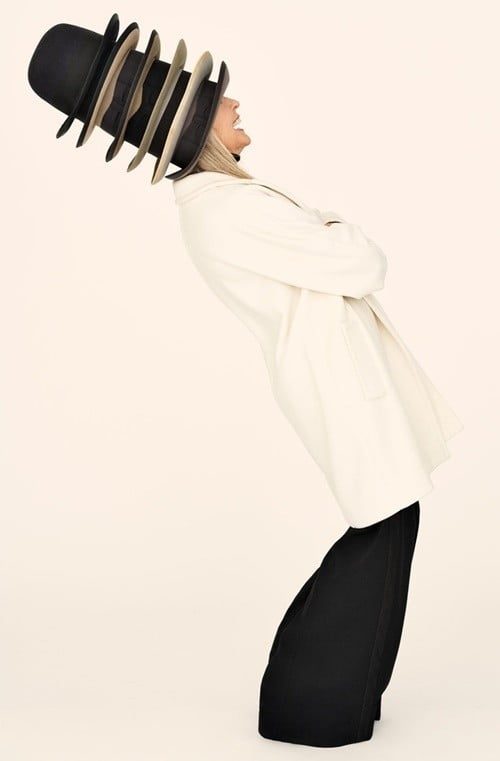 Diane Keaton has dated Warren Beatty, Al Pacino and Steve Jobs, but she told In Style, "I haven't been on a date in, I would say, 35 years. No dates." However, it is not because she does not have enough men in her lie. She says, "I have a lot of male friends. I have a lot of friends, but no dates. No mwah-mwah." If any of them wants to date her, they just have to ask. She is oldfashioned in that was and does not ask someone out.
While she knows her love life is bombing, does she know when her movies are doing the same? She revealed to the magazine, "I know when they're a bomb, and I go, 'OK, so that's not good. And I'm not going to look at it." She knows that after the movie has been made, but does she know that while she filming it? She explained to them, "You don't know. It was a surprise to me that Book Club [2018] was a big hit. I didn't expect it. I just thought, 'Oh, well, I got a job — that's good.' Blah, blah, on and on. So you don't know. You may have an opinion about it while you're making it, but frequently you're wrong. [laughs] That's true with a lot of things."
Fashion is something she does not get wrong. She told the mag who inspired her look and so much more. Like even though she has always loved wearing hats, she wears them now because it protects from her sun. She shared with them, "I've had so many skin cancers. " Check out the article that is on stands now.
---
Mary Steenburgen says we are getting another Book Club
June 12th, 2019 under Andy Cohen, Candice Bergen, Diane Keaton, Jane Fonda, Ted Danson Mary Steenburgen. [ Comments:

none

]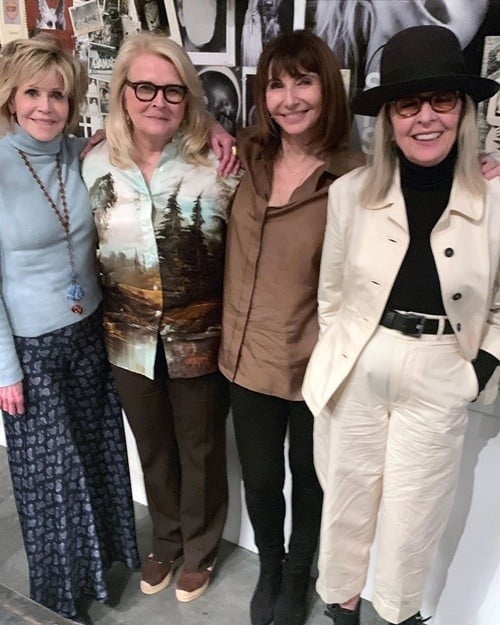 Sometimes when actors makes a movie, they become friends for life. That is exactly what happened to Mary Steenburgen, Jane Fonda, Candice Bergen and Diane Keaton when they made Book Club.
The four women have continued their friendship even off camera and met a few times since the enjoyable 2018 film came out. In fact, they even got together at Keaton's house this weekend. Andy Cohen, like me, loves seeing the ladies together, so today he asked Mrs. Ted Danson about their dinner date on his radio show. That is when she revealed they are doing a sequel to their feature.
While that is great news for fans of the movie, I would rather see it be a series. I think it would be better if they took up a new book every week for like 10 of them. Wouldn't it be fun to see how the Twilight series would inspire them? Maybe even be a little naughty and read The Art of the Deal. I don't think the actresses would allow that. However, they could have fun with Kardashian Konfidential.
No word, which of the men will be back, but I have a feeling we will be seeing them again. Which makes me so very happy. If you have not seen Book Club, you should definitely watch it. It is just a sweet movie about friends being there for you whenever you need them.
To hear what Steenburgen told Cohen on his radio show today, then click here!
---
Diane Keaton gave Jimmy Kimmel an erection
May 7th, 2019 under Diane Keaton, Jimmy Kimmel. [ Comments:

none

]

Last year, Diane Keaton was on Jimmy Kimmel Live and she kissed the host like how she passionately kissed Andy Garcia in Book Club. In those just over 350 days, she has not kissed another man. Therefore, she used being on the ABC talk show to hopefully show men that she is still very much kissable.
She did so by using the ABC late night host as her dummy. She wanted to show the boys her two new ways of locking lips. After seeing her lip-locking techniques, does it make you fellas want to make out with her?
Last year, I said I wanted to kiss her, this year not as much. While that is me, Kimmel really enjoyed being her dummy.
---
Is Book Club 2 happening?
April 12th, 2019 under Candice Bergen, Diane Keaton, Jane Fonda, Ted Danson Mary Steenburgen. [ Comments:

none

]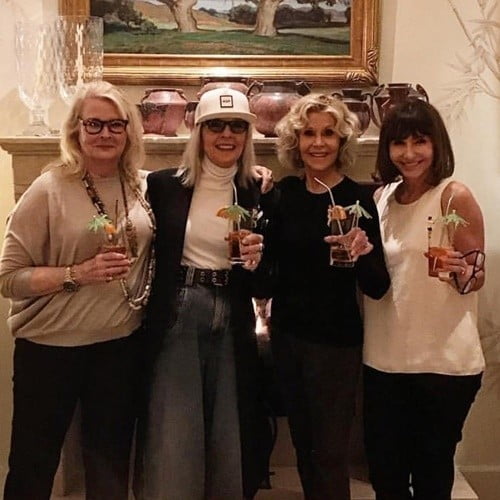 Book Club was last year's sleeper hit and yesterday the film's stars got together. Does that mean that Candice Bergin, Diane Keaton, Jane Fonda and Mary Steenburgen are letting us know that they are working on a sequel? Sadly, nope. It just means that made a friendship that lasted long after they were done filming.
Personally, I think they should do a series based on the movie and each week they take on a new book that changes their lives. Imagine if they took on a murder mystery book where four friends vow to kill one of their lovers, but they don't know which one actually do the crime. Now they are all suspicious of each other after Andy Garcia is injured by mysterious means. I would watch, wouldn't you?
---
BTWF: Diane Keaton in Hair on The Dick Cavett Show
May 24th, 2018 under Before They Were Famous, Diane Keaton. [ Comments:

none

]

Before Diane Keaton was the lead, she was just in the tribe of Hair on Broadway. Even though she was in the background, the 22-year-old stood in that 1968 performance on The Dick Cavett Show.
---