Diane Franklin recreates her Better Off Dead style
December 16th, 2020 under Diane Franklin. [ Comments: none ]

Back in 1985, Diane Franklin played Monique, the French exchange student, in the classic teen movie Better Off Dead. Her character had a certain style to her, and the actress recreated it to promote that she is on Cameo. If you want Monique, I mean Franklin, to record a message for someone you love, then you can do so here. Especially since she looks as good now as she did then.

However, if I was going to spend the money on a Cameo for someone from that film, then I would go with Demian Slade, who played the Paperboy. I would have him record, "I want my $2," to all the people who owe me money. How awesome would that be?

Back to Franklin, if you prefer she can also recreate her characters from Last America Virgin, Bill & Ted's Excellent Adventure and/or one the Amityville movies she did. She played the daughter in the '80s, and the mother in the more recent film.

---
Is Diane Franklin really 57?
November 6th, 2019 under Diane Franklin. [ Comments: none ]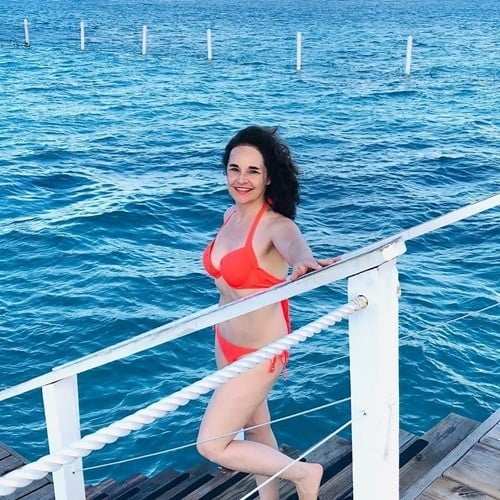 Back in the '80s, Diane Franklin was the actress the boys wanted to date, thanks to movies like Last American Virgin, Better Off Dead and Bill & Ted's Excellent Adventure.
That was then and this is now. The actress posted a photo of herself in a bikini and I betcha $2 that not only would all of those boys still want to date her so will a whole new generation of them. Which makes you wonder how can she really be 57? She sure doesn't look it!

---
Diane Franklin shares a photo from Bill & Ted's alternate ending
June 27th, 2019 under Diane Franklin, Keanu Reeves. [ Comments: none ]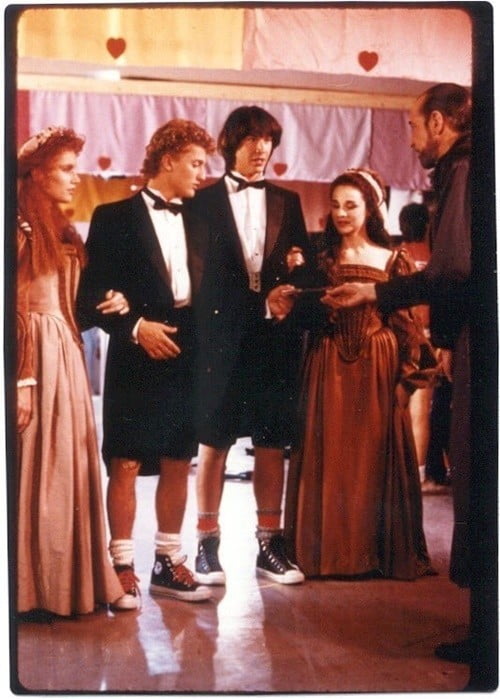 Back in 1989 when Bill & Ted's Excellent Adventure ended, Rufus (the late George Carlin) brought the medieval Princesses forward in time to be with the leads (and do 69, what?). However, that was not the original ending.
Last year, when Keanu Reeves, Alex Winter and writers Chris Matheson and Ed Solomon talked about the legendary film (and my personal favorite) to Entertainment Weekly, they let us know that was not how the film really ended.
Bill S. Preston, Esquire revealed the true ending was, "We just bring the historical figures back to our classroom. And Keanu just sat on the desk, and watched them kind of talk about who they were. Then we'd go to the prom, and that's the end. Even while we were shooting it, we were kind of depressed." Therefore, after much thought, they reshot it and it ended the way we know it as.
I do not remember seeing any video or pictures from that original ending. However, that all changed today because Bodacious Babe Diane Franklin aka Princess Joanna shared a photo of them going to the prom. I love that the Wyld Stallyns wore tuxes with long shorts, tube socks and sneakers. It is very Bill & Ted. Kind of wish we got to see them five of them like that 30 years ago. Anyone else feeling old because this movie is that old?
Still no word if Franklin and Kimberley Kates will reprise their roles Bill & Ted Face the Music. It will be totally bogus if they are not especially because they still look just as beautiful. I mean how can you have their daughters without their moms?
Although, I still don't believe the third movie is happening. Until someone posts a photo from the first day of filming, I will remain cautiously optimistic. Then after they post it, I am so going to stalk production.
UPDATE: Even though the movie is bringing back so many other actors from the original movies, they have decided to recast the Princess. I call BS on that. That was a wrong decision.

---
Diane Franklin might have the best title for an autobiography
March 5th, 2019 under Diane Franklin. [ Comments: none ]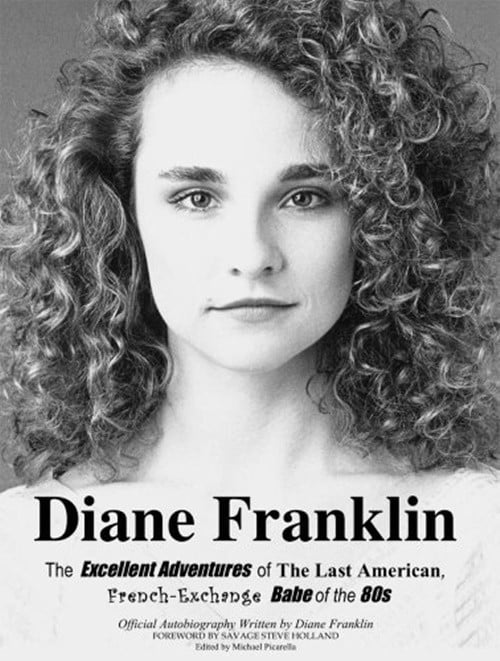 Diane Franklin wrote a book about growing up and working in Hollywood for 40 years, and she gave it a most excellent title. She called it, "The Excellent Adventures of the Last American, French-Exchange Babe of the 80s."
Don't understand why it is so perfect? It is a combination of her biggest movies Bill & Ted's Excellent Adventure, The Last American Virgin and Better Off Dead. Three movies that every teenager should see as a rite of passage.
The only complaint I have about her book is its price. Shouldn't it be $2? Don't get that, then you are deprived because you have never seen Better Off Dead.

---
Is Diane Franklin really 56 years old?
November 5th, 2018 under Are they really their age?, Diane Franklin. [ Comments: none ]

Back in 1982, Diane Franklin became the subject of boys' fantasies when she starred in The Last American Virgin. Now 36 years later, she is still doing tempting men as she wears a bikini on the beach. Can you believe she is 56 because she sure does not look like it?

The sweet princess from Bill & Ted's Excellent Adventure has a very sweet body no matter what year she is in. So much so, it would make John Cusack think he is not Better Off Dead.

The actress still looks as good today as when she played the sister in Amityville II: The Possession, also in 1982. On November 13th, she will be telling the Lutzes story again in The Amityville Murders, but this time she will be playing the mother.

---