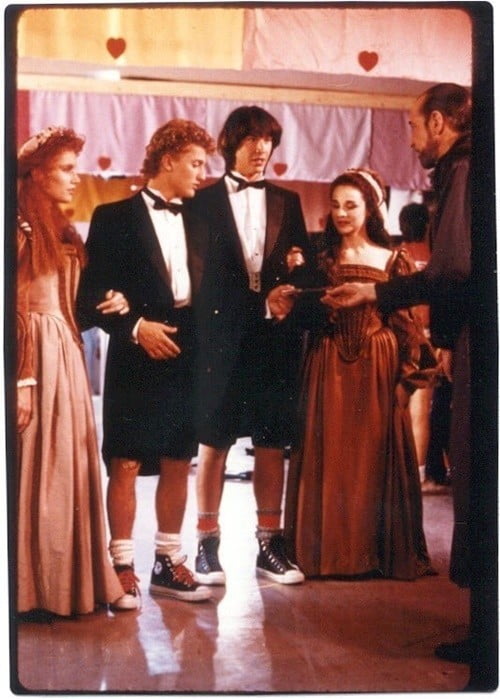 Back in 1989 when Bill & Ted's Excellent Adventure ended, Rufus (the late George Carlin) brought the medieval Princesses forward in time to be with the leads (and do 69, what?). However, that was not the original ending.
Last year, when Keanu Reeves, Alex Winter and writers Chris Matheson and Ed Solomon talked about the legendary film (and my personal favorite) to Entertainment Weekly, they let us know that was not how the film really ended.
Bill S. Preston, Esquire revealed the true ending was, "We just bring the historical figures back to our classroom. And Keanu just sat on the desk, and watched them kind of talk about who they were. Then we'd go to the prom, and that's the end. Even while we were shooting it, we were kind of depressed." Therefore, after much thought, they reshot it and it ended the way we know it as.
I do not remember seeing any video or pictures from that original ending. However, that all changed today because Bodacious Babe Diane Franklin aka Princess Joanna shared a photo of them going to the prom. I love that the Wyld Stallyns wore tuxes with long shorts, tube socks and sneakers. It is very Bill & Ted. Kind of wish we got to see them five of them like that 30 years ago. Anyone else feeling old because this movie is that old?
Still no word if Franklin and Kimberley Kates will reprise their roles Bill & Ted Face the Music. It will be totally bogus if they are not especially because they still look just as beautiful. I mean how can you have their daughters without their moms?
Although, I still don't believe the third movie is happening. Until someone posts a photo from the first day of filming, I will remain cautiously optimistic. Then after they post it, I am so going to stalk production.
UPDATE: Even though the movie is bringing back so many other actors from the original movies, they have decided to recast the Princess. I call BS on that. That was a wrong decision.

---