David Boreanaz describes the changes on set since COVID-19
October 13th, 2020 under David Boreanaz. [ Comments: none ]

David Boreanaz has worked nonstop since he started playing Angel on Buffy the Vampire Slayer in 1997. You would think after 23 years of fights on Angel and explosions on Bones, he has seen it all. However, this year something happened that none of us ever experienced. That thing is, of course, coronavirus.
Due to COVID-19, there have been a lot of changes on the set of SEAL Team, and the actor described the biggest one. They need to wear a mask whenever they are on the set. The only time he can take it is off is when the director says, "rolling." As soon as he shouts, "cut," the mask goes back on.
Boreanaz says that everyone has adjusted to the change. The staff and crew are enthusiastic about being back at work. He also says that they have some good episodes coming your way for season four. I know that is all you wanted to know. When it will back, that I don't know.

---
David Boreanaz has seen better days
October 7th, 2020 under Better Days, David Boreanaz. [ Comments: none ]

David Boreanaz is back filming SEAL Team, and it looks like it is already taking its toll on him. The actor, who has played a Vampire and FBI agent, was seen with bruises all over his face on the military drama. What happened? We will find out when the show comes back to CBS later this year.

---
David Boreanaz lost audio with Kelly Clarkson during their remote interview
June 25th, 2020 under David Boreanaz, Kelly Clarkson. [ Comments: none ]

David Boreanaz was doing a live-to-tape interview with Kelly Clarkson from his home when he suddenly couldn't hear what she was saying anymore. What do you? If you are an actor, who has spent more than half your life as a lead of four different TV shows without any breaks, then you just keep going on with the show.
They changed it up and made it like charades. Clarkson asked her questions by acting out the words. Since Boreanaz is a better player than she is, he knew what she was asking.
Together they got through her best interview since the show started! She should do more of them like this.
BTW I don't blame Boreanaz's innocent dog, Louis, for causing him to lose audio. I betcha, he was the type of kid who blamed his dog for his eating homework when he was a kid.

---
Has David Boreanaz alienated everyone on set of SEAL Team?
October 7th, 2019 under David Boreanaz. [ Comments: none ]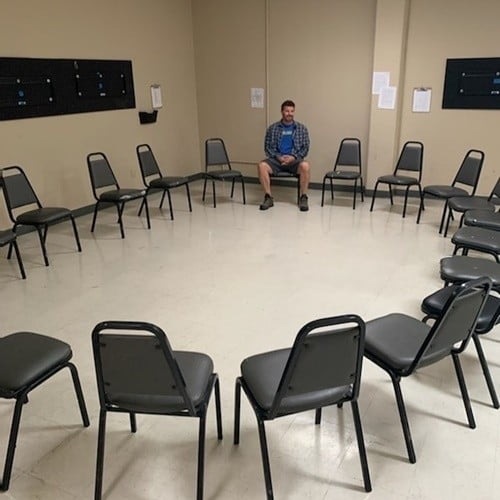 David Boreanaz posted a photo of himself on the set of his CBS show SEAL Team sitting alone in a circle full of chairs. Do all the cast and crew have some Bones to pick with him?
Nope, he is still an Angel. He was just prepping for a scene from this Wednesday's episode at 9p.
It looks like the episode will be a tearjerker because that is the saddest photo I have seen in awhile. It is like Three Dog Night's song One (Is the Loneliest Number) came to life. At least it did for me because I cannot stop singing it ever since I saw Jason Hayes without a team. It is just the ME in team because there is no I.

---
David Boreanaz did his own take on the #BottleCapChallenge
July 5th, 2019 under ALS Ice Bucket Challenge, David Boreanaz. [ Comments: none ]

Person after person has attempted to do the #BottleCapChallenge as it was intended to be done. Round kicking a cap off of a bottle. Even though David Boreanaz has played an action star on TV almost nonstop since 1997 (only one year off), he did not go that route. Instead, the Angel, who is in Hawaii, did it as though he was on holiday. He was sitting on the couch, picked up the bottle and flicked it off with his right hand.
You would think it would go better than the ones where people did it with their feet. Shockingly it did not go smoother. The cap was like, I am going to get revenge on you and boomerang towards you. He was able to catch it with his body like he was a goalie on an ice hockey team. However, it a messier than most of the dead bodies on Bones.
On a positive note, at least he tried something different.

---