Ana Navarro's costume is so realistic, you would swear she's Charo
October 31st, 2022 under Charo, The View. [ Comments: none ]
Today on The View, the hosts dressed up for Halloween. Praise Be, Whoopi Goldberg dressed like a handmaid, while Joy Behar was Peg Bundy. Ana Navarro decided to go as Charo from The Love Boat. And she is so believable; I honestly thought she was the legendary entertainer. Isn't it amazing?

---
Did Tori Spelling steal Charo's look?
October 19th, 2022 under Aaron/Candy/Tori Spelling, Charo. [ Comments: none ]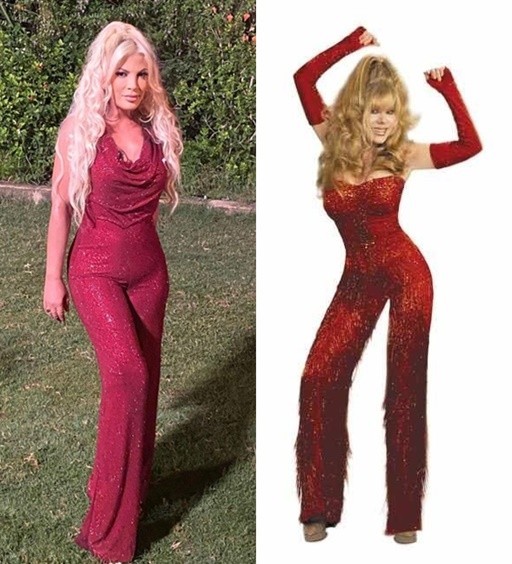 Tori Spelling grew up with Charo because her father created The Love Boat and the Entertainer when she appeared on that series.
So, I guess, in a way, it inspired Spelling's future style. At least it did here because the actress wore a red bodysuit, and her hair just like Charo.
It is like we get Charo, but as her look for less.

---
Charo teaches us the correct way to spell successful
March 25th, 2022 under Charo. [ Comments: none ]
Back when we were little, we were told to spell successful this way. However, that is not how Charo spells it, and I am going to use her spelling from now on.
What is her way? She spells it as succsexful! Anytime we can add sex to a word, I am all for it!
Can we call Miriam Webster and tell them to change the spelling in all of their future dictionaries. And while we are it, can we also get them to add to Cuchi, Cuchi to the list of words?
And, that is my contribution to the English language.

---
Is Charo really 70?
March 17th, 2021 under Are they really their age?, Charo. [ Comments: none ]

Charo shared an exercise that she says keeps her butt toned. Obviously, it is working because look at her.
Can you believe she is 70? She looks as good now as when she did The Love Boat in the '70s. I don't think she has aged a day since then. Now, we know one of her secrets for eternal youth! I am off to do that workout because I need my assets to look like hers.

---
Charo shows us how to get through the toilet paper crisis of 2020
March 15th, 2020 under Charo. [ Comments: none ]

Who has been to a store in the last week and actually saw any toilet paper inside of it? Barely anyone.
Well, Charo came up with a solution, just in case you run out. If worse comes to worst, then cut a roll of paper towels. It is no more painful than cheap TP on your cuchi cuchi and is the quicker picker-upper.
Charo also showed us to wash her hands. If you want to get that lesson, then click here!

---