A '70s music fan's wet dream: Charo, Barry Manilow and Dionne Warwick
May 3rd, 2023 under Barry Manilow, Charo, Dionne Warwick, Wet dream. [ Comments: none ]
Back in the '70s, everyone was doing the Cuchi Cuchi to Charo, Barry Manilow, and Dionne Warwick. However, they weren't doing it at the Copacabana. Instead, they were doing it in their bedrooms because that was the only location where they could hear the three of them in the same place.
And as often as they would say a little prayer to make the three of them be in the same room, it never happened. But someone said a big prayer, and we have a lineup that would make The Love Boat wet.
That is because the three singers met up at Carnegie Hall, and we just get to bask in the glory of their enormous talent. And wishin' and hopin' that they were talking about either releasing a song or going on tour together. I would pay bucks to see them on a weekend in New England or anywhere they perform live.
Imagine the stories these legends could tell. It is stuff that Manilow writes songs about.

---
Ana Navarro's costume is so realistic, you would swear she's Charo
October 31st, 2022 under Charo, The View. [ Comments: none ]
Today on The View, the hosts dressed up for Halloween. Praise Be, Whoopi Goldberg dressed like a handmaid, while Joy Behar was Peg Bundy. Ana Navarro decided to go as Charo from The Love Boat. And she is so believable; I honestly thought she was the legendary entertainer. Isn't it amazing?

---
Did Tori Spelling steal Charo's look?
October 19th, 2022 under Aaron/Candy/Tori Spelling, Charo. [ Comments: none ]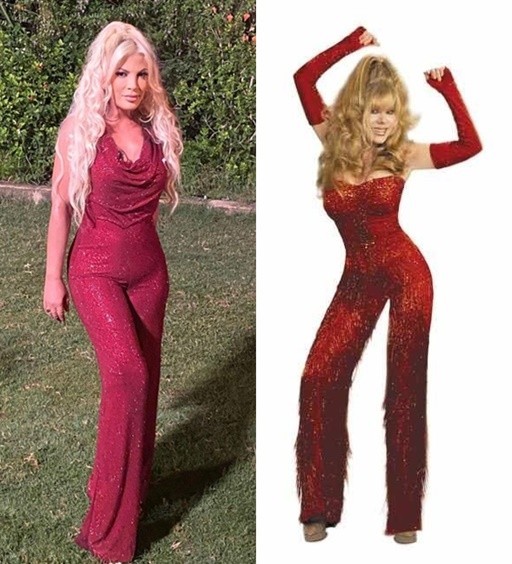 Tori Spelling grew up with Charo because her father created The Love Boat and the Entertainer when she appeared on that series.
So, I guess, in a way, it inspired Spelling's future style. At least it did here because the actress wore a red bodysuit, and her hair just like Charo.
It is like we get Charo, but as her look for less.

---
Charo teaches us the correct way to spell successful
March 25th, 2022 under Charo. [ Comments: none ]
Back when we were little, we were told to spell successful this way. However, that is not how Charo spells it, and I am going to use her spelling from now on.
What is her way? She spells it as succsexful! Anytime we can add sex to a word, I am all for it!
Can we call Miriam Webster and tell them to change the spelling in all of their future dictionaries. And while we are it, can we also get them to add to Cuchi, Cuchi to the list of words?
And, that is my contribution to the English language.

---
Is Charo really 70?
March 17th, 2021 under Are they really their age?, Charo. [ Comments: none ]

Charo shared an exercise that she says keeps her butt toned. Obviously, it is working because look at her.
Can you believe she is 70? She looks as good now as when she did The Love Boat in the '70s. I don't think she has aged a day since then. Now, we know one of her secrets for eternal youth! I am off to do that workout because I need my assets to look like hers.

---