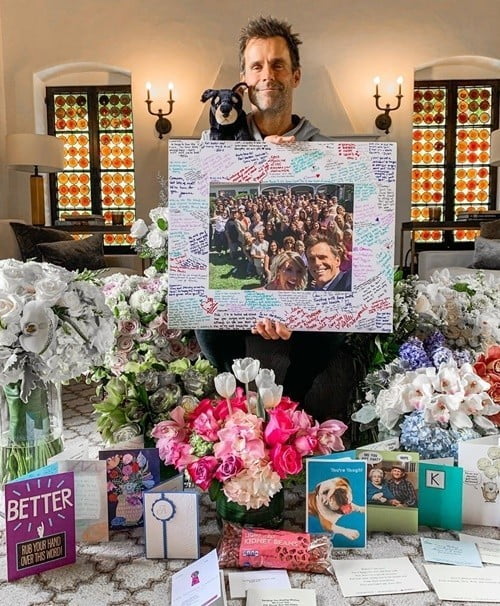 A week ago, Cameron Mathison revealed on Home & Family that he was diagnosed with Kidney cancer last month. As part of his treatment to beat it, he had surgery to remove it on Thursday. On Friday, he let us know that all went well and he only lost 20% of his infected kidney.
Today, he gave us another update, "Unbelievably grateful to be back home after a successful partial nephrectomy surgery. It was an eventful 4 days in the hospital, and doing well at home now. @inderbirgillmd is a miracle worker, and my whole family is indebted to him and everyone at @keckmedofusc 🙏🏼🙏🏼🙏🏼
"Thank you to everyone sending prayers, positive thoughts, flowers, cards, stuffed animals, food, love💕… and kidney beans😂
"Love you guys😌 #1.8kidneysleft #cancersucks #cancerfighter #feelingloved"
Now that he is home, he will spend the next two weeks recuperating before going back to work on the Hallmark talk show.
Before, going under the knife, he said that after surgery, since the cancer had not spread, he would not require chemotherapy and radiation. Hopefully, that has not changed.
A big take away from his story is that if you know there is something wrong, not only go to your doctor, but also make sure they check it out. Had he not been insistent about getting an MRI because of his mysterious stomach, who knows when they would have found the tumor that was growing inside of him for at least a decade.
Happy he is on the road for recovery and I will continue to pray it goes smoothly.

---