Brian Austin Green reveals that he's separated from Megan Fox
May 18th, 2020 under Beverly Hills 90210 / Melrose Place, Megan Fox. [ Comments:

none

]

There have been a lot of rumors recently that Brian Austin Green and Megan Fox ended their ten-year marriage again, and today he confirmed the news on his podcast Context.
He explains that Fox went away to film a movie late last year, and it was the longest they have been apart. While she was filming, he had a dream that she was distant towards him, and he texted her about the dream the next day. She told him everything was fine.
However, when she came back, she was distant to him. He asked about her the distance, and she told him she was happier being alone. Therefore, he decided to let her be free.
The couple has been together for 15 years, and she was a teenager when they started dating. Thus, you can understand why she wants to discover what it is like for her to be by herself because she never was. She went from her parents' home into his.
When it comes to her being alone, he also wanted to clarify that she and Machine Gun Kelly are just good friends at this time. Nothing more.
Green is hoping by being so open today and saying their split is amicable, that this will be the last time he has to talk about it. You would think, having been in the biz for over 30 years, that he would know by now that will not be the case.

---
The cast of 90210 had an online reunion
April 23rd, 2020 under Beverly Hills 90210 / Melrose Place. [ Comments:

none

]

Back in 2008, we got to know the new class of West Beverly High on The CW's 90210. Recently, they got together and had a little reunion online.
Shanae Grines (Annie) decided to call up her classmates for a little Zoom for her YouTube channel. She was joined by Tristan Wilds (Dixon), AnnaLynne McCord (Naomi), Erin (Jessica Stroup), Michael Steger (Navid), Jessica Lowndes (Adrianna), and Matt Lanter (Liam).
Together the seven of them talked about their kids, the good times they had on the show, the tabloids, and so much more. It wasn't all good times; they also mentioned how they worked really long hours, and how that affected them.
Personally, it was nice just to see them have fun. It was not a planned or staged reunion for someone else. It was just about them catching up about the good old days when they filmed on the same stage as another teenage drama. Can you guess which one?
When it comes to how they look now, they all look just like they did when they were on the show from 2008-2013. Good enough to do a revival. The cast also answered if they were up for doing one. You know like original 90210ers did.

---
Brian Austin Green got Jason Priestley a motorized scooter for his 50th!
December 9th, 2019 under Beverly Hills 90210 / Melrose Place. [ Comments:

none

]

Earlier this year, Jason Priestley turned the big 5-0, and Brian Austin Green got him the perfect gift. Brandon Walsh won't be strutting down the halls of Beverly Hills, 90210 anymore; he will be riding down the halls of Shady Pines, 91505 in his motorized scooter.
At least after he gets out of the hospital because he got into a nasty accident with that thing. The actor might be old, but he is not old enough to master the scooter just yet.
What did BAG think of this video of his friend enjoying his gift? He wrote, "I love that it literally falls apart when he falls. :))) Thank you Amazon." I second that, thank you, Amazon!

---
A mini Melrose Place reunion!
November 26th, 2019 under Beverly Hills 90210 / Melrose Place. [ Comments:

none

]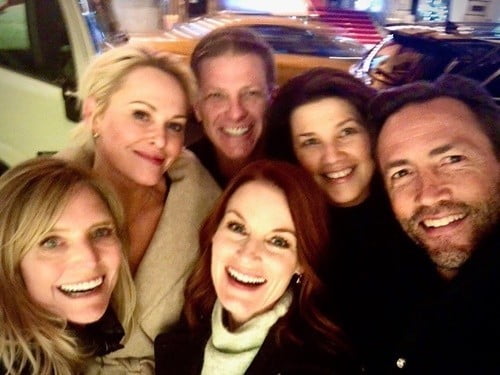 Back in the '90s, Doug Savant and his wife Laura Leighton, Josie Bissett, Daphne Zuniga, Courtney Thorne-Smith and Andrew Shue all lived together in Los Angeles at Melrose Place. However, yesterday they met up at The Polo Club in New York City to talk about their old address.
Was that all they talked about? None of them said. This makes me wonder if the Friends' upcoming unscripted reunion is going to open the door to more shows having one. Could that be what they were discussing? Or maybe since Fox cancelled BH90210, the network might want to try it again with MP2.0? Would you watch them again? Especially since they have not aged a day in over 20 years.
Seriously, I cannot remember the last time I saw Allison Parker and Billy Campbell. Now that I have, I want and need more of them.

UPDATE: To find out what brought them together, then click here!

---
Brian Austin Green reveals that BH90210 was cancelled
November 7th, 2019 under Beverly Hills 90210 / Melrose Place. [ Comments:

none

]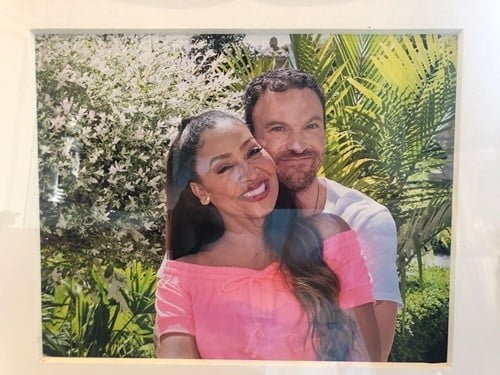 Brian Austin Green posted the above photo with La La Anthony and said, "Thank you for being a great wife :))" That sounds pretty cryptic as in BH90210 was cancelled.
According to BAG, it is. When a fan asked him when will we know if the show got picked up for another season, he told them "no more. Sorry."
As much as I wanted to love the show, it had a lot of problems. It was just too choppy, so it never felt like you knew what was going on. Then you wondered if you cared if you did know what was going. It was fun, but it could have been better.

---