Wheeler Walker Jr sums up Adele's latest album
March 21st, 2022 under Adele, Wheeler Walker Jr.. [ Comments: none ]
Let's be honest, Adele's latest album is not as good as her other ones. So much so that yesterday, people were bashing her NBC concert special yesterday.
So, what is different about 30 as compared to her previous records? Naughty country singer, Wheeler Walker Jr, has a theory. He said, "I was listening to that new Adele. Gd damn, that is some boring f*cking sh!t, man. Who listens to that f*cking sh!t? I got to be honest with you. I used to like Adele when she was fat, and now she lost all that weight. And now she is just a f*cking skinny, basic, f*king bitch. Man, that new album is a f*cking bore. You know what it sounds like, sounds like she is fucking hungry. She is thinking about chicken fingers and boring the f*ck out of me." Then he concluded with, "Adele get fat again. Get good again. You suck right now."
Do you agree with him? Is that why 30 is as exciting as turning 30? Not that I would know because I am going to be 29 forever.
Back to Wheeler Walker Jr. If you are TikTok, then you have heard his songs, including F*cked By a County Boy. If you haven't heard it, get lost on his YouTube page. I promise it is worth it.

---
Caesars Palace says Gone Adele, Here Keith Urban
January 26th, 2022 under Adele, Keith & Nicole Urban. [ Comments: none ]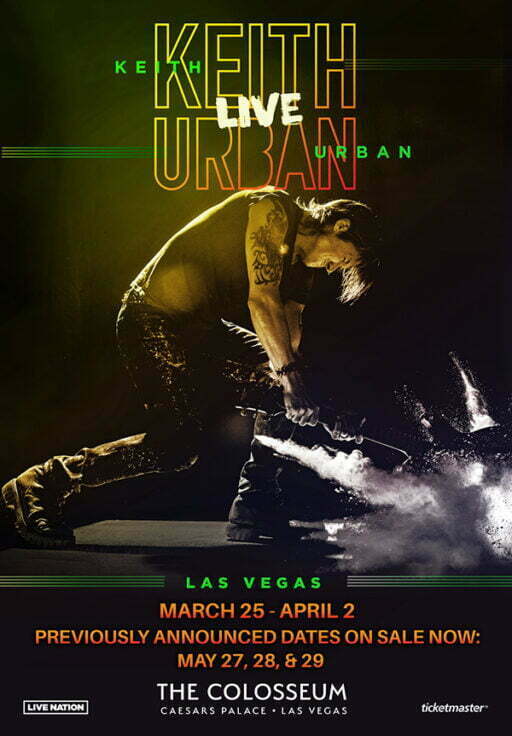 Last week, Adele cancelled her Vegas Residency just hours before it was set to begin. That left Caesars Palace with a huge hole to fill. So they are filling it with Keith Urban.
The Gone Tomorrow (Here Today) singer was already booked to play The Colleseum on Memorial Day Weekend, and now he is adding five more dates to that stop. Those new dates are March 25th, 26th, 30th, and April 1st (my birthday) and 2nd.
Keith Urban astounds audiences with a show designed for The Colosseum, packed with hit songs, explosive showmanship, and signature unpredictability. The shows are a once-in-a-lifetime concert event – an arena-sized production in a theater setting, up close and personal. Keith Urban Live – Las Vegas utilizes The Colosseum's new general admission capability on the main floor, creating a dynamic and reimagined fan experience for the landmark venue.
Tickets for fan club members go on sale today and for the general public on January 31st. Hopefully, he won't have problems with the choir, the pool on stage, or whatever else they set up for his show. But those are all rumors.

---
Adele postpones her Vegas residency
January 20th, 2022 under Adele. [ Comments: 1 ]
Adele was supposed to start her Las Vegas residency at Caesar's Palace tomorrow, but she cancelled all of those dates today.
The singer released a tearful message saying that show is not ready due to delayed deliveries and half of her crew and people suffering from COVID-19. Therefore, she is going to reschedule all of the dates between now and April 16th, the final day for the original dates.
They tried all they could do to keep the dates, but it wasn't possible.
She promises when they reschedule Weekends with Adele, she will give you the show you deserve.
Personally, I would be fine seeing her in an empty auditorium because it is all about her voice and not showmanship like Katy Perry.

---
Watch Lizzo twerk to Adele's Easy on Me
October 18th, 2021 under Adele, Lizzo. [ Comments: none ]
When I heard Adele's Easy on Me for the first, I started to cry. I think most people were overcome with the feels.
However, when Lizzo listened to it, her body was overcome with wanting to dance to the ballad. So she got up from her chair and started to twerk to Adele's powerful words. That is why she is who she is.
She sees the light in the darkness and goes for it. And now I can't stop twerking to Adele's songs. And let me tell you, Hello is an invitation for sex!

---
Adele reveals that 30 is coming out on November 19th
October 13th, 2021 under Adele. [ Comments: none ]
Next month, it will be six years since Adele released her album 25. Therefore, we desperately need new music from her, and she will be delivering that the day before her last studio album's sixth anniversary.
Today, she announced that 30 will be coming out on November 19th. So we have another reason to be thankful for this Thanksgiving. The singer also revealed why the album was delayed all of these years.
30
I was certainly nowhere near where I'd hoped to be when I first started it nearly 3 years ago, Quite the opposite actually. I rely on routine and consistency to feel safe, I always have. And yet there I was knowingly – willingly even, throwing myself into a maze of absolute mess and inner turmoil!

I've learned a lot of blistering home truths about myself along the way. I've shed many layers but also wrapped myself in new ones. Discovered genuinely useful and wholesome mentalities to lead with, and I feel like I've finally found my feeling again. I'd go as far as to say that I've never felt more peaceful in my life. And so, I'm ready to finally put this album out.

It was my ride or die throughout the most turbulent period of my life. When I was writing it, it was my friend who came over with a bottle of wine and a takeaway to cheer me up. My wise friend who always gives the best advice. Not to forget the one who's wild and says "It's your Saturn return babes fuck it, you only live once". The friend who'd stay up all night and just hold my hand while I'd sob relentlessly not knowing why. The get up and go friend who would pick me up and take me somewhere I said I didn't want to go but just wanted to get me out the house for some vitamin D. That friend who snuck in and left a magazine with a face mask and some bath salts to make me feel loved while inadvertently reminding me not only what month it actually was but that I should probably exercise some self-care!

And then that friend who no matter what, checked in on me even though I'd stopped checking in with them because I'd become so consumed by my own grief. I've painstakingly rebuilt my house and my heart since then and this album narrates it.

Home is where the heart is x
After reading that, I can't even imagine how gutwrenching the ballads are going to be. I already got the tissues ready. I come prepared.

---