Adele reschedules her Las Vegas residency 
July 25th, 2022 under Adele. [ Comments: none ]
Remember in January, when Adele suddenly cancelled her Vegas residency just hours before the curtain went up? Well, today, she announced that she has rescheduled those dates for November 18, 2022 to March 25, 2023.
Words can't explain how ecstatic I am to finally be able to announce these rescheduled shows. I truly was heartbroken to have to cancel them.
But after what feels like an eternity of figuring out logistics for the show that I really want to deliver, and knowing it can happen, I'm more excited than ever! Now I know for some of you it was a horrible decision on my part, and I will always be sorry for that, but I promise you it was the right one. To be with you in such an intimate space every week has been what I've most been looking forward to and I'm going to give you the absolute best of me.
Thank you for your patience, I love you ♥️ Adele.
Adele will play all 24 cancelled dates, along with adding 8 new shows. Tickets go on sale on August 10th for ticketholders of the postponed dates, and then for everyone else the next day.
Are you going to see her in Vegas?

---
Has Adele hit hard times?
May 11th, 2022 under Adele, Fast Food, Hard times. [ Comments: none ]
It has not been the best of years financially for Adele, Her latest album did not do as well as her other ones, and her Las Vegas residency got cancelled at the last minute.
Therefore, you have to wonder how the singer is making money. Now, we know. She is working at McDonald's. Well, at least that one time she went there with her boyfriend, Rich Paul. However, if this music thing doesn't work out for her, she has a future asking if you want fries with that.

---
Wheeler Walker Jr sums up Adele's latest album
March 21st, 2022 under Adele. [ Comments: none ]
Let's be honest, Adele's latest album is not as good as her other ones. So much so that yesterday, people were bashing her NBC concert special yesterday.
So, what is different about 30 as compared to her previous records? Naughty country singer, Wheeler Walker Jr, has a theory. He said, "I was listening to that new Adele. Gd damn, that is some boring f*cking sh!t, man. Who listens to that f*cking sh!t? I got to be honest with you. I used to like Adele when she was fat, and now she lost all that weight. And now she is just a f*cking skinny, basic, f*king bitch. Man, that new album is a f*cking bore. You know what it sounds like, sounds like she is fucking hungry. She is thinking about chicken fingers and boring the f*ck out of me." Then he concluded with, "Adele get fat again. Get good again. You suck right now."
Do you agree with him? Is that why 30 is as exciting as turning 30? Not that I would know because I am going to be 29 forever.
Back to Wheeler Walker Jr. If you are TikTok, then you have heard his songs, including F*cked By a County Boy. If you haven't heard it, get lost on his YouTube page. I promise it is worth it.

---
Caesars Palace says Gone Adele, Here Keith Urban
January 26th, 2022 under Adele, Keith & Nicole Urban. [ Comments: none ]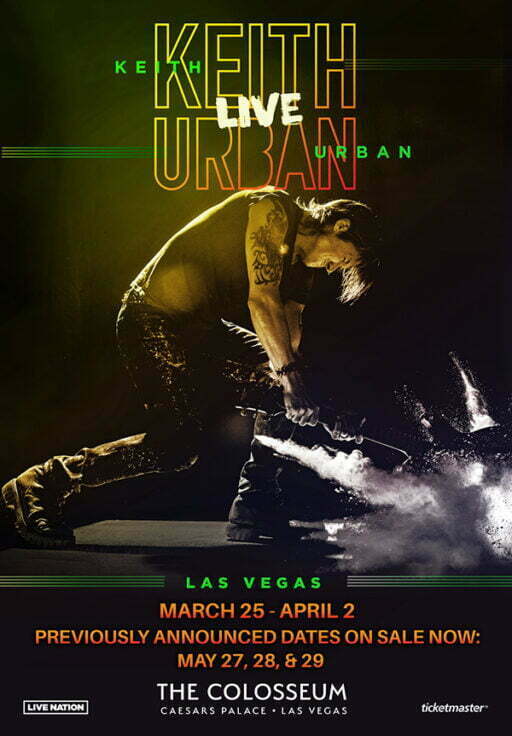 Last week, Adele cancelled her Vegas Residency just hours before it was set to begin. That left Caesars Palace with a huge hole to fill. So they are filling it with Keith Urban.
The Gone Tomorrow (Here Today) singer was already booked to play The Colleseum on Memorial Day Weekend, and now he is adding five more dates to that stop. Those new dates are March 25th, 26th, 30th, and April 1st (my birthday) and 2nd.
Keith Urban astounds audiences with a show designed for The Colosseum, packed with hit songs, explosive showmanship, and signature unpredictability. The shows are a once-in-a-lifetime concert event – an arena-sized production in a theater setting, up close and personal. Keith Urban Live – Las Vegas utilizes The Colosseum's new general admission capability on the main floor, creating a dynamic and reimagined fan experience for the landmark venue.
Tickets for fan club members go on sale today and for the general public on January 31st. Hopefully, he won't have problems with the choir, the pool on stage, or whatever else they set up for his show. But those are all rumors.

---
Adele postpones her Vegas residency
January 20th, 2022 under Adele. [ Comments: 1 ]
Adele was supposed to start her Las Vegas residency at Caesar's Palace tomorrow, but she cancelled all of those dates today.
The singer released a tearful message saying that show is not ready due to delayed deliveries and half of her crew and people suffering from COVID-19. Therefore, she is going to reschedule all of the dates between now and April 16th, the final day for the original dates.
They tried all they could do to keep the dates, but it wasn't possible.
She promises when they reschedule Weekends with Adele, she will give you the show you deserve.
Personally, I would be fine seeing her in an empty auditorium because it is all about her voice and not showmanship like Katy Perry.

---