Abbott Elementary is promoted to second grade, I mean, season
March 14th, 2022 under ABC. [ Comments: none ]
ABC is so proud of the grades that Abbott Elementary is getting that they picked the sitcom for another season.
The news was announced by Principal Coleman today, "The camera crew I hired to showcase all that I've made happen at our beautiful school thinks I'm a star. I mean, are we surprised? No, we're not 🙂 With that said, it is with great pleasure that I share they'll be returning for the 2022-2023 school year! That's right – Abbott Elementary Season Two is coming to a screen near you."
The renewal is no surprise because it is the only ABC series that is getting any positive reviews. I can't wait to see what mayhem the teachers cause next season because you know each episode will be filled with lots of love and laughs.

---
ABC banishes Promised Land to Hulu
February 15th, 2022 under ABC. [ Comments: 1 ]
Can you believe we have made it all the way through to February without a show getting cancelled this season on broadcast? But today, a show met that fate. That show is the confusing and boring drama Promised Land.
According to TVLine, the show will air one final episode on ABC this Monday. Then the five remaining episodes will stream every Tuesday on Hulu.
Promised Land cancellation means that The Good Doctor will return with all-new episodes on February 28th instead of April.
That news makes me happy because, after three seasons of the medical drama being painful to watch, the last episode that aired was able to redeem the series.
Sadly for Promised Land, it was unredeemable. Thus why it is moving to Hulu.

---
Kevin Hart says tonight's Live In Front of a Studio Audience is a sh!t show
December 7th, 2021 under ABC, Jimmy Kimmel, Kevin Hart. [ Comments: none ]
Tonight at 8p on ABC, Jimmy Kimmel and Norman Lear are bringing back Live In Front of a Studio Audience for a third round. This time they are doing Diff'rent Strokes and The Facts of Life.
Yesterday, the casts of both recreations were on Jimmy Kimmel Live to talk about the special. When the late night host asked who was going to curse live on the air, they all mostly agreed that it is going to be Hart, who is playing Arnold Jackson.
Hart responded with, "I'll tell you the truth Jimmy, You know, your a producer on this thing. You haven't been here. This is a sh!t show. We don't feel comfortable. We are not confident that this is going to work. A lot of us contemplated walking today. Like we weren't going to go through with it. So I think a lot of curse words are going to be coming out of my mouth. My career is over after this because you got me good, Jimmy."
Is it going to be that bad? We will find out in a few hours.
I know Hart was kidding, but I think he is more on the money than he would like to think. Many of these actors do not have live experience. Doing a live show with no cuts or redos is much harder than it looks to be.
Finally, who believes Allison Tolman when she claimed that Jennifer Aniston, America's Sweetheart, is bullying her on the set? She said she was joking, but do you think she was telling the truth. If you do, then raise your hand. ✋

---
'90s Boy Banders activate for A Very Boy Band Holiday
November 22nd, 2021 under ABC, Joey Fatone, Lance Bass, NKOTB, Vanessa Minnillo/Nick Lachey. [ Comments: none ]
ABC is giving us something to sing about this holiday season. On December 6th, several members of '90s Boy Bands will get together to give us a concert full of Christmas Carols.
We will hear Joey Fatone (*NSYNC), Chris Kirkpatrick (*NSYNC), Lance Bass (*NSYNC), Wanya Morris (Boyz II Men), Shawn Stockman (Boyz II Men), Bobby Brown (New Edition), Michael Bivins (New Edition), Joey McIntyre (NKOTB), Erik-Michael Estrada (O-Town), Nick Lachey (98 Degrees), Drew Lachey (98 Degrees), Jeff Timmons (98 Degrees) and Justin Jeffre (98 Degrees) sing the songs that make us full of joy in December.
Along with the classics, *NSYNC's Joey Fatone and Boyz II Men's Wanya Morris will sing their original tune A Very Boy Band Holiday, while Joey McIntyre will sing This One's For The Children with his son Griffin.
So to all of you millennials out there, put some logs in the fireplace, make some hot cocoa, and get ready to see your teenage crushes unite for a magical night of holiday cheer!

---
Whatcha talkin' bout, Jimmy Kimmel?
November 19th, 2021 under ABC, Gary Coleman, Jimmy Kimmel. [ Comments: 2 ]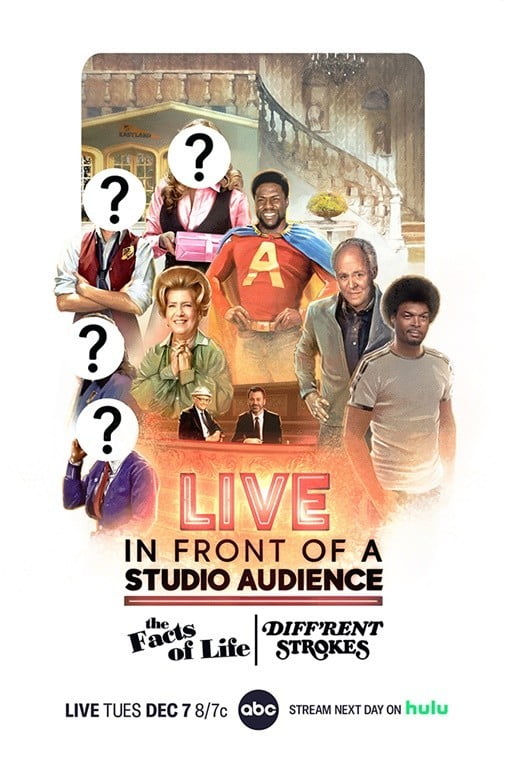 Jimmy Kimmel and Norman Lear are bringing back Live in Front of a Studio Audience on December 7th. However, this time, they are not doing one of Lear's shows. Instead, they are doing Diff'rent Strokes and The Facts of Life.
So far, ABC announced who will be starring in Diff'rent Strokes. Kevin Hart will be playing Arnold, Damon Wayans, Jr. will be his big brother Willis, John Lithgow is their adoptive dad Mr. Drummond, and Ann Dowd is starring as their maid Mrs. Garrett. There is no word if she will also be playing the part during The Facts of Life recreation.
They did not reveal what episode they are recreating, but I am assuming it is Willis' Privacy because of the costumes. Personally, out of all of the episodes to choose from, this is a very weak one to pick.
As is the casting choices of Hart and Wayans for the one-event. It is making a mockery of something they used to take seriously. Why not cast kids? Why go with adults? It turned this annual special into a joke for me. I just think it is a slap in Gary Coleman's face to have Kevin Hart do it.
But Kimmel doesn't take things seriously anyway, so why should he start now? Kimmel could redeem himself if he asks Todd Bridges to play Willis' friend in that episode.
If you want to see a clip from the original lame episode that they are doing, then click here!

---