Did you know that Chynna Phillips is the Holy Spirit, Activate girl?
November 5th, 2021 under 90s, Chynna Phillips. [ Comments: none ]
If you live on TikTok as I do, then you have seen people use the audio that says, "Holy Spirit, Activate." If you are like me, then you never wondered who said it.
However, now we know. Chynna Phillips outed herself as that woman. Wait, the blonde from Wilson Phillips? Yes, she is one the same. I know, right?
You are as blown away as I am that one of Alec Baldwin's sisters-in-law would do something like that. But she did it on an episode of Celebrity Family Feud in September. Even, Steve Harvey was left speechless, and that rarely happens.
Back to Mrs. Billy Baldwin. If you like her preaching style, then you can check out her site California Preaching. I think I will activate my faith in a different way.
If you missed her appearance on Family Feud, then click here!

---
98 Degrees recreates an old photo
April 28th, 2021 under 90s, Vanessa Minnillo/Nick Lachey. [ Comments: none ]
Jeff Timmons, Nick Lachey, Drew Lachey, and Justin Jeffre recently got together and recreated a photo from their past. Even though 98 Drgrees is going to celebrate their 25th anniversary next year, they still look great.
Although, I am sure that Drew and Timmons are regretting those muscle tees now. Thankfully, they still have the arms for it. If they didn't, I bet they would not have recreated this photo.

---
The Sandlot's Patrick Renna posts a heartbreaking TikTok
April 20th, 2021 under 90s, Patrick Renna. [ Comments: none ]
Patrick Renna has a very recognizable face. Therefore, if anyone sees the Sandlot star, they stop to take a photo with him. Then when they are done, they walk away.
However, Renna wants more. So he made a video on TikTok asking for you to have a conversation with him that goes past him saying, "You're killin' me, Smalls."
And now you're killin' me, Renna. If I ever see you in person, I will talk to you. This way, you won't feel lonely like Justin Bieber.
I wonder if other actors feel the same way as he does. I never approach celebs because I am so LA. I just give them, as Owen Wilson says, the "Disdain Look." That is when you look at them like, do I know you? Yes, I do. You are that celeb. Now I will look away.

---
A wet dream tour for fans of '90s music!
January 17th, 2020 under 90s, Wet dream. [ Comments: none ]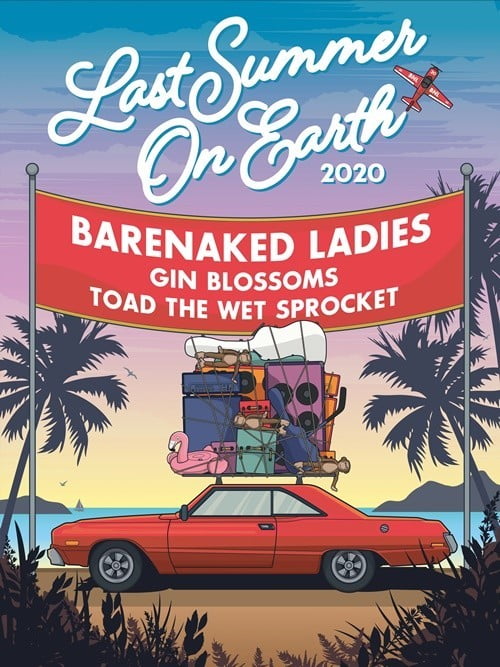 Do you still want to party like it is 1999? Then you can do it at the Last Summer On Earth tour with Barenaked Ladies, Toad the Wet Sprocket, and Gin Blossoms. The two-month tour begins in Florida on June 3rd and ends in Toronto on July 23rd. Don't be all Hey Jealously about me, but I am willing to Walk On the Ocean to see this concert. Although, you might want to ask me in One Week if I feel the same way.
For more info, download the BNL app. To see where and when they are playing, then click here!

---
A '90s girl's wet dream: Vanilla Ice, Tone Loc and Kid
February 4th, 2019 under 90s, Vanilla Ice, Wet dream. [ Comments: none ]

Back in the '90s girls were listening to Vanilla Ice and Tone Loc while watching Kid 'n Play, but never did the three meet. That was then, this is now.

The two rappers posed with DJ Born for a photo and the actor was able to photobomb them. I hope they invited him and talked about doing a movie together. Imagine the three of them doing a party movie? Girls from that era would run out to theaters to see. They might even go old school and buy the soundtrack on CD. Just like they did back then.

---