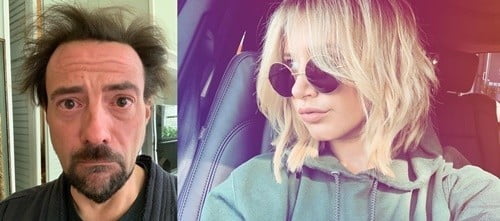 Did you know that Kevin Smith and Ashley Tisdale are neighbors? Well, they are and they are fighting it out on Twitter and then hugging it out in real life.
The actress wrote, "Thanks @ThatKevinSmith for scratching my mirror on my car and not stopping. Classy move neighbor!" He responded by saying, "Apologies – I drive like Cruella de Vil in the Hills! However, I *did* do a courtesy stop. Then when you pulled away first, I was like 'That's soooo Sharpay…'"
After people called her out for tweeting that and his tweet, she went over to his house to talk to him in person. He revealed what happened next, "So the incredibly sweet @ashleytisdale stopped by my house and tried to apologize. I assured her that *I'm* the one who was driving like a Wildcat. Also told her I'd sent my kid our Tweets. HQ's response: 'We saw Ashley in HighSchoolMusical Live!' Ashley was like 'Oh, maaan…'"
Too bad he didn't crash into her car before he wrapped Jay and Silent Bob because then maybe she could have been in it as an apology. Since that movie is done, I am sure she will be in his next one. That is if she is not busy filming Carol's Second Act as Patricia Heaton's daughter.

---