BTWF ads: Christina Applegate for Cat Chow
February 7th, 2017 under Before They Were Famous, Christina Applegate. [ Comments:

1

]

Before Christina Applegate was the voice of a cat in Cats & Dogs: The Revenge of Kitty Galore, she had one and fed it Cat Chow. How purrfect was the 11 year old in that 1983 commercial?
---
Christina Applegate is no Meryl Streep!
September 1st, 2015 under Christina Applegate, Meryl Streep. [ Comments:

none

]
Recently, Lifetime has done several biopics that did not need to be done and casted people that are nothing like the people they are playing. Now they are doing one about Meryl Streep and Christina Applegate is playing the multi-Oscar winner. Funny or Die got their hands on the trailer, and it might be Lifetime's worst biopic since the Unauthorized Full House Story. So painfully awful, and that is just Applegate's acting.
---
What is Ed Helms saying about Christina Applegate?
August 1st, 2015 under Bravo, Christina Applegate. [ Comments:

none

]

Ed Helms was promoting his film Vacation on Watch What Happens Live and a caller asked him which co-star would he shag, marry and kill out of Jennifer Aniston, Rashida Jones and Christina Applegate. At first he said he would shag them all, but that is not how you play the game. So he said he would shag Aniston, marry Jones and kill Applegate. Which has to make you wonder if he hated working with her. I mean why else would anyone want to kill his co-star?
We never did find out why he chose to kill his latest movie wife because they went to commercial break almost immediately. So I guess it is up to our imaginations!
---
Christina Applegate doesn't want to talk about Chris Hemsworth's abs
July 24th, 2015 under Chris and Liam Hemsworth, Christina Applegate. [ Comments:

none

]

Christina Applegate is starring in her first big screen movie in years, so she should be happy with any press she is getting for Vacation. But it doesn't sound like she is. Today, the actress Tweeted that she is sick of talking about Chris Hemosworth's abs. I don't know about you, but they are the only reason to go see that movie. So if that is what the press is fixated on, be happy. Would she rather they ask about her personal life?
When it comes to objectifying the actor, I think that he did that to himself the second he sold his soul to become People's Sexiest Man Alive.
---
Christina Applegate is Married…with Child
February 25th, 2013 under Christina Applegate, Weddings. [ Comments:

none

]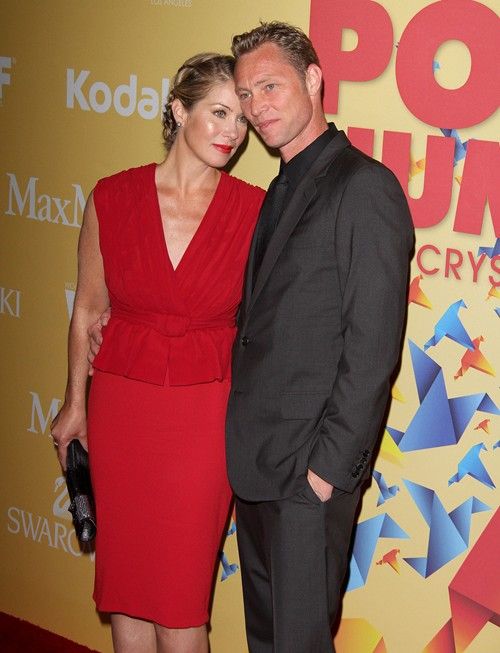 (photo from Fame Flynet)


Ever wonder what is the perfect weekend for a celebrity to get married unnoticed? Christina Applegate figured out it is Oscar weekend because that is when she said I do to her fiance' of two years. According to Eonline Martyn LeNoble and her tied the knot on Saturday at their house in a private ceremony attended by their families. No word what role her 2 year old daughter Sadie played, but I am sure it was big one since she stayed Up All Night for it.
---